The average person writes between 1000 to 3000 words a day. As we move through a technological shift in society the pencil is no longer a tool of our trade, it is now 'The Keyboard'. It would make sense then that being the constant worker bees we are in this world, we would want the most efficient hardware for the job. How does the Cynosa V2 shape up against its competitors?
The Cynosa V2 by Razer is one beastly keyboard. Releasing this monster from it's box and you will notice it is quite impressive in size at a good 18.2 inches, with its length boosted by the number pad. Made from sturdy black plastic with a sleek matte finish, this keyboard is definitely silky smooth to the touch. The keys seem to be set more into the actual keyboard compared to other Razer designs which makes for a more streamline deck but lacks interchangeable keys for customisation.
Thankfully, you will find feet underneath that can be set to two different heights and while not the iconically braided Razer cable, the USB connection does have nifty cable routing options for that cleaner set up feel. It is very comfortable to use with a good angle for your wrists and very fluid and quiet keystrokes.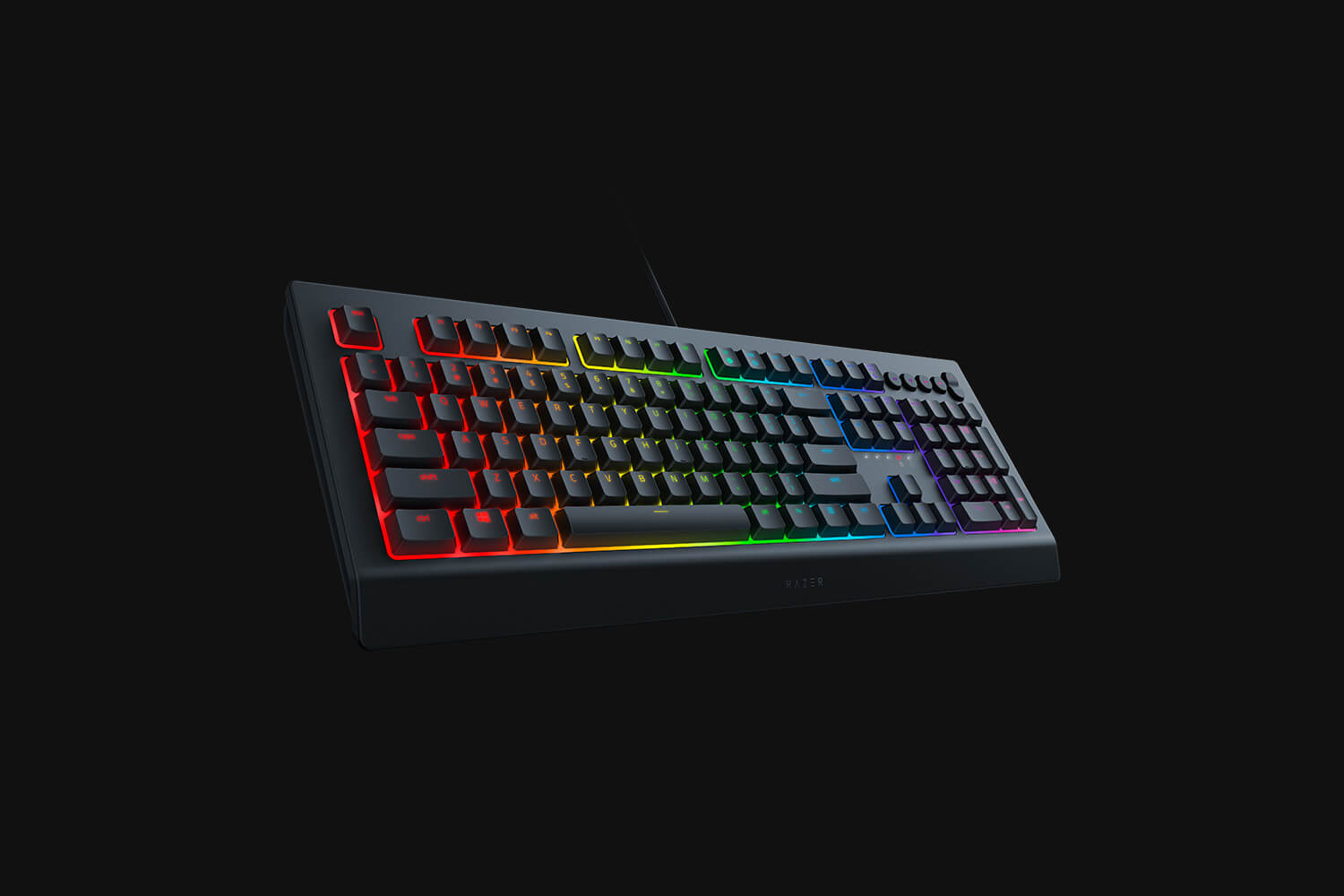 Famous for the Razer namesake, the RGB Chroma lighting really elevates the look and style of the Cynosa. Each key is individually backlit and coupled with Razer's 'Synapse 3' software it is a dream to customise your ultimate glow with a vast array of colours and hues. Razer has even linked up with games such as Mortal Kombat, Fortnite and more excitedly for me, Apex Legends to provide the full experience with their chroma integrated lighting. You can now experience the sight of your keyboard lighting up with each explosion or final blow from an impressive catalogue of games.
This keyboard has surprisingly a stack of functions for its price range. In the top right of the board you will find media keys, always a plus and these standout quite well, with a rounded shape for quick changes in sound. Using the Synapse, you also have the ability to build profiles and key map macros. Hypershifting the Cynosa V2 means the world is at the tips of your fingers as you make use of multifunctioning your keys, binding them to a range of applications.
In an instant, I had most of my streaming essentials such as discord, OBS and my bots linked to keys for launching effortlessly. The Synapse Software, I can never praise enough; it is just so straightforward and conventionally easy to use.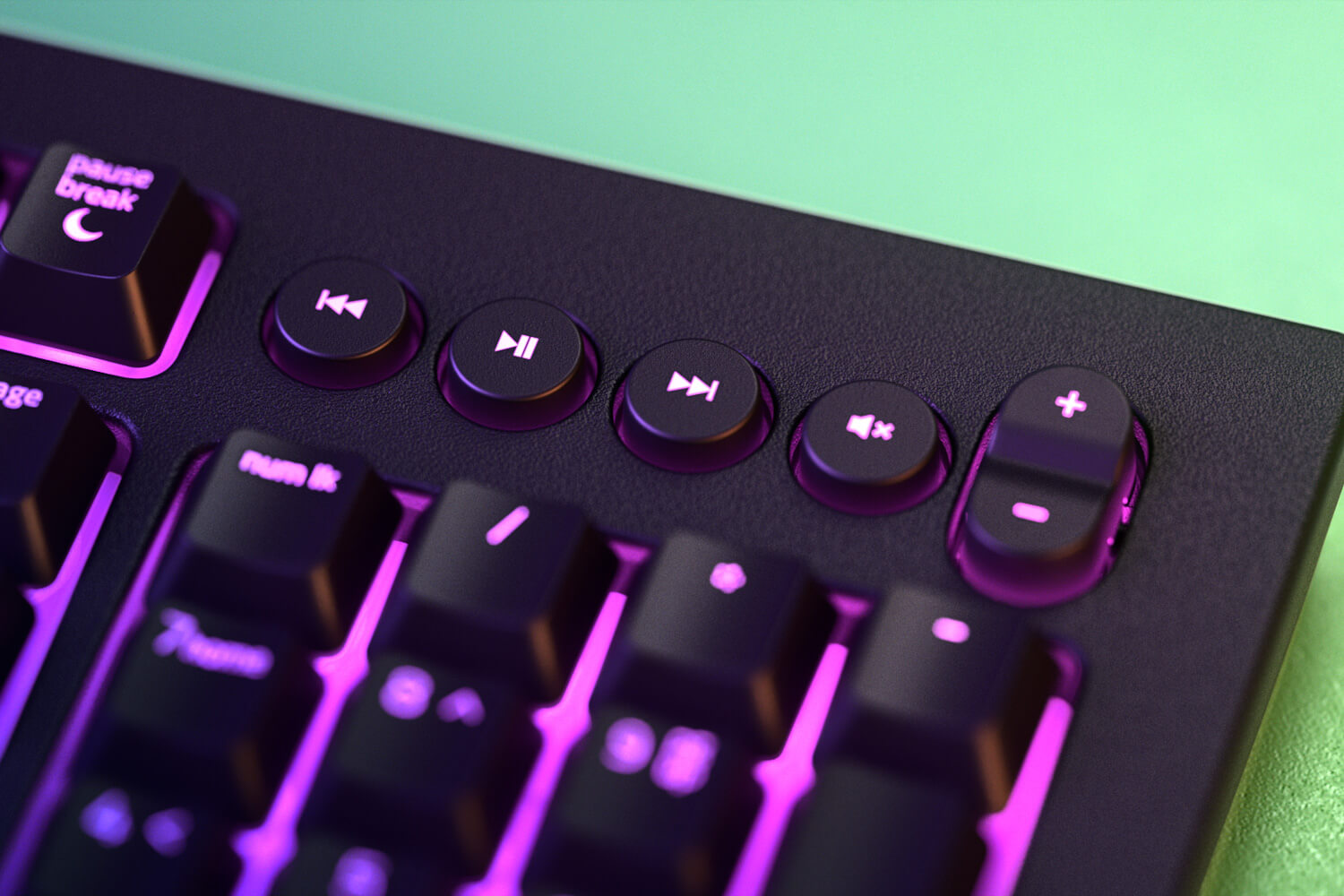 The inclusion of a Macro Record key means events and strokes can be captured in and instant and with a built in Game Mode and Sleep Mode Key you can get ready to rumble or peace out at a push of a button. It also has the regular standard N-key rollover, 1000 Hz Ultrapolling and basic compatibility with the XBOX One. Not something I personally use, but it is nice to have the option there should I ever feel the need to put down my precious Xbox controller.
Available on the Razer website for around $119AU and for preorder by other retailers, I was impressively surprised at the functionality of this keyboard compared to the price. With a long list of features and an elegant but hip design that screams Razer product, the Cynosa V2 is definitely a good looking bang for your buck.
Tech Specs
Individually customizable backlit gaming-grade keys
Quiet, cushioned keystrokes
Dedicated media keys
Durable spill-resistant design
Razer Chroma RGB backlighting
Cable routing options
Razer Synapse enabled
Fully programmable keys with on the fly macro recording
N-key rollover
Gaming mode option
1000 Hz Ultrapolling
Compatible with Xbox One for basic input
The Good
Long but sleek design
Sturdy build
Customisable RGB backlighting
Synapse 3 Software is always a dream to use
Basic compatibility with XBOX One
Comfortable and quiet
Hypershift profile making
Key mapping of macros is effortless
Above reasonably priced
N-Key rollover and 1000Hz polling
The Bad
Lacks interchangeable keys
Missing the iconic Razer braided cables