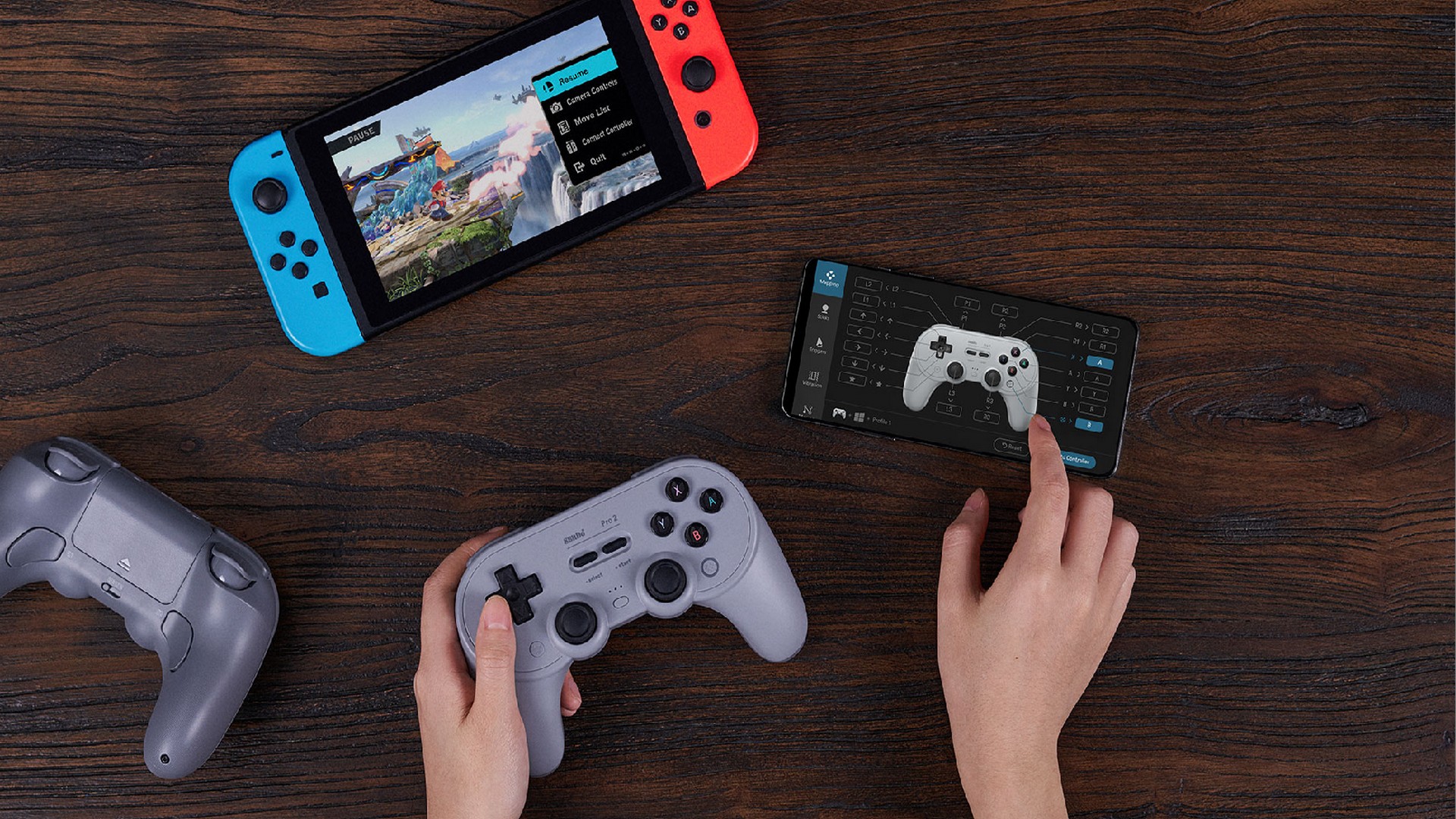 I'm a bit snobby with my controllers. I like them thick and chunky and all up inside my mittens. That is why my Xbox controller will always be my go too, the problem is when I switch up consoles or devices I'm an uncomfortable fish out of water. I clam up as I miss press buttons and angle my sticks in the wrong direction. 'If only I could have one controller I'm comfortable to use, that can be used on any device!' I dream to myself as I fumble through a game of Doom Eternal on my Nintendo Switch. As if answering my prayers 8BitDo have dropped the Pro 2 Bluetooth Gamepad in my lap for review.
Coming straight out of the box, you will notice the Pro 2's uncanny resemblance to the classic Super Nintendo controller of 1991, except with hand supports reminiscent of a typical Playstation controller but wider in all the right places. Being two-toned in greys, this matte controller is nice to look at and feels even nicer in your hands. A jet black D-pad sits to your left and to the right are your four buttons, conveniently labeled with original PlayStation colours and Nintendo lettering positions. Underneath are two back buttons much like paddles, positioned perfectly for middle fingers to catch with ease. The bumpers at the top also have a good spring to them and are geniusly curved around the top making reach with your index fingers quick and fumble-free.
On the front, at the bottom, are three lights to symbolise which profile is currently active and can be pressed to swap profiles on the fly for the current device active. On the back, is a slide that enables you to change devices whether it be wired or Bluetoothed in; with an S for Nintendo Switches, X for Windows, D for Android, and A for MacOS. Up near the bumper is a pairing switch next to the USB-C charging slot. I found pairing the device pretty easy as all it needed was connecting to the Bluetooth and syncing. The only device that took a bit longer was the Switch as some internal settings needed to be adjusted first.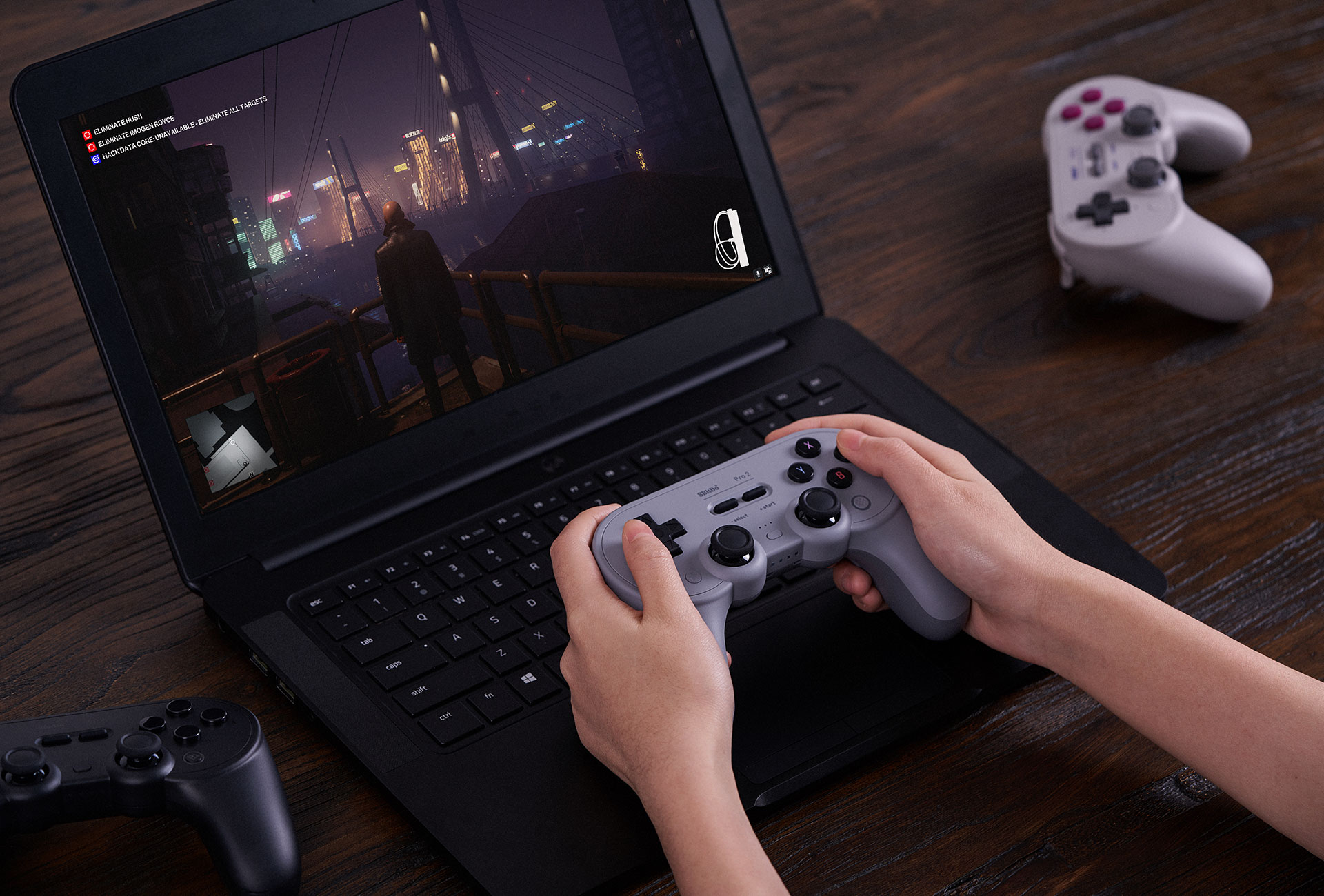 Like any good peripheral, the Pro 2 comes with software. 8BitDo's Ultimate software is where you can customise your experience to your own personal style and update any firmware fixes. This is also where you can set up three profiles to your controller for PC, Switch, and Android devices. The level of customisation for this controller is very impressive with the mapping tool providing a wide range of options at your fingertips. It was easy as pie to map the layout to that of my Xbox controller or my Switch to the Pro 2, so I could use it for PC games. Not that I am a die-hard PC gamer but it did make even the simplest games even easier to manage using controls I was more accustomed to. This is also where you can adjust your sticks, invert them or even adjust the area of activity making them more or less responsive.
The vibration levels can also be tweaked to individual sides and macros can be set to make your controller so multifunctional you won't need anything else. I found this software pretty quick and simple to navigate, always a plus for someone like me who doesn't have time to guess and check but a help button is also present, just in case. It also can be downloaded onto a phone as well as a computer, so winning. Just don't forget to sync your changes to the controller after the end of your tinkering.
Performance-wise, the controller was very responsive with decent battery life. I had my sticks set to 100% radial most of the time and found at the slightest touch had my little Fall Guy character darting off in the direction needed. Even using it paired with my Switch, the range I could use it from as I sat back from the screen comfortably on my bed was still reactive to inputs. The battery is interchangeable but I find you won't need to, with it being easily recharged and it lasting multiple long gaming sessions before having to go back to the charger.
Overall, I can not fault the Pro 2 Bluetooth Gamepad by 8BitDo. Available for preorder in the UK, available now on Amazon, or available locally in Australia for AU$89.95 from May 6th at the following retailers.
JB Hi-Fi (Australia and New Zealand)
EB Games (Australia and New Zealand)
Big W (online only)
The Gamesmen
Amazon
Mighty Ape
This device is actually a dream to use. It is so multifunctional and efficient that you literally can set it up to use with most devices and swap with a flip of a switch. The retro aesthetic is just the icing on the cake for this gamer and I will definitely be keeping this bad boy within arms reach in the future.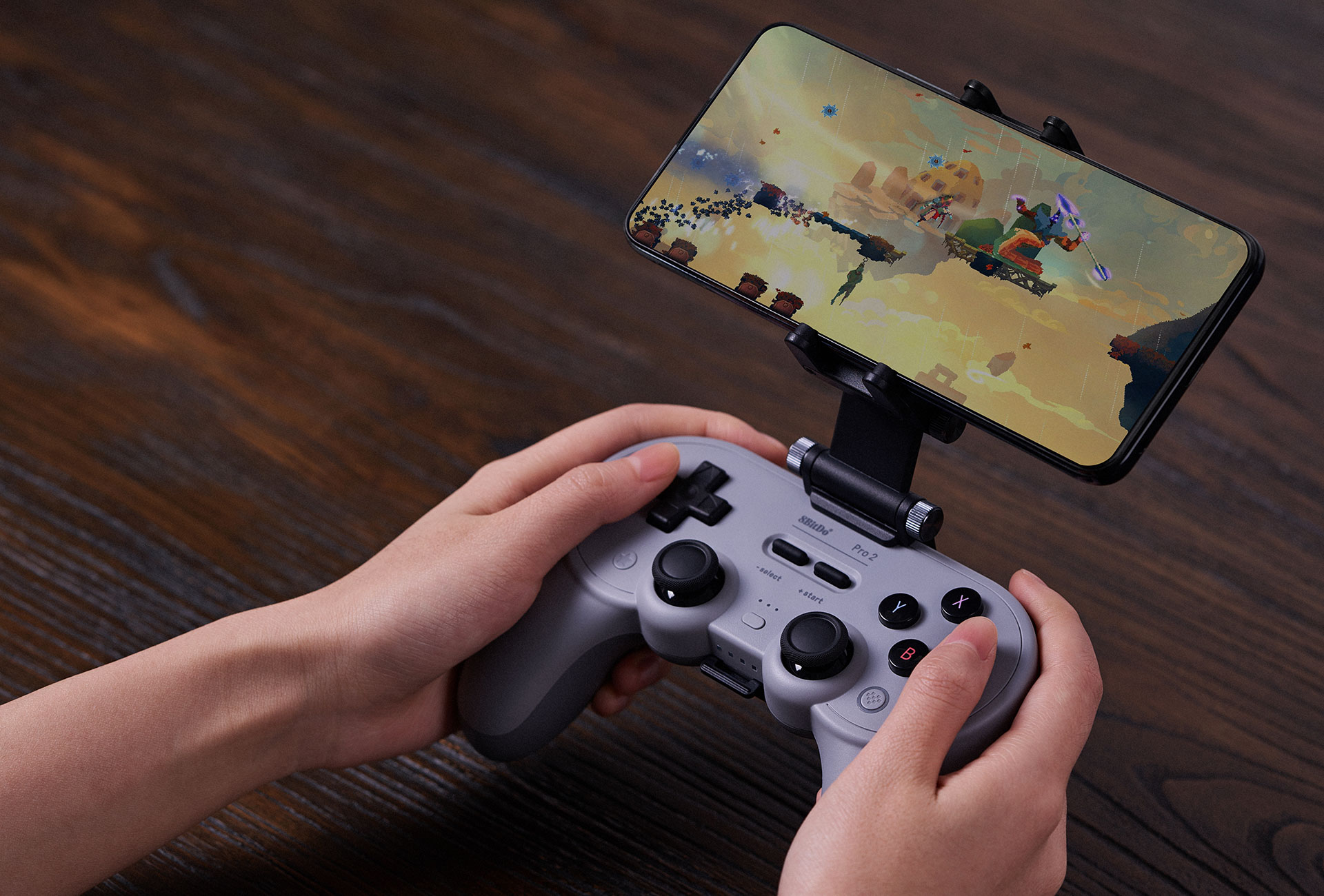 The Good
Gorgeously retro in style
Comfortable to hold
Great button positioning
Easy to use software
Customisable
Full mapping and macro capabilities
Bluetooth or wired use
Very responsive
Profile settings
Long battery life
The Bad
But does it come in black? Of course it does