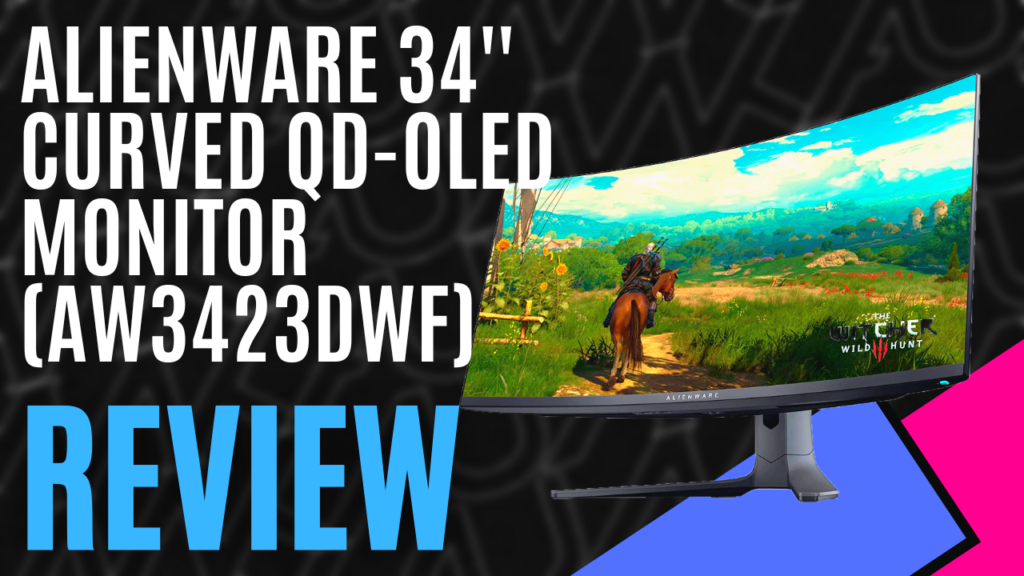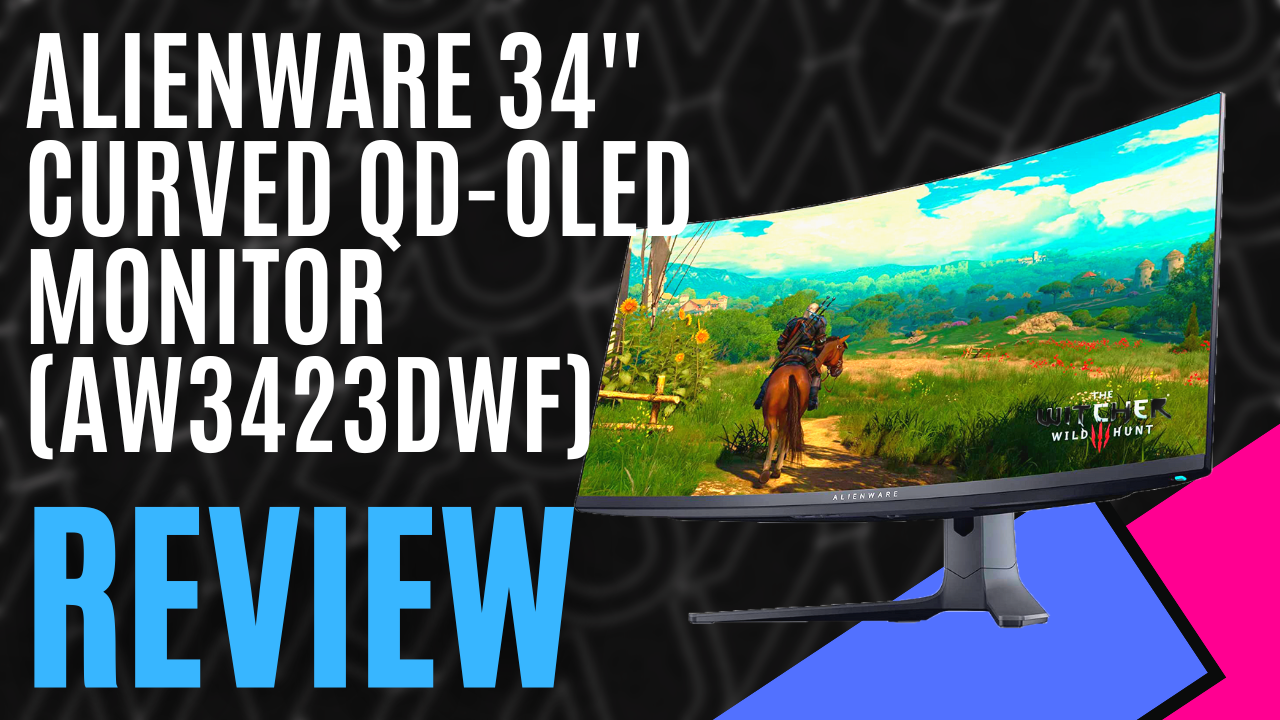 It's no secret that I love Alienware, and that attraction has only grown since I started working with MKAU Gaming, so you can bet that whenever we receive a delivery from them, I'm one of, if not the first to put my hand up for it. I've played with keyboards, mice, and computers, and now, I get the chance to try out the new Alienware 34" Curved QD-OLED Gaming monitor, or the AW3423DWF for short.
First and foremost, the box is huge, but you would expect that from an ultra-wide monitor, and opening the box offers an unexpected gift. Of course, you'd expect to find the monitor, its stand, its power lead, and perhaps an HDMI cable, but this wasn't the case. There was no HDMI lead. Instead, the Alienware 34" Curved QD-OLED Gaming Monitor comes with a DisplayPort (DP to DP) cable, and a USB-C to Display Port cable, as well as a USB 3.2 Gen1 upstream cable, allowing you to make use of the various ports that can be hidden behind an optional panel.
Setup is as easy as it gets, with a single screw to attach the stand to the adjustable arm, and then this whole piece clicks into place on the back of the monitor very simply, offering a nice and secure connection that can be raised or lowered, tilted forward and back, and swung side to side with remarkable ease.
Raising the monitor and tilting it slightly allowed for easy access to the connection ports, which include two DisplayPort inputs, an HDMI connection, two SuperSpeed USB 3.2 ports, the aforementioned USB upstream port, a 3.5mm audio line out, and of course, the power input.
Tucking the wires away and through a central slot, your cables can all be hidden away with the optional cover I mentioned earlier, and to top things off, the stand has a small cavity that allows you to direct the cables down and out, keeping your workspace nice and tidy with that ever important cable management.
While fumbling around and looking for the power button, I also stumbled across two more of the SuperSpeed USB 3.2 ports located on the bottom-most panel of the monitor, and yet another 3.5mm socket for connecting a headset. This monitor has more connectivity options than my notebook! After finally locating the power button, which had me wondering if I should get my vision checked due to completely missing the glowing aura that surrounded it, I noticed the Alienware logo and the stylised 34 on the back started to glow, and we all know I love my RGB! These can be manipulated using Alienware's AlienFX software, which is exceptionally easy to use.
While I was never really sold on curved screens, while sitting down and actually using the Alienware 34" Curved QD-OLED Gaming monitor, I couldn't help but notice how easily my eye was drawn to the center of the screen, and yet, I could still make out the details towards the edges with very little eye movement. I nearly have to turn my head to see everything across my current monitors, and they're only 27 inches.
The 3440×1440 resolution with an aspect ratio of 21:9 allows for so much more real estate, giving you better space for having multiple windows open, or in our case, playing games with wider viewing angles that are a little more consistent with normal peripheral vision. I was also able to better appreciate just how well the mounting arm was able to hide the cables while still being elegant enough that it didn't draw your attention from the screen.
Playing around with the directional button on the bottom panel, I was able to locate a variety of different settings, including a selection of preset modes such as FPS, RPG, and sports, as well as some game-enhancing features, such as Night Vision, which can be used to increase visibility and contrast during darker scenes, Clear Vision, which increases sharpness by removing environmental effects like smoke and mist, Crosshair, which quite literally places a permanent crosshair in the middle of your screen, and Chroma Vision, which completely confused me.
Alienware describes it as applying a heatmap to your game based on a thermal palette. All I know for certain is that it looked funky, and my google-fu was only able to find Alienware's description.
As Marvel's Midnight Suns recently received the Redemption DLC, I used the opportunity to test the Alienware 34" Curved QD-OLED Gaming monitor's capabilities.
As mentioned in my review for the Intel NUC, I would average 45FPS while playing with the highest possible settings that the computer could achieve, but with up to 165Hz native refresh rate and a 0.1ms response time, the gameplay was silky smooth. Colour reproduction was incredible as well, with a contrast ratio of 1000000:1/1000000:1 (Dynamic), support for 1.07 billion colours, and DisplayHDR 400 True Black certification. Colours seamlessly blended into each other, offering a visual experience that felt much more immersive than what I am used to.
The Alienware 34" Curved QD-OLED Gaming Monitor is an absolute dream to use. It's quick and easy to set up, it keeps your desktop tidy with its inbuilt cable management, and the colour reproduction and refresh rates make everything look incredible. It might not be capable of 4K, but it makes up for it in so many other ways, so if you want to treat yourself, the Alienware 34 Curved QD-OLED Gaming Monitor is a fantastic choice.
The Good
Amazing colour reproduction
Incredible connectivity
Great built-in cable management
Silky smooth refresh rates