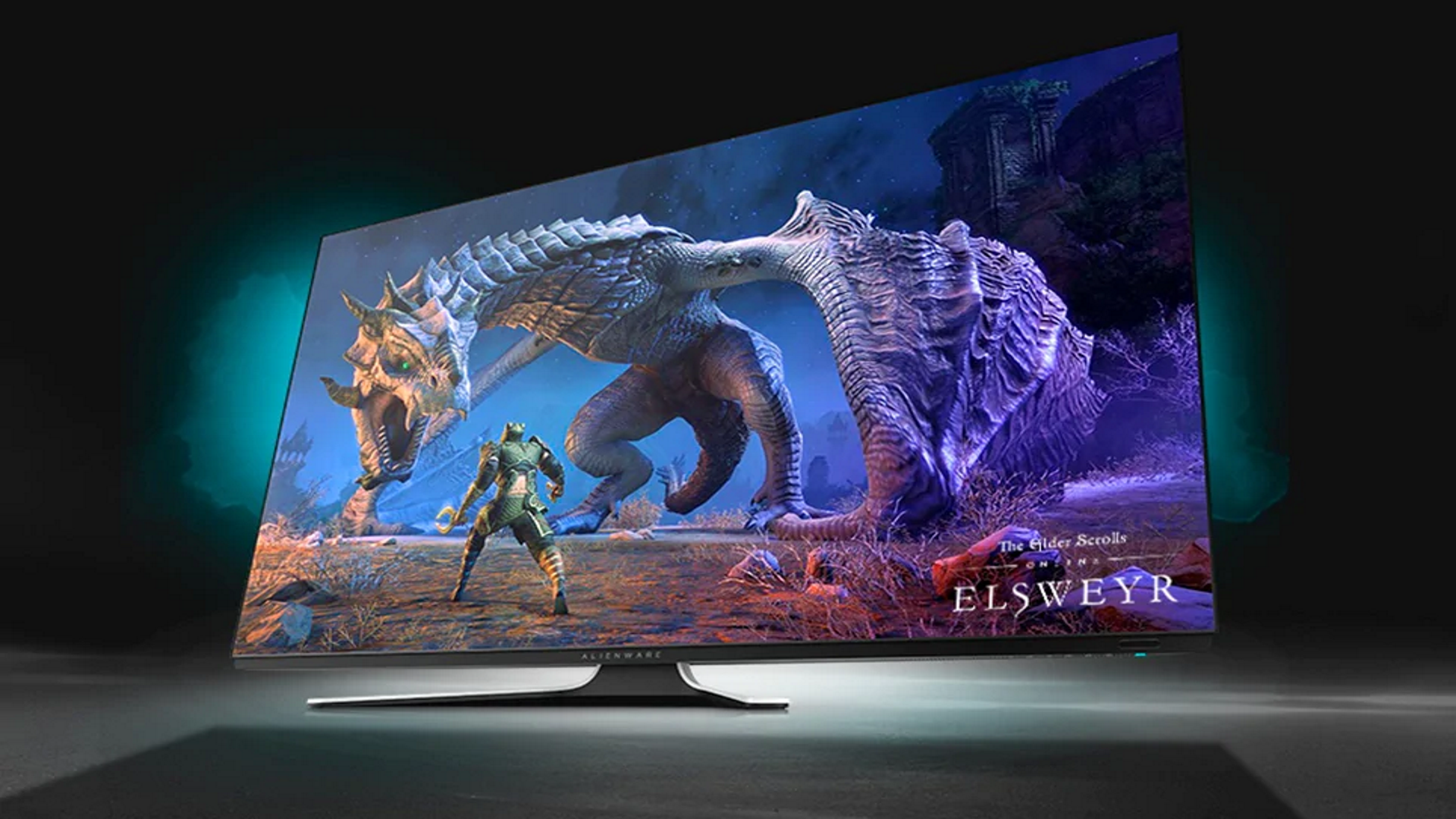 Alienware, Dell's PC Gaming & Performance line of products, is almost synonymous with big, bold and over the top these days. If you look at the current line-up of offerings from Alienware, you can see why.  
Opening Thoughts
The Alienware design is one that is instantly recognizable and is a design of such, that you either love it or you hate it. As it stands, every single person in my industry, except one, have said they dislike the Alienware look. Some dislike more than others, but it is disliking all the same.  
 In my brief time working with Alienware products, only 18 months (about 1 and a half years) or so, there is one other aspect of these machines that impressed me. That is the overall build quality. I have had "hands-on" with multiple of the 2020 Dell 'G' Series, Alienware laptops and displays. Thus far, each item I have gotten my hands on has felt solid & well built. Only once did I feel like I could break one of these items without much effort on my part. As you will see though, in this instance, it is not a design fault, or any type of fault really. 
Here we go again… Dell sent me yet another item to review that I wish I did not have to send back. Or even, that I could afford to buy for myself. The Alienware 55″ OLED 4K Ultra HD 120Hz Gaming Monitor. 
Let us be real here though, the use of the word "Monitor" to describe this thing is a little misleading. If you hear someone refer to a Gaming Monitor, most of us would at once picture a display for a computer somewhere between 24 inches & 32 inches in screen real-estate. There are 40 inches and above, but once you get past about the 35-inch mark, it is certainly more uncommon for most of us to own or know someone who owns a display of that size for gaming.  
When you combine the term "Gaming Monitor" and the display size "55-inch" together seems like Dell spelt "Television" wrong 😉  
Moving on.  
Aesthetically, the AW5520QF features the signature Alienware design and look, along with the standard RGB lighting inclusion. I was not sure it would translate to a display of this size without looking tacky, thankfully my concerns were nullified once I managed to get it out of the box. 
Because I could, I set the monitor up on my computer desk just like you would a "standard" sized monitor. Should I need to though, I can roll directly backwards in my chair a further 12 feet to be able to view from a distance.  
The Specifications
Device Type
OLED monitor – 54.6″ 
Adaptive-Sync Technology
AMD FreeSync 
Features
AlienFX lighting system, USB 3.0 hub 
Aspect Ratio
16:9 
Native Resolution
4K 3840 x 2160 (DisplayPort: 120 Hz, HDMI: 60 Hz) 
Pixel Pitch
0.315 mm 
Brightness
400 cd/m² 
Contrast Ratio
130000:1 
Response Time
0.5 ms (grey-to-grey) 
Color Support
1.07 billion colors 
Input Connectors
HDMI, DisplayPort 
Screen Coating
Anti-glare, 3H Hard Coating 
Dimensions (WxDxH) – with stand
122.59 cm x 26.39 cm x 77.06 cm 
Interfaces 
DisplayPort (DisplayPort 1.4 mode)

 

4 x USB 3.0 downstream (Type A)

 

USB 3.0 upstream

 

Headphones

 

SPDIF output

 
The Alienware Experience
Can it replace my "daily use" monitor? 
Let's face it, if you are going to drop just a hair's breadth south of AU$6,000 on a new "monitor", you do not want to have to swap between each one depending on your seating distance away… as if they were a pair of eyeglasses or something.  
For the entirety of my time with this monitor, I used it as my sole display for both work and play.  
For Work
In the past, I have tried to use windows desktop and associated applications on large LCD TV's from 1080p to 4K. As a rule, Television display panels aren't manufactured with that sort of usage in mind. As a result, you will generally suffer blurred &/or hard to read text no matter how much you try to tweak magnification, colors, contrast, brightness or if available, HDR. I never had any luck in any case. 
The Alienware 55" (AW5520QF) did not suffer this same issue. Nor should it at this price point. For 3 weeks straight, I used this monitor for coding, internet browsing, email, MS Teams, general typing, and a multitude of other tasks that go along with my day job as an IT Systems Engineer.  
Apart from needing to adjust the height on my chair, I was surprised that I did not squint or strain my eyes even though I was seated mot much more than an arm's length away. Don't get me wrong, if a workplace occupational therapy person were to see the desk setup, they would not be happy however, I had no problems using it from the beginning to the end of my workdays.  
Using the Display Port connector, I was able to achieve that 120hz refresh @ 4K, and after deciding on the Windows Font Magnification setting that suited me, I could now see just how good this OLED screen was. The combination of an OLED panel with a high resolution and high refresh rate I believe, is what makes this display so usable for any application.  
Every day "non-gaming" Usability: Check! 
For Gaming
Playing your favourite game on the AW5520QF is a sight to behold. OLED displays excel at displaying the richest blacks and much better contrast ratios when compared their LCD counterparts. OLED displays can also offer much thinner screens and can consume just 40% of the power of a comparable LCD. On average though, power consumption sits around 60%-80% of an LCD for normal use. It is only when the OLED is displaying nearly an entirely white screen that the power consumption can use 300% of the power an LCD would use. 
But enough of that power nonsense. If you are going to drop near $6,000 on a computer screen, power consumption probably doesn't really matter at that point.  
Apart from stunning visuals offered by an OLED display, the AW5520QF's ticket price can partly be attributed to by the 120hz native refresh rate @ 4K via the Display Port connector. In an industry where frame rates seem to be all the rage, purchasing a new gaming laptop or desktop monitor, it is becoming more common to have to choose between a high refresh LCD or if you want superior colours and viewing angles with an OLED display, 60hz refresh is the current standard.  
Being able to achieve a native sync of 120fps @ 4K seems overkill, but if you have the hardware to hit those numbers, I can assure you that you won't be disappointed at just how smooth 4K gaming really can be on a display of this calibre. During my time with the AW5520QF, I was also lucky enough to have an AMD 6800 GPU on review in our Ryzen 9 machine.  
Pushing all those pixels to the AW5520QF resulted in stunning visuals that any gamer would appreciate. The high resolution and high refresh rate coupled with sharp visuals that happily lacked any oversaturation, not only look fantastic but also go along way at minimising those reaction times that can mean the difference between; being killed or doing the killing, or, owning that high-speed turn or wiping out because you couldn't see the turn clearly.  
Games that don't necessarily support 4K or 120fps also benefit from a display such as this. Two such examples that I tried out were World of Warships and Diablo III. WoWs is capped at 75fps unless you manually go and edit the associated .xml file. And even if you do, it is reset back to 75fps next time a game update comes through.  
Diablo III is an older game that was developed before these sorts displays were even thought of, so it is not made to take advantage of such luxurious displays. 
Playing on the AW5520QF, both games felt like they got a new lease on life. I have invested a lot of hours in both of those games and to play them on the AW5520QF made me appreciate just how much effort must have been put into making this display the best it can be.  
The biggest shortcoming I can see with this is the 60hz HDMI refresh limitation. There would be a good reason why this is so, but since the new generation of gaming consoles are capable of up to 120fps and only support HDMI, from a marketing perspective, it feels like there could be some lost sales here. I tested an XBOX One X and an XBOX Series S with the monitor. Games still looked fantastic as ever and for the most part, I don't think many players would be too bothered with the HDMI refresh rate. However, the players that are most likely to hand over this much cash for a premium product such as this, are also most likely to be ones that do care that 120hz is not available over HDMI.
Final Thoughts
There is always going to be something better, and there is always going to be something cheaper, but you need to take the AW5520QF at face value and simply enjoy it for what it is. If you are going to spend a small fortune on the Gaming PC of your dreams, you need the best display for your PC to output its hard work on to.  
The AW5520QF is a beautiful display to enjoy your gaming experience on. Of course, you can use it for more than just playing video games. The ability to be able to comfortably use it as your 55" daily desktop display won't appeal to everyone; however, it is not meant to. For those who can afford to have one of these sitting in their home, attached to their gaming PC, buy one and ENJOY!  
Oh…. for those others who can also afford to drop AU$5,998 / US$4,049** on the purchase of the AW5520QF but don't actually have a use for it, let me know and I'll give you my address to enter the in the "shipping address" section of the online checkout 😉
**UPDATE 23 April 2021: If you head over to Dell's website at the moment, you can pick up your very own Alienware 55″ Monitor, 25% off for AU$4,499.24 / US$2,499.99

Australian Residents: OLED Monitor: Alienware 4K Gaming Monitor – AW5520QF | Dell Australia
US Residents: Alienware 55 OLED 4K Gaming Monitor – AW5520QF | Dell USA
The Bad
Although It Is Worthy, High Price Puts It Out Of Reach For Many
HDMI Refresh Rate Limited To 60hz
Current Gen Consoles That Can Hit 120fps Miss Out On Some Of The Goodness Thanks To HDMI Limitation