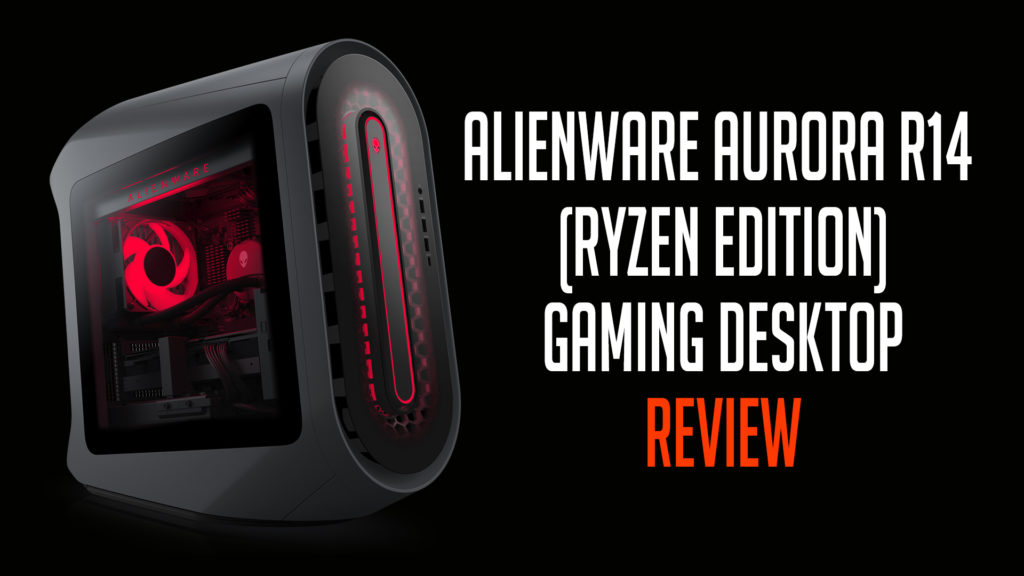 I'll admit it, when it comes to computers, I'm an Intel fanboy through and through. There really isn't any rhyme or reason for it, and I know that AMD is currently outperforming them by giving more bang for your buck, but I still just prefer them. I suppose it's kind of like people who prefer Apple over Samsung. The last few Alienware computers I've had a chance to play with have all had Intel inside, but the Alienware Aurora Ryzen Editon R14 Gaming Desktop I've had the honour of putting through its paces lately is all about AMD, and I am thoroughly impressed.
In its stock configuration, this monster of a PC comes with an AMD Ryzen 7 5800X, an 8 core processor boasting 36MB Total Cache, and a max boost of 4.7GHz. Graphics are looked after by an AMD Radeon RX6600 XT 8GB GDDR6 card, with 3 DisplayPort and one HDMI connector allowing for multiple monitors to be connected with ease. It's also, game and monitor dependant, able to run at over 550 FPS, allowing for incredibly smooth visuals. 16GB of DDR4 RAM at 3200MHz, a 512GB M.2 SSD, and a 1TB 7200 SATA 6Gb/s HDD will give you all the memory and storage you'll need for your gaming endeavours.
The case is a lot more elegant than I would have expected from a gaming PC, given I am used to seeing most having sharp angles and bold lines, but Alienware has gone for a more rounded approach with the Aurora Ryzen Edition R14 Gaming PC. Looking at it straight on, it features a large oval-shaped front, complete with a darkened glass panel that almost floats in front of the rest of the case. This covers a honeycomb-patterned air vent that is almost hidden until the computer is switched on, and then the RGB lighting has it glowing like an irradiated beehive.
As you move to the left side, another glass panel opens up to display the internals, with the components neatly installed and wires tucked away, letting you see the quality of craftsmanship that went into building this PC. A stark contrast to the lazy "cable tie and shove in a corner" method I used when putting mine together. Further adding to the tidiness of the R14 is the water cooling unit attached to the CPU, opening up the cavity and allowing for the RGB lighting to shine proudly through the whole PC.
After spending some time admiring the shiny things, I figured it was time to set it up and run some benchmark tests. As one has come to expect from a computer made by Alienware, the Aurora Ryzen Edition R14 Gaming Desktop made short work of the program, pushing over 500FPS during the small game they have on offer, and giving crystal clear animations as pixels exploded across my screen, but these were just benchmark test graphics. They're nothing compared to in-game tests.
The most graphically demanding game I have available is still Death Stranding, and given it's designed to be played in 4K with ray-tracing, I knew what I had to do.
All I can say is wow! Even though my monitors let me down, being capped at 60Hz refresh rate, the system was holding a very consistent 60FPS while playing at 4K resolution, and these numbers jumped even higher as I brought it down to QHD, and then into FHD 1080P where the card is really designed to shine. I also noticed how quiet the fans were when compared to my system. I'm running the Nvidia GeForce RTX 2060S, and it can get quite noisy when the fans spool up, particularly if I'm playing Arma3 or DayZ with a lot of things happening on the screen at any given time.
I also noticed that I wasn't seeing any screen tearing or artefacts when I was moving particularly fast, something I have almost grown accustomed to given I have been running my existing games at the highest resolution available – which isn't always the best way to play anyway.
Unlike laptops, connectivity isn't an issue with the Alienware Aurora Ryzen Edition R14 Gaming Desktop. The front of the machine gives quick and easy access to 3 x USB 3.2 connections, one of which has PowerShare. There is also a USB Type-C 3.2 PowerShare connector, and a handy 3.5mm headset connection. The rear plays host to a surround sound 3.5mm configuration, a SPDIF (TOSLINK) optical audio output, 2 x USB Type-C connections, 4 x USB 2.0, a further 2 x USB 3.2, and finally, a 2.5G RJ-45 Ethernet socket. You'll happily fit all of your peripherals into this one, and the rear cables can all be tidily hidden behind the included magnetic rear plate, which adds a nice curved backing to your computer.
Alienware Aurora Ryzen Edition R14 Gaming Desktop is a very tidy machine overall, offering gamers everything that they'd need in an elegantly wrapped package. As always, the Alienware Command Center will allow easy access to thermal control, overclocking profiles, and the ever-important ability to adjust the colours of your RGB lighting. I might be an Intel fanboy, but the Alienware Aurora Ryzen Edition R14 Gaming Desktop is slowly changing my mind.
The Good
Exceptionally quiet while running
Elegant design with smooth curves and complimentary lighting placement
Incredible performance
Plenty of ports for monitors and peripherals
Rear cables can be hidden with a magnetic cover
The Bad
I'm an Intel fanboy, so I'm struggling with the fact that it's AMD and I really want one...