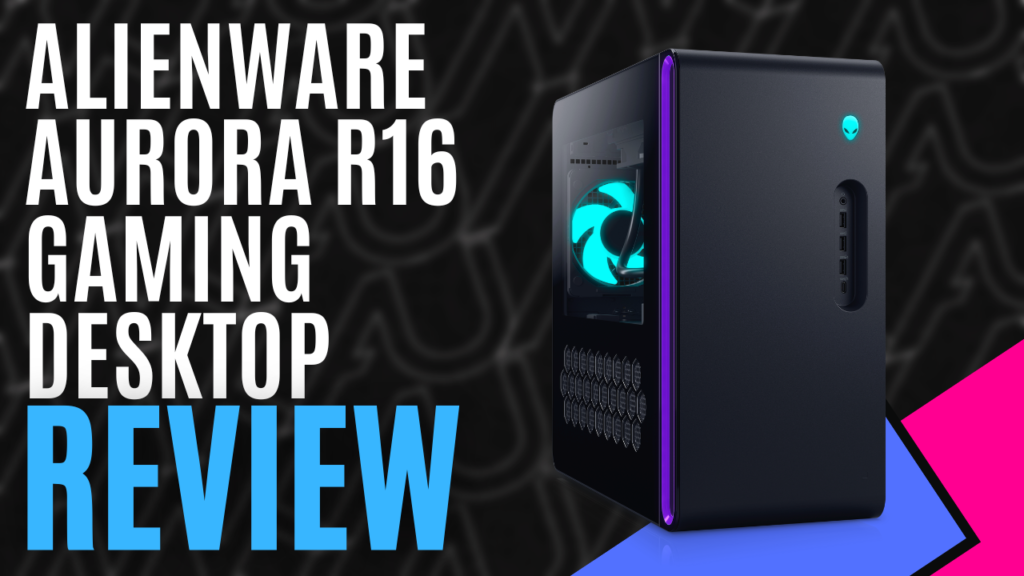 It's always exciting when a new computer turns up at the office. Even when I was working in a retail environment, I had fun unpacking new computers and laptops, just so I could check them out before anyone else, and it's only fair that trend continues. Seeing as Alienware had just sent us their new Aurora R16 Gaming Desktop, I was quick to drag it home and set it up.
Moving away from the previously rounded design, the Alienware Aurora R16 offers a classy presence on the desk, with its clean black panels and minimal RGB. The front face is very minimalistic, with slight curves at the top and bottom rounding off the panel cleanly, and a small, RGB-light Alienware logo working as the power button and a means to determine if the system is powered up. A rounded cavity provides access to 3 USB-A ports, a 3.5mm headset port, and a single USB-C connection, but otherwise, the overall frontal presentation is nice and clean.
Turning the Alienware Aurora R16 slightly to the side presents an elongated opening to assist the front-facing fan with pulling in air, and the left side is brightly lit by an RGB ring that offers some nice ambience, depending on how you set it up in the Alienware Command Centre.
A glass panel offers unobstructed views of the inner workings, including an Intel Core i9-13900F, 32GB DDR5 RAM, and an NVIDIA GeForce RTX 4080, cooled by a 120x240mm liquid-cooled radiator mounted to the top, and a single 120mm RGB fan on the rear, shining brightly through the glass. These fans are all incredibly quiet as well, offering a near-silent gaming experience.
The rear panel houses all the connectivity you could ever need, with an additional six USB ports, two USB-C ports, ethernet, and a complete surround sound card, including optical audio sockets. There are also two Wi-Fi antenna connectors for mounting the included external antenna, and the graphics card offers connectivity for up to four monitors, with one HDMI and three full-size DisplayPorts.
It also came supplied with a standard Dell mouse and keyboard, which, while functional, didn't feel as nice as they could have been, given the performance of the Alienware Aurora R16, but it's better to have something over nothing.
Connecting everything up and powering it on for the first time was nice and quick, thanks in part to the 512GB M.2 PCIe SSD transferring files at up to 5000MB/s, and before updating any drivers, I decided to run it through the usual UserBenchmark tests. Based on previous experiences when doing this, it well and truly exceeded my expectations, and these only improved when I signed in and updated the system.
The 16GB GDDR6X NVIDIA GeForce RTX 4080 averaged 420FPS through the 3D DX9 tests, with highs of 529, and lows of 333, whereas it averaged 385FPS during the 3D DX10 tests, peaking at 544 and dropping to 263. Two 16GB sticks of 5600MHz DDR5 RAM make up the total of 32GB, averaging 70GB/s while running multi-core processes, or 33.4GB/s while running single, and the 24-Core 13th Gen Intel Core i9 boasts up to 5.6GHz performance with Thermal Velocity Boost, and this averaged out at 4.75GHz during the tests.
Of course, it was time to play some games, and seeing as Starfield is my newest game, I figured I'd see how that went. My current system can run the game with high presets at an average of 84FPS, which I can honestly say I'm happy with, but the Alienware Aurora R16 was able to run it on the Ultra preset maintaining over 100 FPS, or if I ran it on one of my 4K monitors, I was holding a steady 75FPS. It was incredibly smooth and highly detailed, offering an experience I haven't had in a long time, even with all of Starfield's little hiccups.
The Alienware Aurora R16 is a fantastic system, and while we were sent one of the higher tier versions for review, there are still 2 other more affordable options, and another slightly higher. All of these offer the consumer the chance to adjust what their system comes with, such as RAM or more storage space, and this is typical of all Alienware systems when buying directly. As it stands, the unit we were sent performed admirably, and it looks damn good sitting on a desk.
The Good
Looks stylish sitting on a desk
Great performance
Quiet running
Plenty of USB connectors
Options for upgrades when buying through Alienware
The Bad
RGB LED accents aren't individually controlled LEDs