I can honestly say that I didn't think a keyboard would make such a difference to my typing. Let's face it, the keys are for the most part all in the same spot. What else really is there?
Today while working my 9-5 I realised just how much a good quality, mechanical keyboard can change the way you type. While at work, I've been stuck with whatever budget keyboard we have laying around and I found that on one particular computer, a brand, new keyboard felt clumsy to use. I used to be one of those people who bought a keyboard based more so on its price and how comfortable it looked to use. I think the last keyboard I actually bought was a Logitech "wave" or something along those lines. Now, it was a nice keyboard, I can't complain too much but it was no mechanical keyboard.
Now that I am home, I get to play with a brand new, 'AW568 Alienware Advanced Gaming Keyboard' and oh the difference is so noticeable! Once again, Alienware have allowed me to play with another beautiful piece of gaming machinery.
Sporting the same Brown Mechanical keys as the AW768, the AW568 Advanced Gaming Keyboard is just as pleasurable to use. I have to admit, the sound of the keys is growing on me, and it is awfully satisfying to hear the symphony of clicks as your fingers roll over the keys with minimal effort. Once again, you'll also have the anti-ghosting and the N-key rollover supported by the AW768, meaning the keyboard will promptly register all of your keystrokes. I find myself typing a lot faster at home than I can at work, simply because the keyboard itself does most of the work. I barely need to press the key and the letter has popped up, ready for my next input.
So what sets this keyboard apart from the AW768 then? The AW568 is less of a "show pony" and more of the "get in and get it done type". Sporting 5, customisable, macro keys instead of the 15 wielded by the AW768, the AW568 offers slightly less customisation to the user. Now I don't see this as a bad thing, as there was a key you had to hit on the AW768 that cycled through your existing macros.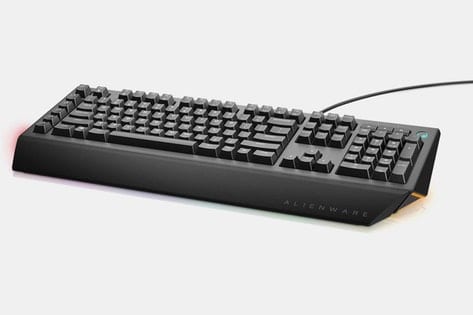 This I found could be a little frustrating as I don't have a particularly good memory, so 15 macros over 5 keys was never really an option. This more simplified system is much more manageable, and therefore much more appealing. Alienware have also replaced the scroll wheel mounted next to their easily recognised alien logo with 3 simply labelled buttons, allowing you to swiftly adjust the volume of your system up, down or completely muted.
The other big difference is the distinct lack of lighting. While still supporting 16.8m RGB colour palette, this is limited to a cool under glow, aura effect. While not as spectacular as a keyboard that is completely light up, this subtle effect lends itself to a more professional and less distracting appearance.
The AW568 offers gamers a high quality at a lower price. At the time of this review, the two keyboards mentioned were on sale. The AW768 normally retails through the Dell website at $250.99 while the AW568 normally sits around $154.00; a difference of nearly $100. With the biggest differences being a lack of LED's and fewer macro keys, the AW568 is an absolute bargain! The keyboard performed admirably and Alienware have gone to prove that a powerful gaming accessory doesn't need all the flashy lights to perform just as well as its big brother.
The Good
Wired! No worrying about batteries!
Simple to set up
Competitive pricing
The Bad
Less flashy lights
Wired! Pesky cables