Ahhh, Alienware, how I love thee. Since I got my Alienware X17 laptop a few years back, I have been a big fan of Alienware. The sleekness of their designs, the sharp edges and the bold lines. I was recently given the opportunity to review one of their mice, and jumped at the chance when a keyboard came up as well.
Enter the AW768 Pro Gaming Keyboard. Sporting the same sleek designs that Alienware is known for, and the 16.8m RGB LED system that seems to have become a necessary attribute within the gaming community, this keyboard will look fantastic sitting next to a custom set up.
Being my first keyboard with mechanical keys, it took a bit of getting used to. Mechanical keyboards are known for being louder than normal and the AW768 is no different. Having said this, it allows for more precise key strokes, as each key is independently recognised by built in hardware. What this means is the keyboard is less likely to ghost your inputs, allowing for more precise movements when pressing buttons in quick succession. One thing I noticed while typing this review out is that each and every key press was registered. This lead to some interesting spelling mistakes on my behalf, but it just goes to prove how sensitive this set up can be.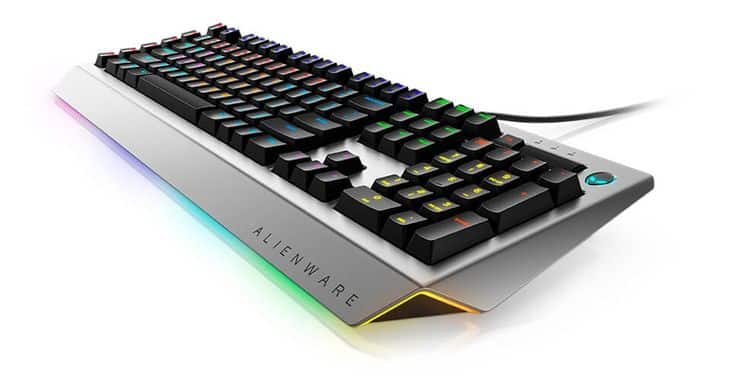 Once again, Alienware have added easy access to customisable macro keys, readily set up with Alienware Command Centre. In total, you have access to fifteen keys you can set up as you wish, from simply opening a program to binding a sequence of timed keystrokes, you'll be able to do as you wish. These are easily found on the left hand side of the keyboard and swapped between three modes by clicking the topmost of the six buttons. This wasn't overly obvious to begin with, and to be honest I found it because I was curious what that button actually did. I was just fortunate enough that I was in the Control Centre and noticed things change as I pressed it.
In true gaming keyboard fashion, you can change the colour of the keys. You have a choice of 16.8 million colours that can be allocated to the keyboard as a whole, or change it up between up to twelve different zones. I had quite a bit of fun mixing and matching the colours while I toyed around with the settings. Just like the AW958 gaming mouse, this won't affect the functionality of the keyboard, but… you know… Lights.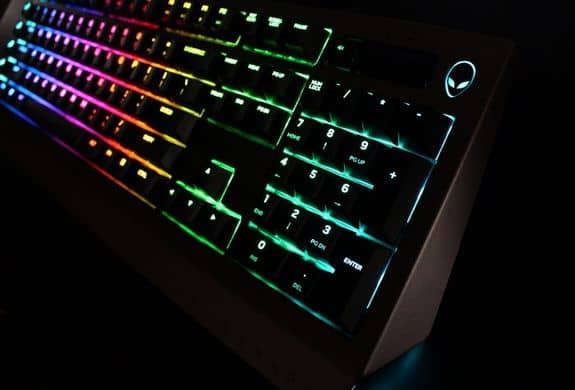 The keyboard itself is very comfortable to use as well, sporting brown mechanical switches which mean the keys feel the same no matter how you press them – you don't get that little bit of a lock half way through that requires a bit of extra force. You can also magnetically attach a rest for your wrist that is available separately. You'll also be able to raise your keyboard to three different levels with the built in stands that come with practically any keyboard over $30.
Overall, the keyboard was fun to use. Admittedly I did spend more time trying to colour code everything than actually typing on it, but the reality is, this is just a keyboard. Don't get me wrong, it is a fantastic keyboard – It is simple to set up, comfortable and easy to use and offers the user a great number of options when creating custom macros. If you're chasing something nice and shiny, this keyboard is well worth considering.
The Good
USB wired connection – No batteries? No worries!
Simple to set up and use
The Bad
USB wired connection – Pesky cables
Aside from lights, it just looks like every other keyboard