Alienware. A brand that for many years has been known as one of the founders of PC gaming equipment. Be it high performance computers, keyboards or mice, Alienware is a brand that you can utter and everyone will know that you are talking about quality products.
Now I'll admit, being a console gamer, I haven't had much to do with quality gaming peripherals. Until recently, the best mouse I had ever used was the cheapest Mionix mouse I could find. Prior to that, I was a Logitech fanboy. When offered to review the Alienware AW958, I jumped at the chance to experience what a true gaming mouse was.
This wired gaming mouse is a gamers dream, sporting sleek designs, optional grip and weight attachments and up to thirteen completely customisable buttons that are readily accessed by your thumb. And LED lights… no self-respecting gaming mouse would be complete without LED lights. While being able to completely customise your lighting system with 16.8m RGB LED won't add to or remove from the mouses performance, having access to such a large variety of colours is any gamers naughty dream and something I didn't know I wanted until I had it.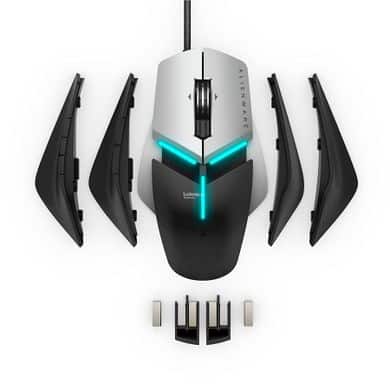 In terms of actual function, the mouse itself is incredibly easy to use and set up. Both sides of the mouse are removable, allowing for the user to set it up as they see fit. You'll have the choice of either two or six readily accessible buttons at the touch of your thumb, all of which can be macroed how you see fit using Alienware Command Centre. Tired of clicking multiple buttons on your keyboard to cast that specific set of spells on that one game? Simply use Alienware Command Centre to record your keystrokes, set up timers and voila! A simple click of your thumb will have you casting everything you need, when you need it.
Boasting a movement resolution of 12000 DPI, the AW958 gaming mouse offers exceptional control on practically any surface. Combine this with a sensitivity level of 50G (or 250 inches per second) and you have a mouse that will have you 360 no scoping with ease. If that's a little too much for you, a simple rocker switch located behind the track wheel will allow you to reduce sensitivity levels to something more manageable for those of us who like a little more fine tuning. Should you require some additional control, the mouse comes complete with a couple of extra weights that slide into place on the rear most part of the mouse, giving a slightly heavier profile and allowing for more precise movements.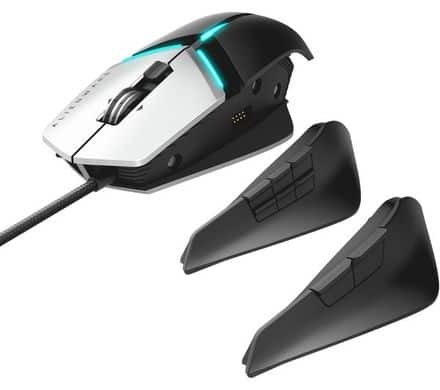 Overall, the Alienware AW958 is a fantastic mouse that offers users all the control they could ever ask for. If there is one thing that lets this product down is that it is a little on the larger side of things. There were times where I did find it a little harder than I feel it should have been to access the buttons controlled by my thumb. Now this could have been due to the way I tend to hold the mouse towards the back of it so I didn't quite have the reach required to easily use them. Other than this, the mouse was very comfortable to use, and being able to easily change sensitivity on the fly allowed me to freely change from gaming to normal everyday use.
The Good
Wired USB – no need for batteries or recharging
Easy to set up with plug and play
Comfortable to use
The Bad
Wired USB – Pesky cables getting in the way
It's big – harder to reach buttons if not held correctly