Gaming laptops are becoming more popular as they become more powerful with the goal of equaling their desktop brethren with the added bonus of portability. Nearly every major brand now offers some flavour of gaming or performance laptop which makes choosing one harder than ever.
Dell is one such brand that stepped into the PC gaming arena with its XPS line some time ago. This has now morphed into Alienware, and love them or hate them, Dell Alienware machines are certainly a brand to consider when shopping around for you next gaming laptop.
Previously I reviewed the Alienware Area51-r2 and loved it. Some would argue that it was a "last-gen" machine, but for reasons I explained in that review, a spec sheet should not be taken at face value.
This time, I spent some time with a slimmer, lighter Alienware laptop from Dell, the m15-r4.
Under The Hood
The hardware contained in the somewhat slimline chassis of my review unit is below:
10th Generation Intel® Core™ i7-10870H (8-Core, 16MB Cache, up to 5.0GHz Max Turbo Frequency
NVIDIA® GeForce RTX™ 3080 8GB GDDR6
32GB DDR4 2933MHz
1TB PCIe M.2 SSD
15.6″ FHD (1920 x 1080) 300Hz 3ms 300-nits 100% sRGB color gamut display
On paper, the hardware specifications look top notch with the included RTX 3080. In real world use however, the included 3080 is basically on par with the 2080 Super in the Area51 r2.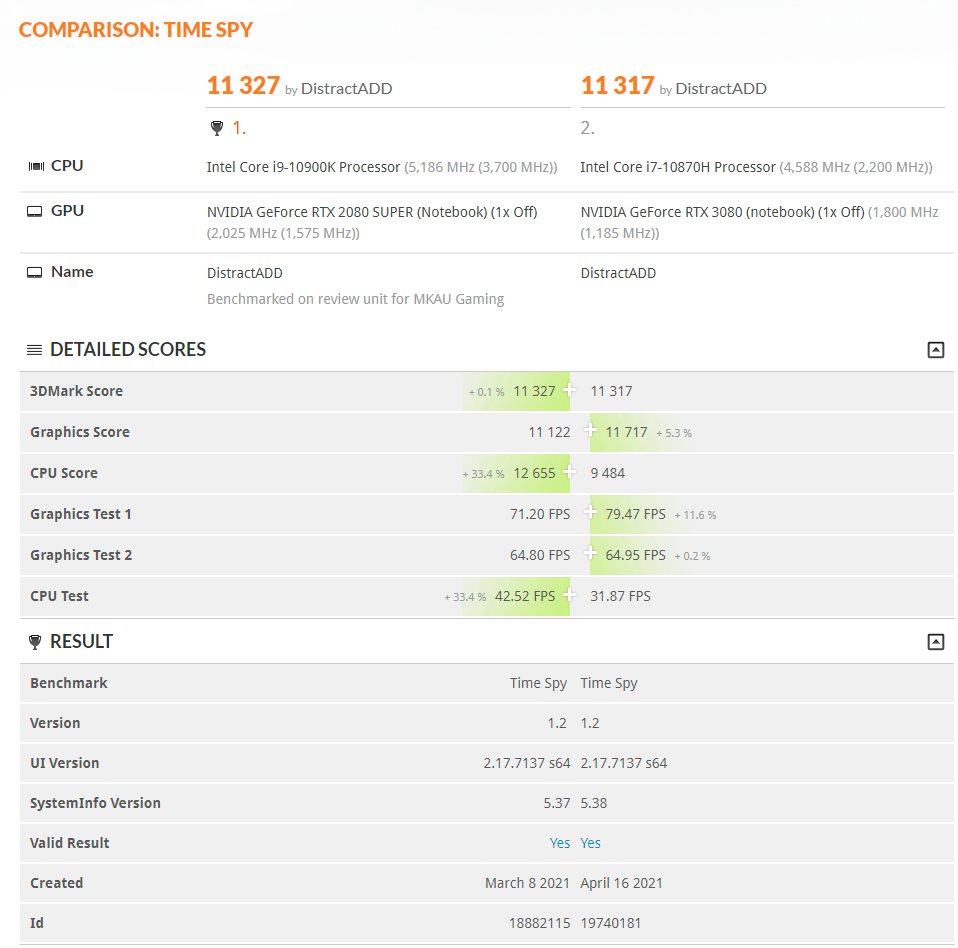 Granted, the 2080 was paired with an i9-10900K and the 3080 with an i7-10870H, but I do believe the CPUs are similar enough to still give an accurate representation of the GPU comparative performance.  Another thing to consider when comparing these two machines, is that Area51 Uses two power supplies equaling 550 watts. Whereas the M15 uses a single power supply at 240 watts.
For interest's sake, I added a desktop AMD Ryzen 5 5600X & Ryzen 9 3900 paired with a RX 6800 GPU in this comparison to give an idea on the hardware gap that exists between desktop and laptop.
Do not get me wrong, it is still hard to fathom and also amazing, to see just how much hardware manufacturers are able to squeeze into a laptop these days.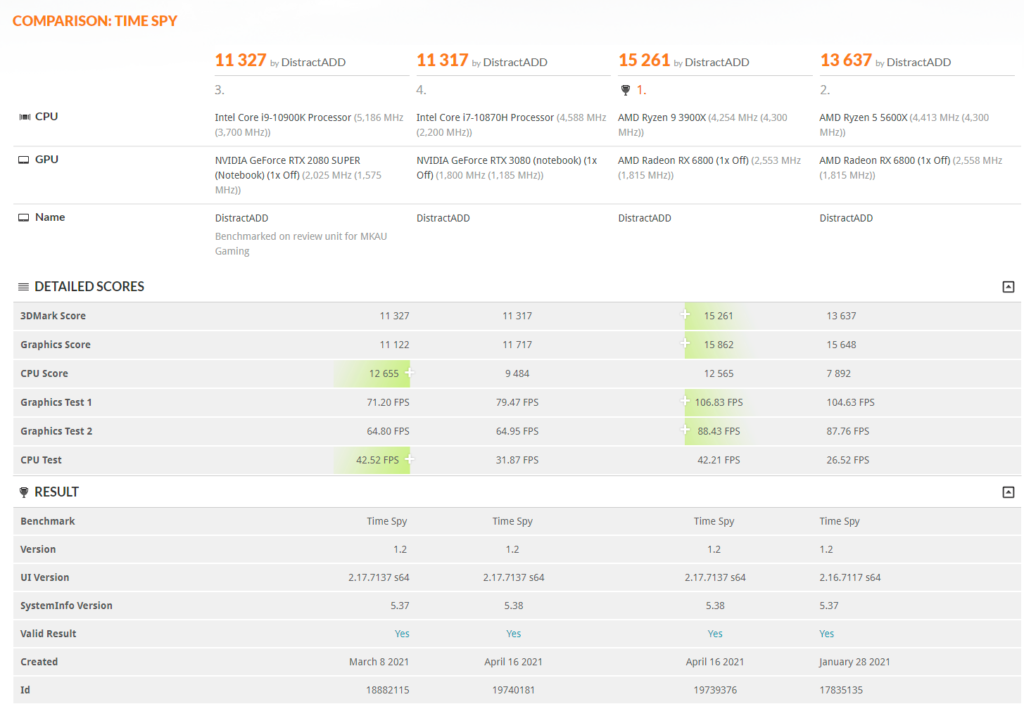 Work & Play
For a machine in everyday use, the Dell M15 r4 works quite well. It is light enough to take with you for work, also powerful enough for play. The biggest downside I found with this machine was the fans and the heat. While the machine does have some overclocking ability, the only thing I would really recommend adjusting is the fan speed.
Under heavy load this machine does get quite hot. To a point when you cannot use the WSAD keys because they can become too hot to touch. Adjusting the fan speed helps minimise this to a point, but in turn, makes the machine much louder than it needs to be.
The battery life use was acceptable and on par with most other high-performance laptops That run Windows 10. I managed to squeeze about 3 hours out of this machine while running mundane tasks such as word processing, Internet browsing, and a few other things that I might do for work. Compared to an Ultrabook or the Apple MacBook Air, this is slack, but for a performance laptop, it is about what I would expect.
At just 2.11kg, under 20.5mm thin, 360.3mm wide and 276.2mm long, the Alienware m15 is lean and powerful. Designed from the ground up, the m15 features premium magnesium alloy materials that deliver weight savings while reducing thickness and delivering a stiffer, sturdy, chassis – all within a sleek aesthetic. This generation of the Alienware m15 includes an improved surface coating engineered to reduce fingerprint smearing and other typical stains without changing the hue or color. This stain resistant paint formula is a High-Performance Clear Coat – a formula that lets you feel the durable magnesium alloy within our award-winning industrial design. Available in Lunar Light or Dark Side of the Moon.
Dell Online Store
Even though this machine comes coupled with a 15-inch display, I still find it hard to believe that we are still using 1080P displays in favour of 1440P. This, however, is just a preference of mine, but I can understand why a 1080P display is used. The 1080P display does help keep costs down, and, battery life up. It also helps support a higher refresh rate.
The M15 r4 does also carry over that Alienware hexagon design and look. Love it or hate it, it is here to stay, as is perhaps, the rear Tron light strip. The sides and the rear of the machine are littered with ports aplenty. Included in those ports are USB 3.2 type-A, Thunderbolt 3, HDMI2.1b with 2.2 output, Alienware Graphics Amplifier, mini display port and 2.5gig Ethernet.
As with any performance or gaming laptop these days, it is a fine balance between price, power and cooling. This is a hard balance to successfully achieve. Dell have managed to get the price and power at a fairly good balance. It is only the cooling that is sub-par here, but good cooling is hard to achieve in such a small package. I would certainly recommend using a laptop cooling stand during long sessions of gameplay.
While I do like this machine, I am still a bigger fan of the Area 51, even with its added heft and dual power supplies. I know that you could build a desktop machine with almost twice the power for half the price, but you also cannot throw your desktop in a backpack and be off at a moment's notice either.
The Dell Alienware M15 r4 offers performance, style and portability. While the price might seem a bit steep for some, one thing you need to remember when purchasing high end machines with high end price tags, is that Dell do offer fantastic on-site extended warranties that you can add on at the time of purchase for that added peace of mind.
The Good
Good Performance In A Small Chassis
Optional On-Site Extended Warranty
Small Footprint
High Refresh Rate on 1080p Model
The Bad
Gets Too Hot For Long Gaming Sessions
High Fan Noise Once That Temperature Heats Up
The RTX 3080 Performance Is A Little Sub-Par