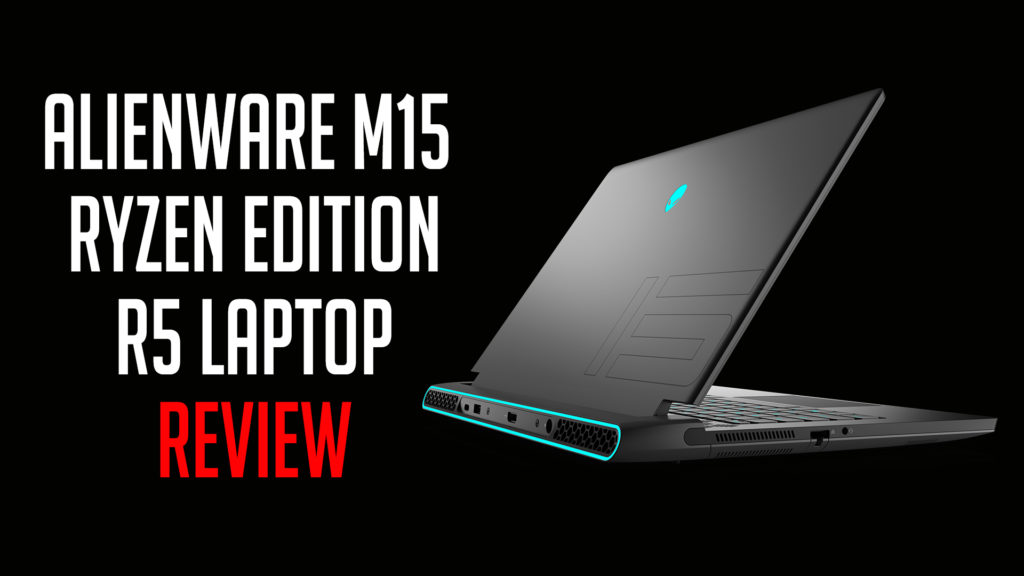 Dell Alienware it seems, offers more flavors of its gaming machines than Baskins & Robbins does of its ice cream! After spending time with the M15 R4, I got to spend some time with the M15 R5 Ryzen Edition laptop containing a Ryzen 9 5900HX 8 core CPU and RTX-3070 8GB GPU.
When choosing which machine to purchase from the Alienware M15 range, you only need to decide on which CPU and GPU you would prefer. The laptop bodies are basically identical across the board except for the colour choice between a dark grey and white. And the rest of the hardware for each model of each tier doesn't vary a whole lot.
This isn't a bad thing in my opinion, but others may disagree. Either way, it is what it is. A lot of manufacturers are now offering AMD Ryzen CPUs in their standard build machines, and while intel is still the dominant brand in the portable space, AMD Ryzen portable CPUs should not be underestimated.
Aside from the brand of CPU contained within, there really isn't too much that separates the M15 R4 & R5 Ryzen Edition from each other.
Aesthetically they are nearly identical. The only difference being that the R4 body colour is "Lunar Light" & the R5 colour is "Dark Side of the Moon". For me, a colour palette challenged person, I like to call them white & dark grey.
Both series' offer customisation options and are coupled with Nvidia GPU's. Again, a 1080p display is the resolution of choice. I am going to steal my comments from my previous Dell review and just paste it here -> I still find it hard to believe that we are still using 1080P displays in favour of 1440P. This, however, is just a preference of mine, but I can understand why a 1080P display is used. The 1080P display does help keep costs down, and battery life up. It also helps support a higher refresh rate.
There is one saving grace though. AMD offer VSR (Virtual Super Resolution) while Nvidia also offer DSR (Dynamic Super Resolution) with their GPU drivers. This allows you to virtually increase your screen res with little to no loss in quality. The virtual resolution will also continue to use the native refresh rate of the native resolution, so you don't miss out there either.
Doom Eternal
When it comes to gaming, the Alienware m15 R5 Ryzen Edition can push out those resource hungry, detailed & ray-traced frames at speeds that will have you enjoying 4K visuals on your TV or external gaming monitor, without compromising gameplay. I found that with the help of DLSS, I was able to achieve 60+ frames in the majority of games I threw at it.
The spec sheet shows that the Ryzen 9 equipped R5 lacks 1 core/2 threads when compared to the intel i9 R4 I recently tested. Does this core count shortfall matter? Not really. I all the testing I have done over time, across so many difference flavours of CPU's, I can confidently say you would be hard pressed to notice any real world speed difference. Benchmarks will show it, but everyday use and gaming won't.
Boundary Benchmark
As a daily driver, the Dell M15 R5 is a great all-round package. It is light & nimble enough to toss it into your backpack and be on your way. The battery life lasted an acceptable 3-ish hours which is pretty much a 'performance laptop' baseline these days.
Granted, this was only under a moderate load that one would associate with work or school tasks such as Word processing, internet browsing & your music playlist running in the background. It still doesn't hold a candle to current gen ultrabooks or the Apple MacBook Air, but it also doesn't pretend that it could. As a performance laptop, battery life is as about as good as one would expect.
Forza Horizon 5
Just like the M15 R4, under heavy load this machine gets hot. It gets hot to the point that you cannot use the "WSAD" keys as they are just too hot to comfortably use. I cannot recommend strongly enough that if you are planning on using this machine for long gaming sessions, purchase a laptop cooler stand to sit it on.
It get it though, there is only so much one can do to keep these machines cool under heavy load with such limited space inside that plastic body. To put together a powerful package that is also retains good portability, heat dissipation will almost always be a problem. The best "laptop" I have used that contained power and also great cooling is the Alienware Area51 r2. Calling it a laptop is a bit of a stretch though as it is about twice as thick as an M15 R5, and twice as heavy. It also needs to power supplies to run at full tilt. The size of the Area51 does take away from the portability though.
Marvel's Avengers
Adjusting the fan speed helps dissipate the heat, but then your machine sounds like it is getting ready to take off.
The M15 R5 is almost identical to the R4 as I stated above, albeit for the different chassis colour. The instantly recognisable Alienware hexagon design and look graces us with its presence once again. At the rear of the machine is the "Tron" light strip that circles the fan exhaust & connectivity ports. The machine is thankfully littered with ports aplenty. Too often now, manufacturers seem to work on the "less is more" premise when it comes to connectivity options. Included in those ports are USB 3.2 type-A, Thunderbolt 3, HDMI2.1b with 2.2 output, Alienware Graphics Amplifier, mini display port and 2.5gig Ethernet.
3DMark Time Spy
Overall, The Dell Alienware M15 R5 is a machine that can spit out high-res 4K frames fast enough to enjoy the most demanding games, but also offers good enough battery life to use on the go for work or school.
Personally, I really love this new generation of Alienware machines. They offer performance that will keep you playing your favourite games for years to come, while also keeping the external aesthetics toned down just enough to allow for corporate or school use.
I would also highly recommend that when you purchase your Dell machine, spend the extra and purchase the Dell on-site extended warranty. It is a piece of mind that will keep you calm in that time of crisis when you shiny Dell machine goes kaput.
Tech Specs
Processor

AMD® Ryzen&; 9 5900HX (20 MB total cache, 8 cores, 16 threads, up to 4.60 GHz Max Boost Clock)

Operating System

Windows 11 Home, English

Video Card

NVIDIA® GeForce RTX&; 3070, 8 GB GDDR6

Display

15.6″, FHD 1920×1080, 165Hz, Non-Touch, 3ms, no Cam/Mic, ComfortView Plus

16 GB, 2 x 8 GB, DDR4, 3200 MHz

Hard Drive

1 TB, M.2, PCIe, SSD

Choose your colour

Dark Side of the Moon with High Endurance Clear Coat and Silky Smooth Finish

Microsoft Office

None

Security Software

No anti-virus software

Support Services

1Y Premium Support and Onsite Service

Accidental Damage Protection

NONE

Keyboard

Alienware mSeries 4-Zone AlienFX RGB keyboard – US/International

Ports

2 SuperSpeed USB 3.2 Gen 1 Type A ports
1 SuperSpeed USB 3.2 Gen 2 Type C port
1 SuperSpeed USB 3.2 Gen 1 Type A port
1 HDMI 2.1 Output
1 Power DC In C port
1 2.5Gbps rated RJ-45 Ethernet port
1 Global Headset jack

Slots

None

Dimensions & Weight

Front Height: 12 mm
Rear Height: 19.25 mm
Width: 356.2 mm
Depth: 272.5 mm
Lowest weight: 2.42 kg
Maximum weight: 2.69 kg

Camera

Alienware HD (1280×720 resolution) camera with dual-array microphones (Standard)

Audio and Speakers

Stereo speakers, Realtek ALC3254 with A-Volute Nahimic audio processing software – Integrated in Alienware Sound Center (AWSC), 2 W x 2 = 4 W total

Chassis

Based on Alienware's Legend industrial design language
Engineered with Alienware Cryo-Tech&; Cooling technology
Constructed with copper alloy thermal components

Wireless

Killer&; Wi-Fi 6 AX1650 802.11ax 2×2 Wireless LAN and Bluetooth 5.2

Power

240W Adapter
Alienware m15 R5 Gaming Laptop with AMD Ryzen 5000 CPU | Dell Australia
The Good
4K Gaming @ 60 FPS or better
Good Battery Life
Great Portability
Comfortable Keyboard
Solid Build Quality
The Bad
Can Get Awfully Hot During Gaming Sessions