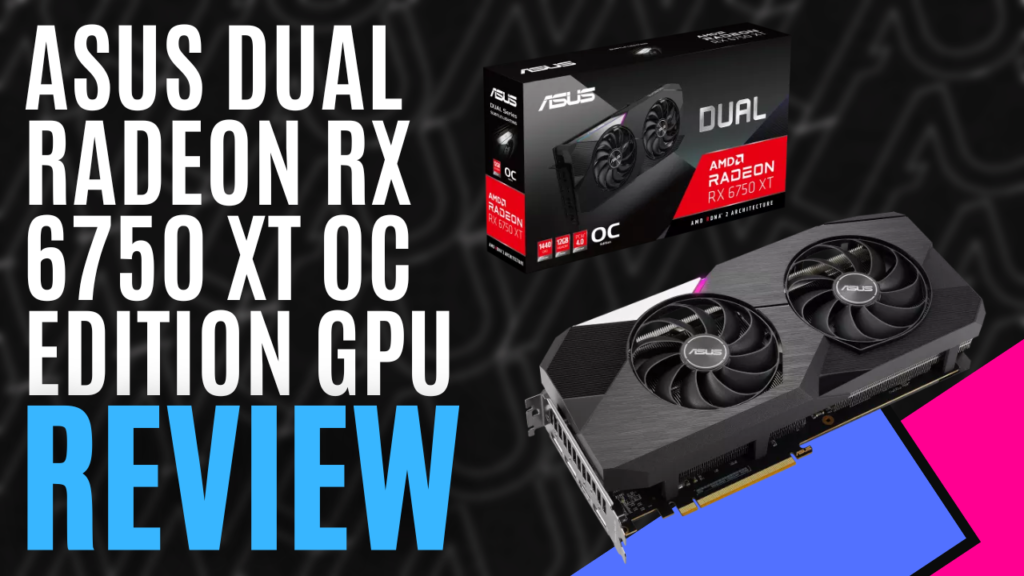 When I was working my retail job, one of my favourite computing systems to sell was ASUS. They always seemed to be the more reliable system, and they were typically well-priced for what you were getting. Even their after-sales support was incredible, so I was always happy to direct a customer to their products, and I was even happier when we were sent an ASUS Dual Radeon RX 6750 XT OC Edition graphics card to test out.
It was quite a bit smaller than I expected, though you would expect that the word "DUAL" should have given this away. Measuring in at 295 x 139 x 55mm, it's small enough to fit into compact cases, but it will take up two of the expansion slots on the back of your PC, so you'll need to make sure you have enough space between your PCIe cards. I also noticed that the fan blades seemed longer than the ones on my current GPU, and sure enough, this was the case.
They've used an Axial-tech fan design, featuring a smaller hub to allow for the longer blades, which in turn, directs more air onto the radiators, and this is supported by Dual Ball bearings, which can not only prolong the life but also help it to run substantially quieter – or at least, this was my experience. It could also have been due to the 0dB Technology, which uses an onboard controller to assist with fan speeds, completely turning off when the GPU is below 55 Celsius, and ramping up as things get more intense.
A single HDMI 2.1 port and three DisplayPort 1.4a connections will let you connect up to four monitors, and this is driven by a processor capable of running at up to 2638MHz in OC mode, or 2618MHz while in gaming mode, and 12GB of GDDR6 memory running a 192-bit interface and 18Gbps speeds.
This all comes together to support a Digital Max Resolution of 7680 x 4320, or 8K, though you'll really notice a drop in frames if you do this. Where it shines is in 2560 x 1440, or Quad High Definition. It's a nice balance between crispy graphics, clean resolutions, and smooth frames.
Pulling out my existing GPU and installing the ASUS Dual Radeon RX 6750 XT OC Edition graphics card was as easy as any other installation, and it's built to be robust. The PCB is reinforced with an aluminium backplate designed to prevent flexing, a stainless steel mounting bracket resistant to corrosion, and a GPU bracket designed to apply even pressure and stability to assist with the transfer of heat.
The previously mentioned smaller size also meant that it was lighter than my existing GPU, which would certainly help to reduce stress on my mainboard, and the additional space helped promote airflow to the rest of my system, and the subtly Aura Sync RGB strip running along the top of the shroud added an extra bit of flair to the otherwise dark section of my case.
AMD Software: Adrenalin Edition meant that installation of the latest drivers was a breeze, and it was a one-stop-shop for anything gaming-related, providing me quick access to my games library, where I could launch the game, as well as view various graphical statistics and tweak individual settings, streaming and recording software, and a performance tab to view overall PC statistics, such as the current usage of hardware, including the RAM and CPU.
You can also use this to adjust the performance of your system, but if that isn't enough, you can also make use of the ASUS GPU Tweak II software, another easy-to-use program that is completely compatible with the card, allowing you to adjust everything GPU-related.
Once everything was updated, it was time to actually try out the card, and according to UserBenchmark, it warranted a slightly over 20% increase to the Gaming Virtual Benchmark, but the best way to test this is by playing some games.
I figured I'd boot up Warhammer 40,000: Darktide because it had been a while since I played it, and I knew they had pushed through some updates. I also had an FPS chart readily available that gave me the in-game statistics, and having an average of 100 frames was probably a good place to make my comparisons.
Without adjusting any of my in-game settings I ran through a few missions, closing out the game each time, and taking note of the reported FPS each time. I can happily report that with my existing settings, I did indeed see a 10-20% increase, with the FPS reports falling between 110 and 130 FPS, so I had to push it further.
Adjusting the resolution to 4K, I know that I averaged about 50FPS with my existing GPU, but with the ASUS Dual Radeon RX 6750 XT OC Edition graphics card, I noted once again that I had an increase of between 10 and 20%, with reported average frames jumping between 55 and 65. Ignoring the reported statistics, I can comfortably say that I did indeed notice smoother motion while I was busy slaughtering cultists.
Boasting 12GB of GDDR6 memory and the potential to boost up to 2638MHz while in OC mode, the compact ASUS Dual Radeon RX 6750 XT OC Edition GPU is an absolute powerhouse at an affordable price point. Easy-to-use Software makes updating drivers and tweaking settings a breeze, and it has enough ports to easily connect all the monitors you could ever need. Whether you're upgrading from an older card or building a new system on a budget, the ASUS Dual Radeon RX 6750 XT OC Edition graphics card is well worth the investment.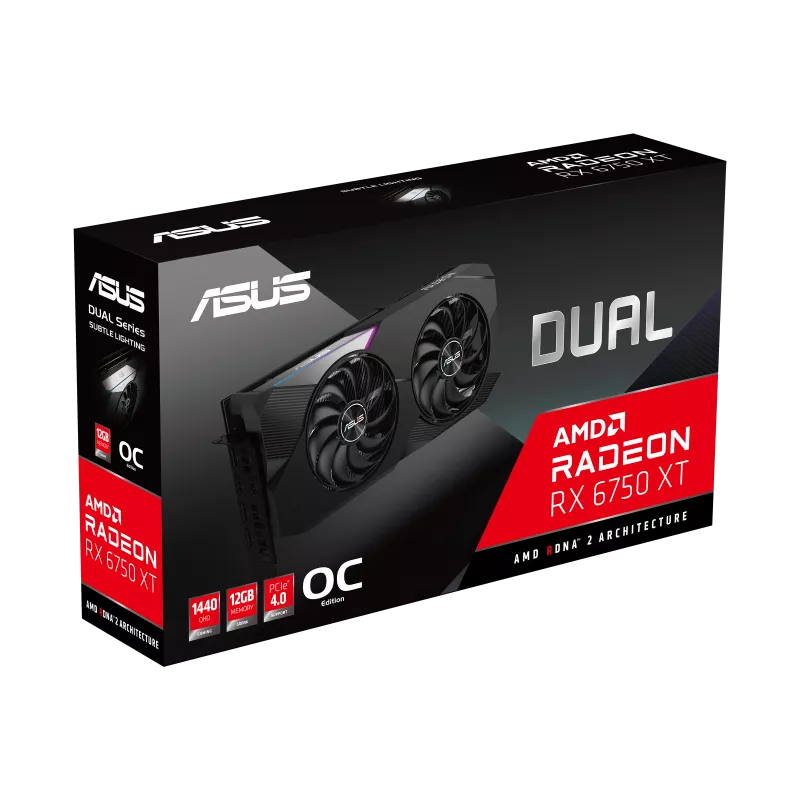 The Good
Simple to use software
Small enough to fit any case
Great FPS gains
Quiet fans
Aura Sync RGB lighting
The Bad
I'd prefer two HDMI and two DisplayPorts
RGB is a little too subtle