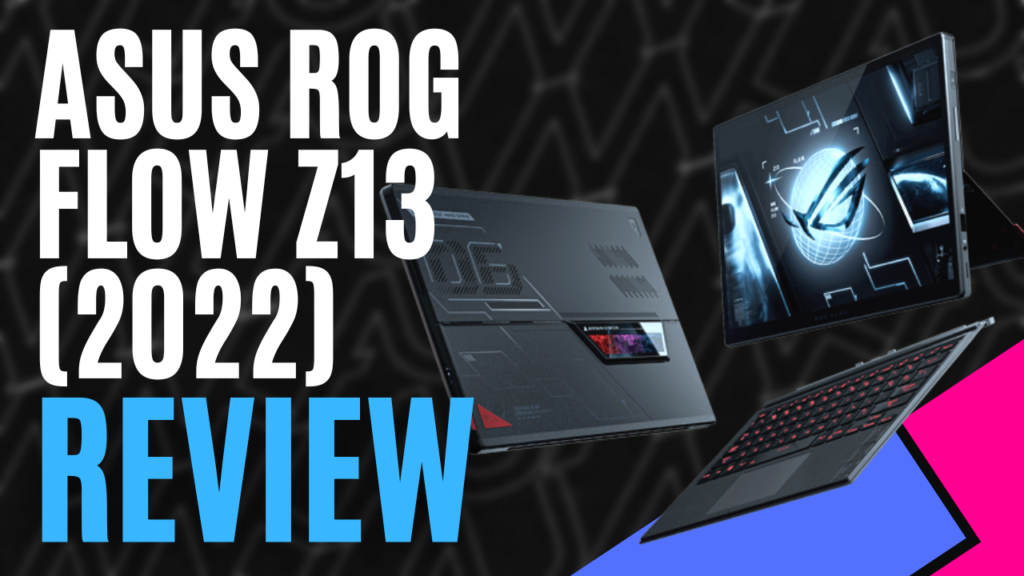 I think it fairly safe to assume that many of us who prefer to game on a PC have either sunk our hard-earned cash into a gaming desktop PC or a gaming laptop, but not both. And by "gaming" I mean a higher-end device that can achieve 60fps @ 4K and graphic settings turned most of the way up! This is something that is easier to achieve in a desktop than it is in a laptop, for many reasons, but mostly because cost-per-frame is much lower with a desktop.
Apart from the cost, an advantage of only have one or the other is that you only have device to make sure keeps up to date and in sync.
Laptops are harder to keep cool but offer portability. Laptops are more expensive and can't match their desktop twins because of power constraints due to the aforementioned cooling requirements.
Desktops offer upgradeability where laptops really can't offer the same amount of upgrade options without buying a whole new laptop.
The ASUS ROG FLOW Z13 really falls in to neither category. Yes, it is more laptop than desktop, but I would class it as a Microsoft Surface on steroids. It even comes stacked with a pen, a 1920×1200 touch screen, detachable keyboard and depending which model you decide upon, it comes with up to an intel i9-12900H CPU, 16GB DDR5-5200, 1Tb SSD and an RTX-3050Ti 4GB 128bit GPU.
Uncharted 4 Gameplay
My review unit was the top end version with the specs above and I was also supplied with the 2021 ASUS ROG XG Mobile Dock/External GPU that when connected, not only added USB and Ethernet ports, but also bumped my GPU up to an RTX-3080 16GB. You can check out all the tech specs of the range of models here
Before going any further, I want to make known that there are 3 versions of the ASUS XG Mobile Dock. 2021, 2022 and the new 2023 version. I was supplied the 2021 version that contained the RTX-3080 16GB, while the 2022 version is said to hold an AMD 6850m 12GB & the new 2023 version houses an RTX 4090 16GB.
All three versions will connect to my Z13 Flow GZ301, but good luck to you trying find any version for sale in Australia. JB-HIFI was the only place I found the 2022 version for sale, but stock was extremely limited and it hasn't had any stock since.
If you do happen to find one for sale in Aus, you count on it easily exceeding $1000 in any case. Even after reaching out to our ASUS PR reps, the best they could offer was to buy one from JB-HIFI at the time. Even then, that was the AMD 6850m version which, in most cases, underperforms compared to the 2021 RTX-3080 version I had for review, of which I asked to purchase even though it had been through so many different users, but it wasn't to be the case.
Destiny 2 Gameplay
Normally I would leave my next statement until the closing paragraph of my review, but I am going to say it now in case you want to save some time reading the rest.
If you have no interest in purchasing a Z13 without the dock, and you live in AU, then either don't bother purchasing it at all, or try your luck at importing. I hate to say it, but I am truly disappointed with just how hard it is to find stock anywhere in AU of these docks. I can't even put in an order with a deposit for the next shipment of docks anywhere. I can buy from ebay, but they are overpriced and out of country.
Here's hoping that the new 2023 version actually makes it to AU with good stock levels, and a somewhat affordable price.
That said, the lack of being able to locate a dock is the worst "feature" of the Z13 Flow.
Let us forget about the dock for the moment and focus on just the device as a stand-alone Tablet PC. As a tablet PC it is definitely a Microsoft Surface on steroids with the Asus rog RGB lighting, better cooling and more power. It also has a micro SD card expansion slot hidden under the stand, but expansion ports are very limited.
The available ports on the device itself consist of a USB-A super-speed, a USB-C port and the proprietary ASUS XG docking station port contains a Thunderbolt USB-C connector that can be used to connect to almost any docking station. I have personally tested with Lenovo and Dell docking stations and while they seem to work perfectly fine you still need to connect the power adapter that comes with the tablet otherwise you get warnings about incorrect power adapter and CPU throttling.
World of Warships Gameplay
On the upside, the Asus Power Pack that comes with your Z13 Flow, is very small which makes for good portability but is also the most likely cause for burning my fingerprints off the tips of my fingers if I touch it during, or just after heavy use. The small form factor just simply won't have good heat dissipation.
For day-to-day work use, it is more than fast enough for basic tasks right up to content creation and video rendering, even though you are limited to a maximum, non-upgradable 16gb DDR5 ram in the top i9 model, I am yet to have any issues running multiple tasks or games.
I don't recommend trying to use the Z13 Flow on your lap without a solid surface supporting though. The keyboard does not have a solid enough base to prevent it bending, and if you bend it slightly while typing, it will trigger random keystrokes or mouse clicks.
Speaking of gaming, I would like to have seen a 3060 GPU make in to the i9 model over the 3050Ti, but I am guessing there was cooling or space issues that prevented this. The base i9 model has run all games I've thrown at it, but because the 3050Ti lacks proper gaming power prowess, you will need to tweak the graphic setting on most games. Using DLSS or AMD FSR with supported games is a massive help, and rather surprisingly, you can enable Ray Tracing comfortably in most games also.
Gotham Knights Gameplay
Do keep in mind though that I am talking about playing games on the 1920×1200 builtin display, not an external 4K monitor. A 4K gaming device, this is not. Without the eGPU dock, I wouldn't even put this in to the 1440p gaming segment. It also means you may need to purchase a third-party cable to connect to an external monitor and a physical ethernet cable. At least the wifi is 802.11ax though.
I could comfortably play games like Destiny 2, Gotham Nights, God of War, Stray, Uncharted, World of Warships in medium to high graphic settings while achieving a consistent 60FPS and sometimes as high as 120FPS without the need of the eGPU dock after some minor tweaking while still keeping plenty of on-screen detail.
The unit comes with minimal RGB lighting, the keyboard does not contain separately lit keys, and on the rear of the machine is a small window showing part of the mainboard that is lit up by RGB LED's also. All of which is controlled by Armoury Crate Software, which is still hate that software by the way, but I will admit it has become a lot more stable in the last 12 months or so.
As an overall unit, and I can only speak of the top i9 model supplied to me for review, it has a lot going for it. So much so that I purchased 2 of them from JB-HIFI even though I still couldn't find a dock in stock anywhere. I would like to make it know that I received no discount or special pricing from ASUS for these 2 units, and therefore the words in this review are not influenced by ASUS in anyway. I did however manage to score $850 discount off of each device thanks to a JB-HIFI special at the time. At $3300 for the i9 model at full price (as I mentioned, I scored $850 discount on that price from JB, not ASUS) and over $1000 for the AMD 6850m dock, it does make for an expensive gaming rig, but it would have the ability to cover both work and play without the need to be oversized and heavy.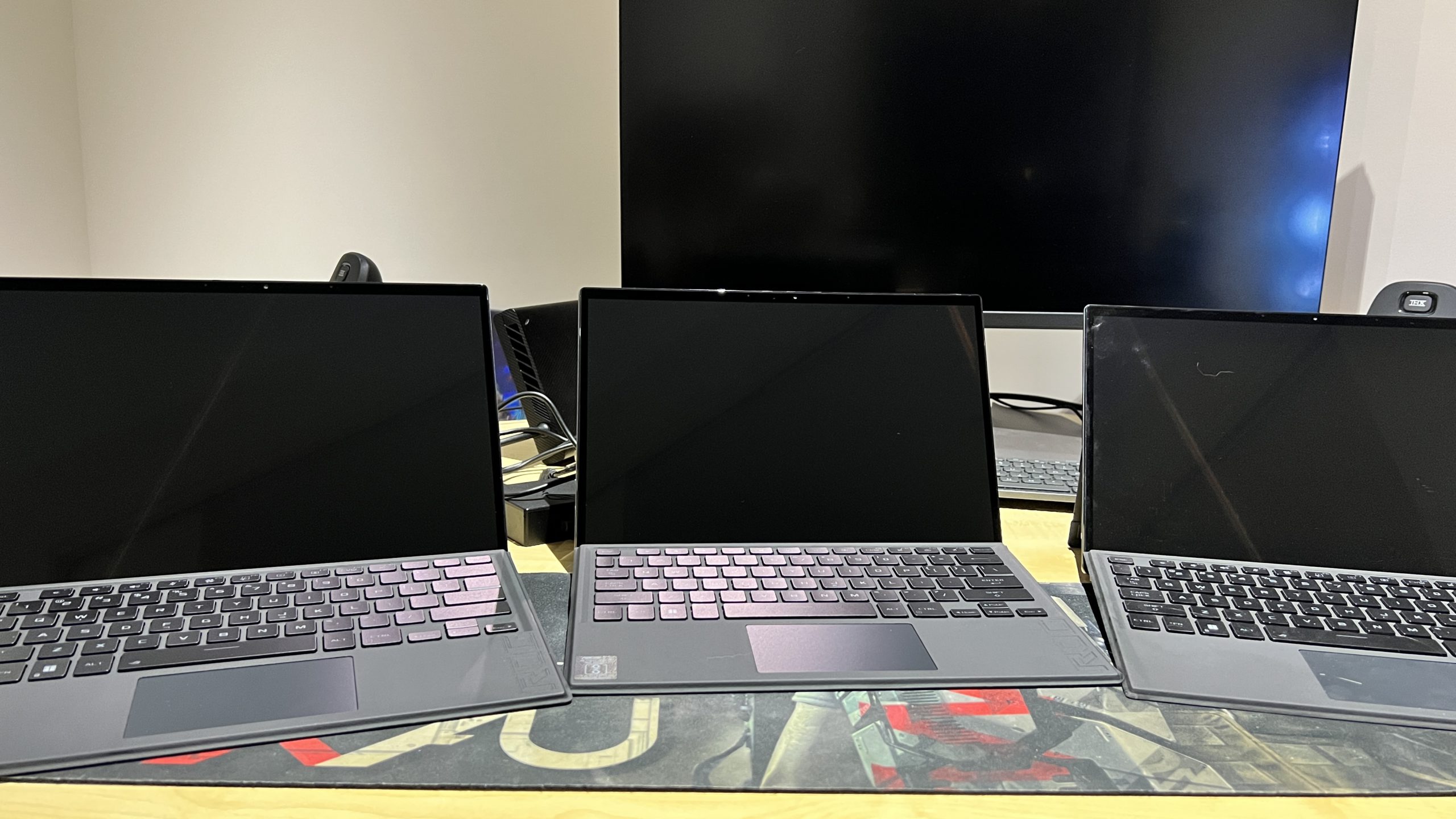 I am keen to see pricing on the 2023 RTX-4090 dock, but I imagine it may cost nearly as much as the device itself. Regardless, as a standalone device, it has the power to play graphically demanding games with a little bit of tweaking, and the portability to go everywhere with you. I beleive ASUS has an almost perfect device for both work and play when you combine the external GPU dock and the stand-alone device. It is portable, it is powerful, and while opinions will vary, the "less is more" approach with regard to the RGB lighting on this device does give it chance to slip in to a more corporate setting if needed. I find it very difficult to decide on what rating out of 10 I should give it.
I did buy 2 of the top end models after all. If the XG dock was readily available in Australia, I reckon I would be comfortable rating it as a perfect device with a score of 10. Yes I know it is expensive, but you need to look at the overall package.
The Z13 Flow 2022 edition has the ability to fit so many different areas of usability and even allows for future upgrades, at least sort of anyway, when talking about the docks. And the RTX-3050Ti that is built in to higher end of the range, runs surprising well. It won't do 4K gaming, but at 1920×1200, you can enjoy most games at good quality and 60fps or more. I personally think this is one of the best devices ASUS has released to date, but the lack of availability for any of the ROG docks in the southern hemisphere is, without a shadow of a doubt, the biggest disappointment of this device.
The Good
Portable
Powerful
The RTX-3050Ti Performs Well Enough
Comes With A Pen
Small Power Brick
For Work & Play
The Bad
eGPU Dock Almost Impossible To Get In AUS
Very Limited USB Ports Without Dock
Cannot Connect To Non USB-C Equipped External Display Out-Of-The-Box