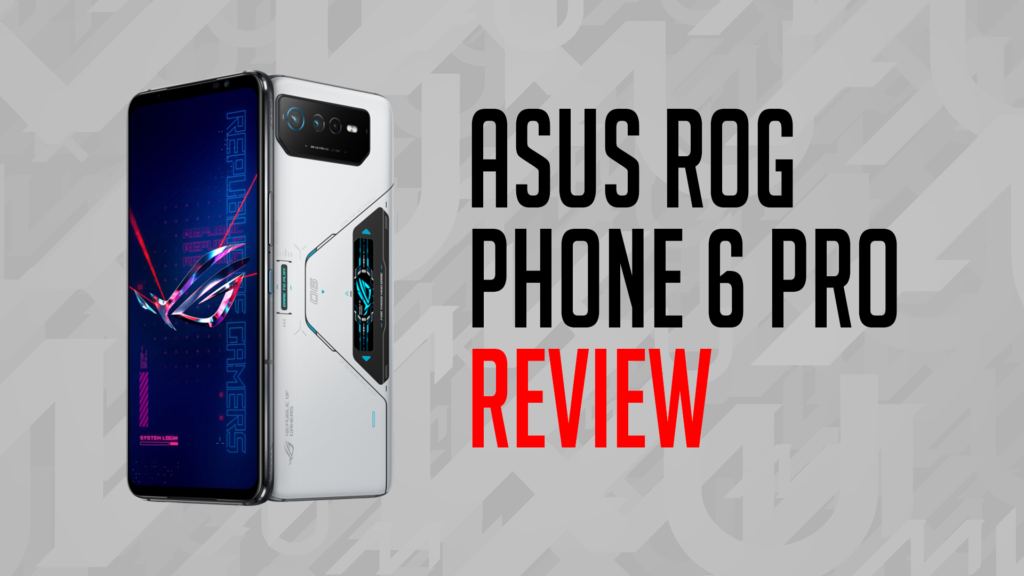 Question: What looks like a phone and functions like a phone, but really wants to be the next big thing in handheld gaming when it grows up?
Answer: The newest entry in the ROG Phone Series from ASUS. The ROG Phone 6.
I previously reviewed the ROG Phone 5 Ultimate and loved it. Skipping over the 5s version, I recently got to get hands-on with the ROG Phone 6 Pro for a couple of weeks. So, without beating-around-the-bush, let's get to it.
As always, ASUS loves to appeal to the gaming audience and upon sliding up and folding back the top half of the Asus ROG Phone 6 Pro box, I was presented with one very cool looking, very large handset just waiting to be powered up to impress its new user.
Apart from the handset, inside the box is the charger, usb cable and AR Game card. The AR game card was also present in the box with the 5 Ultimate and is certainly a wonderful way to highlight the gaming prowess and pump up the new user excitement from the get-go.
Once you have completed the initial setup of your new phone, you can then come back and grab the AR card to play the game if you choose, but thankfully this isn't forced upon you.
As with the previous ROG Phone 5 Ultimate and 5s Pro versions, the Asus ROG Phone 6 Pro comes equipped with the customizable second display on the rear of the handset. It also adds to back-side aesthetics with a light-up "Dare To Play" insignia. This is also able to be customized, but only with respect to what color it is, and when.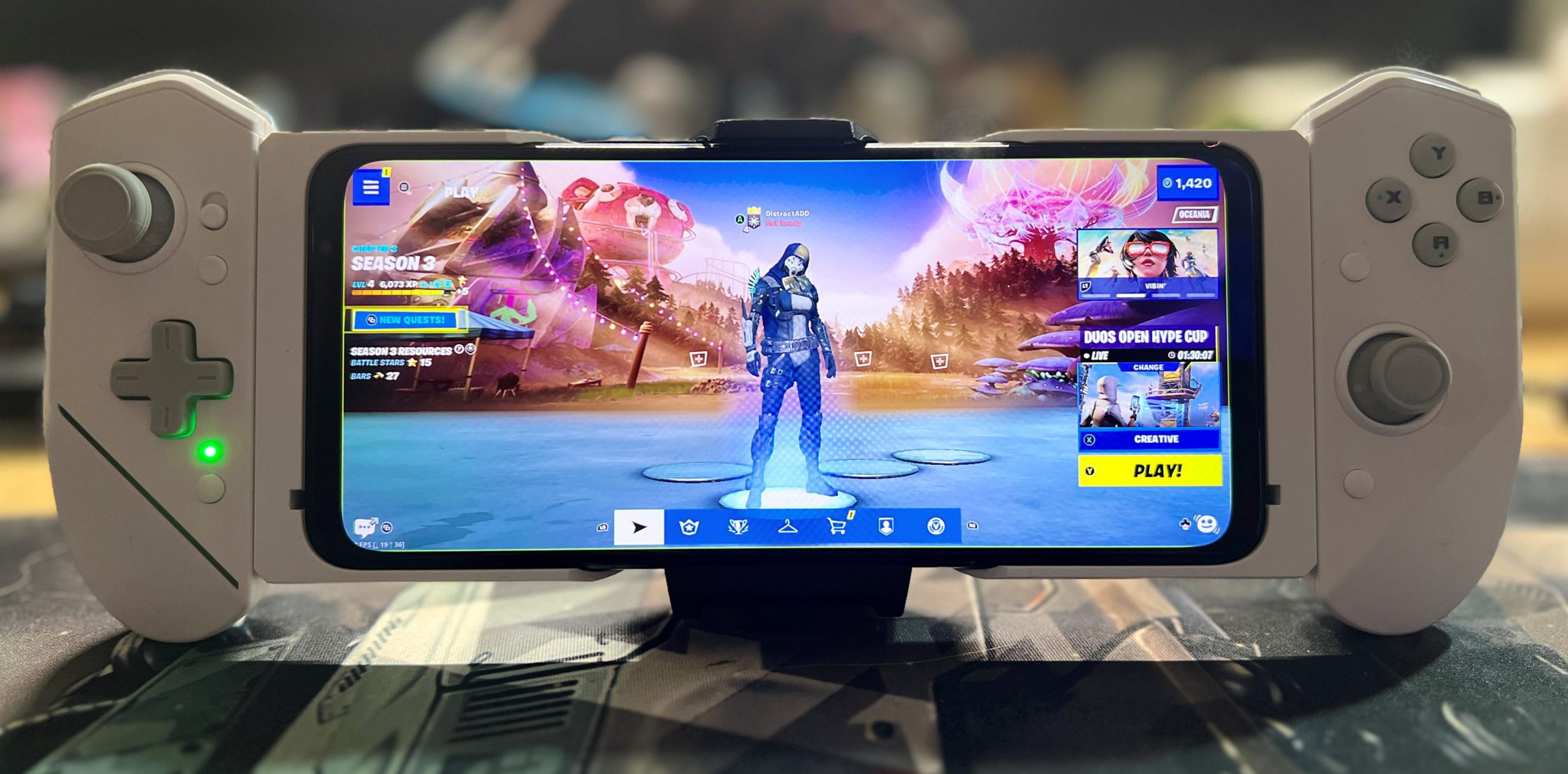 Display
Powering on the Asus ROG Phone 6 Pro, you are reminded that you are holding an ASUS ROG product as you are greeted with that familiar ROG logo and startup sound. Familiar to some anyway. Apart from the phone's aesthetics, your eyes are also treated to a buttery smooth 6.78-inch AMOLED display equipped with HDR10+, refresh rate of up to 165Hz, touch sampling rate of 720Hz and an ultra-low touch latency of 23ms.
You can choose to leave the refresh set variable and let the phone choose the best setting for you based on your current activity and remaining battery power.
Gaming on this display is, as you would expect, super smooth & responsive. For your normal day-to-day use, the 165Hz refresh rate is a huge overkill, but everything on this phone (except the camera) is meant to be big, bold and massive overkill. That's the point.
Under The Hood
What good is this display though, without a powerful engine to run it? To keep everything running snappy – nay nay – running blisteringly fast, is the Qualcomm flagship SoC, the Snapdragon 8+ Gen 1. This chip is said to improve on previous gen chips with an extra 50% GPU performance to keep those frames coming at you thick and fast!
Aside from the boost to the GPU, the CPU also boasts performance gains of around 15%, but also improves power efficiency by 20%.
Coupled with a massive 18GB LPDDR5 RAM, up to 512GB storage and a game-all-day 6000mAH battery capacity, this thing is more capable than your average home PC.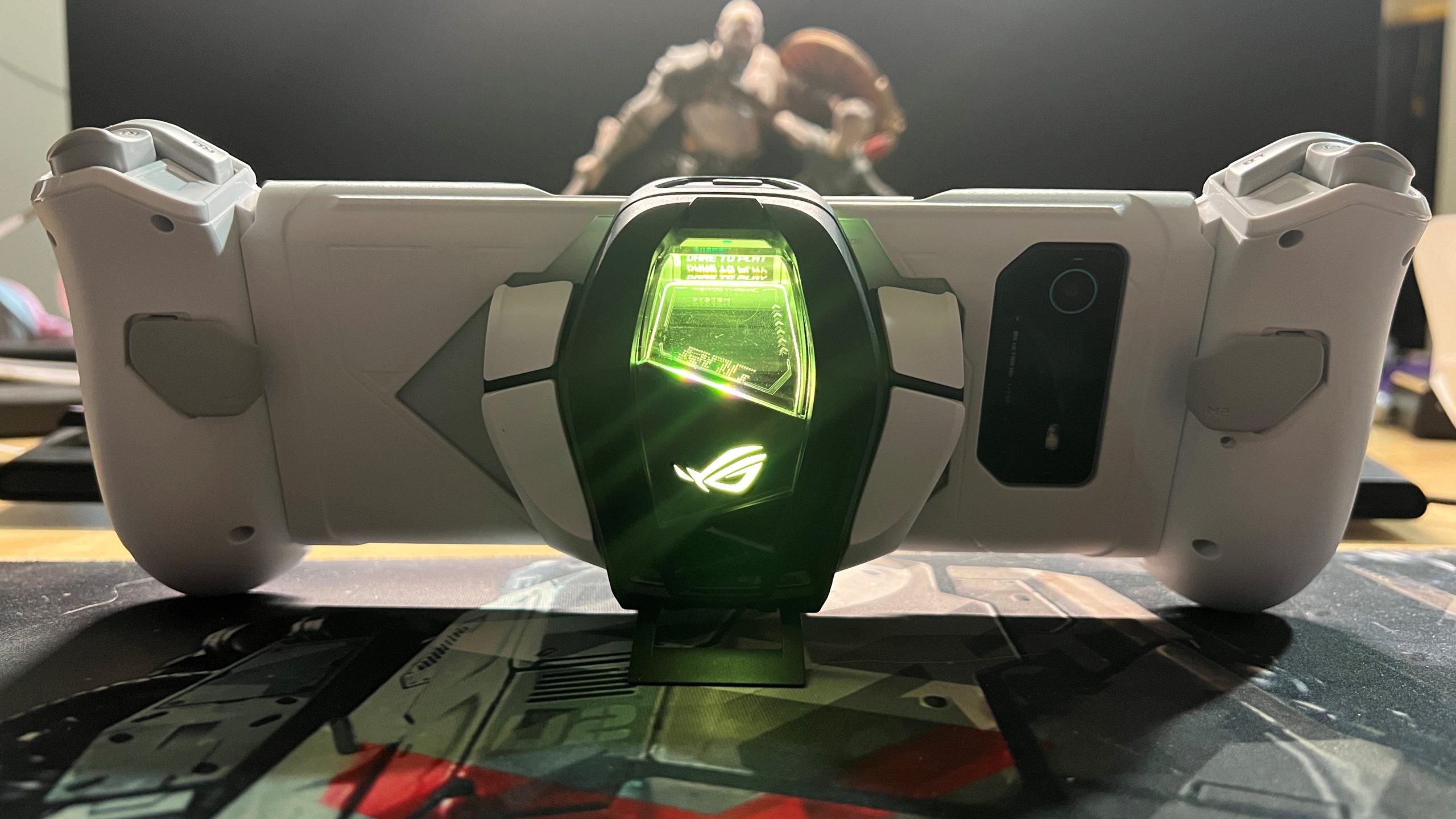 Next Level Audio
Personally, I can deal with graphics tuned down a little to hit my desired frame rate, I can deal with having to free up some storage space if I'm running low, I can even deal with loading times that allow me to grab a cuppa-tea and a tam-tam; but what I can't deal with is crappy, or even just sub-par audio.
I appreciate quality audio and it is the audio which can create or destroy the overall gaming or movie experience. No matter how good the visuals might be.
The Asus ROG Phone 6 Pro utilises symmetrically designed seven-magnetic dual speakers, which do an amazing job of fully immersing you into the full experience with the help of Virtuo spatial audio technology.
Camera
Also, around the back, is the triple camera consisting of a 50MP Main Camera, 13MP Ultra-wide Camera, and the 2MP Macro Lens. As with my experience on the rog5, the camera is very hit-and-miss. But again, you don't buy this phone for the camera.
There isn't anything inherently wrong with the quality of images and video produced by the Asus ROG Phone 6 Pro triple camera, but with a price tag like this, I would have expected a fair bit more consistency with the images it produced. I put it up against my daily iPhone 13 Pro in a few different scenarios and lighting conditions, and while the consensus around the office was that the iPhone, on average, produced better images and video on default settings, the Asus ROG Phone 6 Pro camera is still a ways away from being a disappointment.
Check out the comparison shots below.
Gaming and Experience
To be able to fully enjoy gaming on the Asus ROG Phone 6 Pro, I cannot stress enough that you need the Aeroactive cooler 6 and Kunai 3 Gamepad. While the Asus ROG Phone 6 Pro does incorporate handy improved air triggers, I found them to be less than 100% accurate on the Asus ROG Phone 6 Pro and although they did function noticeably better than the rog5, I still found gaming with the airtrigger system more frustrating than fun. The ability to customize aspects of the OS, the rear display & different functions of the phone with the integrated Armoury Crate software is still available just like on the previous generation ROG phones.
The problem though, to be brutally honest is that the game-centric approach of the Asus ROG Phone 6 Pro is both a success and a failure.
I love the ASUS ROG phones and have wanted my very own ROG Phone handset since the original ROG Phone. Unfortunately, my bank balance has always laughed its arse off at me each time I contemplate purchasing one.
In Australia, none of the mobile telcos offer ROG phones on contract, and with a price tag to rival a decent gaming PC, an XBOX Series X AND a PlayStation 5 (if you can get them of course) or 4x Original Nintendo Switch consoles, the idea of purchasing full ROG Phone kit is out of the question for me. And probably for a lot of people I would assume.
To purchase the full kit for the full handheld experience you would need to spend:
ASUS ROG Phone 6 Pro 5G Handset – AU$1999
ASUS ROG AeroActive Cooler 6 – AU$179
KUNAI 3 Gamepad – Pricing varies. I found it online as low as AU$203 but averaged around the AU$300-AU$330 mark for most online sellers.
Based on the cheapest price for the gamepad of $203, that brings the whole kit to a total of AU$2,381. This still does not include a case and screen protector.
Keeping in mind that ASUS currently does not offer any insurance-type packages like Samsung Care & Apple Care+. ASUS also only currently guarantees 2 major Android Version updates. Apple is currently supporting its devices with up to 6 major updates, while Samsung is holding at around 3 Major updates depending on the model of your phone.
Price tag aside, it is the Android OS that is also stopping the Asus ROG Phone 6 Pro from reaching its full potential. I do use an iPhone 13 as my daily driver, but up until that, I had a Galaxy Note20 Ultra. All things being equal, I much prefer Android OS over iOS. I love the openness of the OS and how I use to run a Linux VM on my Note20 Ultra to be able to perform certain tasks to make my day job as an IT Network Engineer easier while on the move.
I hate how Android still struggles to perform even some of the simplest of tasks such as tap-and-pay. My Samsung Note20 Ultra, the rog5 and the Asus ROG Phone 6 Pro all failed-more-often-than-not at paying at the eftpos terminal in most stores with 2 different visa debit cards from 2 different banks.
This meant that I didn't feel comfortable solely relying on my Android phone when paying for items in-store. Not once have I had this problem with cards from the same banks on iOS on an iPhone 11 Pro Max and iPhone 13 Pro.
As for iOS, while I do hate the walled garden, it is the ease with which Apple devices work with Apple accessories, the ability to easily share with content, calendars, location etc with the rest of my family & the security of AppleCare+, that makes iPhone a reliable choice with a longer support cycle.
Android doesn't have a good enough library of games to make that one of the reasons you buy a gaming phone. A Nintendo Switch will give you a much better library of games to choose from, for less than a quarter of the Asus ROG Phone 6 Pro full-kit price. I sometimes like to stream games from my PC to my handset to play on the go, but to do that successfully, a powerful handset is the one item you don't need.
I say forget about trying to be a phone or a camera and forget about Android OS. If the Asus ROG Phone 6 Pro was a ROG Handheld running Linux with easy access to install any of the ever-growing library of popular PC & Console games that support ARM, even maybe keep the ability to insert a 5G sim for easy data connection on the go (PSVita 3G anyone?), I reckon that would offer a better bang-for-your-buck and give a better-quality all-round gaming experience.
At the end of the day, if I had money to burn, I would happily and eagerly run out and buy an Asus ROG Phone 6 Pro, cooler and Kunai 3 because I like shiny things and I love just how unique the Asus ROG Phone 6 Pro is. Alas, I don't have money to burn, so considering there is no Apple/Samsung CARE equivalent for the Asus ROG Phone 6 Pro, there is only a guaranteed 2 major version update for the Android OS, and that Android Gaming really doesn't have the sort of game library that can properly take advantage of a high-end quality gaming device such as the Asus ROG Phone 6 Pro, then there really isn't much left to justify such a hefty purchase. Except perhaps the uniqueness of the Asus ROG Phone 6 Pro with its sexy looking display on the back.
But even that polish wears off pretty quick.
Body
| | |
| --- | --- |
| Dimensions | 173 x 77 x 10.3 mm (6.81 x 3.03 x 0.41 in) |
| Phone Materials | Front glass (Gorilla Glass Victus), glass back (Gorilla Glass 3), aluminum frame |
| Weight | 239 g |
| Phone Colors | Black and white |
Display
Display

AMOLED

Size

6.78 inches

Resolution

1080 x 2448 pixels, with a pixel density of 395 pixels per inch

protection layer

Corning Gorilla Glass Victus

Screen-to-body ratio

82.2% screen-to-body ratio

Other Features
165Hz refresh rate
HDR10+
1200 nits

Internal Hardware
| | |
| --- | --- |
| Chipset | Qualcomm Snapdragon 8 Plus Gen 1 – 4 nm |
| CPU | Octa-core (1 x 3.19 GHz Cortex-X2 & 3 x 2.75 GHz Cortex-A710 & 4 x 1.80 GHz Cortex-A510) |
| GPU | Adreno 730 |
| Memory Card | no |
| RAM | 16 GB |
| Internal Storage | 512 GB |
Camera
| | |
| --- | --- |
| Main | Triple |
| 1st Sensor | 50 MP (wide), f/1.9 |
| 2nd Sensor | 13 MP, f/2.4, (ultrawide) |
| 3rd Sensor | 5 MP, f/2.4, (macro) |
| Features | LED flash, HDR, panorama |
| Video Recording | [email protected], [email protected]/60/120fps, [email protected]/60/240fps, [email protected]; gyro-EIS |
| Selfie Camera | Single |
| – | 12 MP |
| Features | Panorama, HDR |
| Video Recording | [email protected] |
Battery
| | |
| --- | --- |
| Capacity | 6000 mAh non-removable |
| Type | Lithium Polymer |
| Fast Charging | 65 W – Power Delivery 3.0 |
Sound
| | |
| --- | --- |
| 3.5mm jack | Yes |
| Other features of the sound | 24-bit/192 kHz audio |
| Loudspeaker | Yes, with stereo speakers |
Additional Features
| | |
| --- | --- |
| Sensors | Under-display fingerprint sensor – optical |
| Other Features | accelerometer, gyro, proximity, compass |
The Good
Fantastic Display
165Hz Refresh Rate
Industry Leading SoC
Plenty Of Storage
Insane Amount Of RAM
Eye-catching Rear Display
Highly Customisable
Outstanding Audio
6000mAH Battery
The Bad
That Insane Price Tag
Better Handheld Gaming Options For Less Already On The Market
Android OS Doesn't Offer The Gaming Experince Required To Enjoy This Device Properly
You Need The Kunai 3 & Aerocooler 6 To Properly Enjoy Gaming
No Phone Care Options
Short Life Expectancy With Only 2 Guarenteed Major OS Updates