There is without a doubt, coupled with enormous excitement, that I have had great pleasure in reviewing my first gaming laptop for MKAU Gaming.
I have been a gamer since I could remember when I was around 7- 8 years old, playing Super Mario and Duck Hunt on my parents NES console in the late 80's that I knew I would enjoy video games. However, like most of us at this age we didn't know how expensive this 'hobby' could become!
Obviously through the generations, the console would eventually become obsolete with the release of the 'next generation' console being released, and we'd start bugging our parents to buy us one for Christmas!
I'm now in my 30's, and still possess a Sony PS4 for my young children to play, however PC gaming has taken over my life as my preferred console – especially for gaming, as my professional career requires me to use them throughout my day.
So, enough about me and onto the review of the Asus Tuf Gaming A15 Laptop! I've been primarily gaming on custom desktop PCs with big graphics, but this laptop does not disappoint!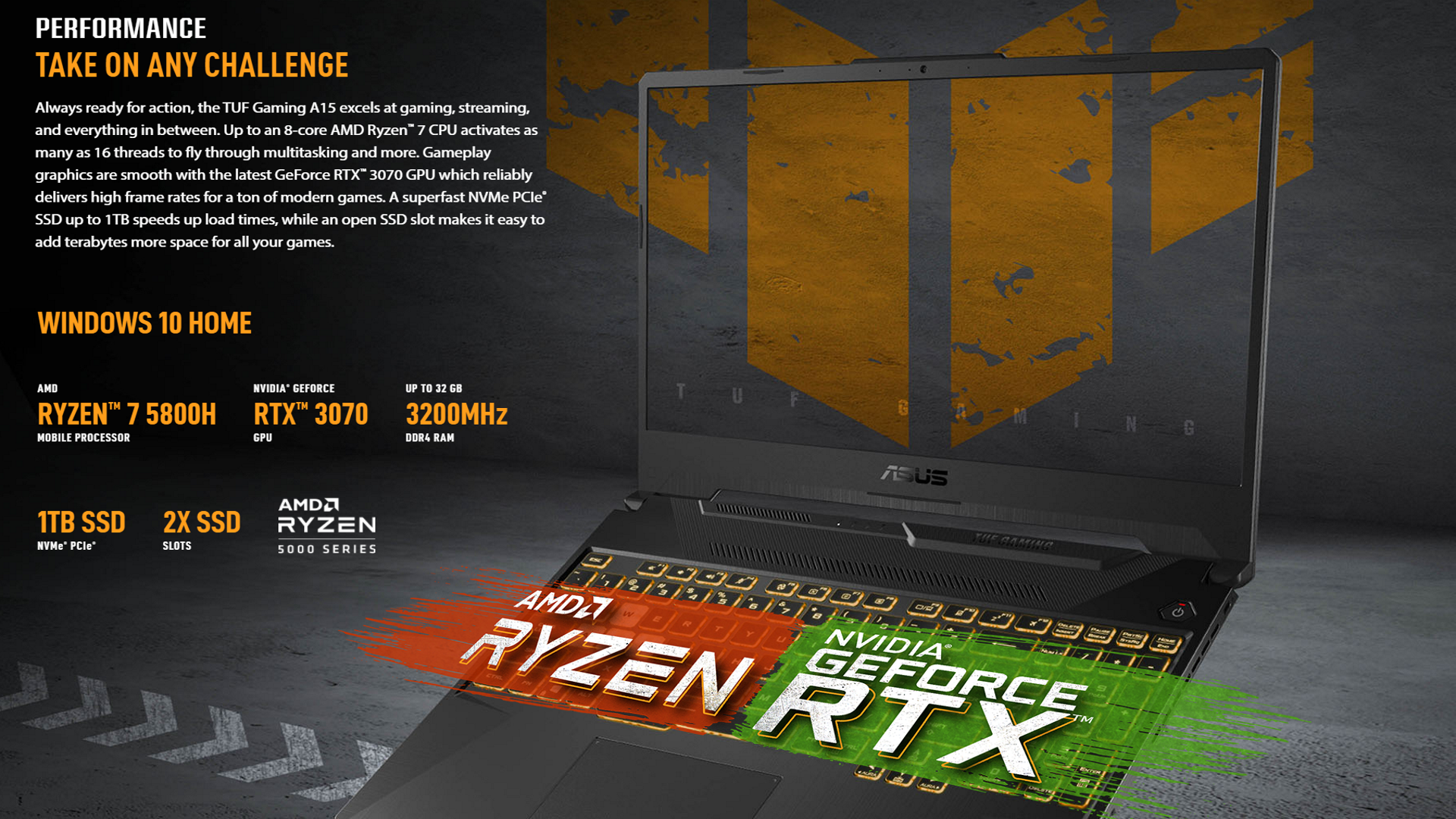 Here are the specs on this PC that I reviewed:
AMD Ryzen 7 5800H (8 cores) with Radeon Graphics
Nvidia RTX3070 8GB GPU
16GB DDR4-3200 RAM
1TB SSD with a 2nd SSD lot for expansion
144 HZ Smooth Refresh Rate
WiFi 6 AX Certified
8+ hour battery life (4.5-hour battery life under load)
These specs are decent for a mid-range gaming laptop. I was able to play most graphic intensive games without much effort at all, and for an extra bonus, I connected my HTC VIVE VR headset which ran these games brilliantly also. ASUS have made upgrading the TUF easy with a special pop-open screw that raises one corner of the bottom panel, making it easier to separate & enable you to quickly upgrade or replace your RAM, or add a second PCIe drive.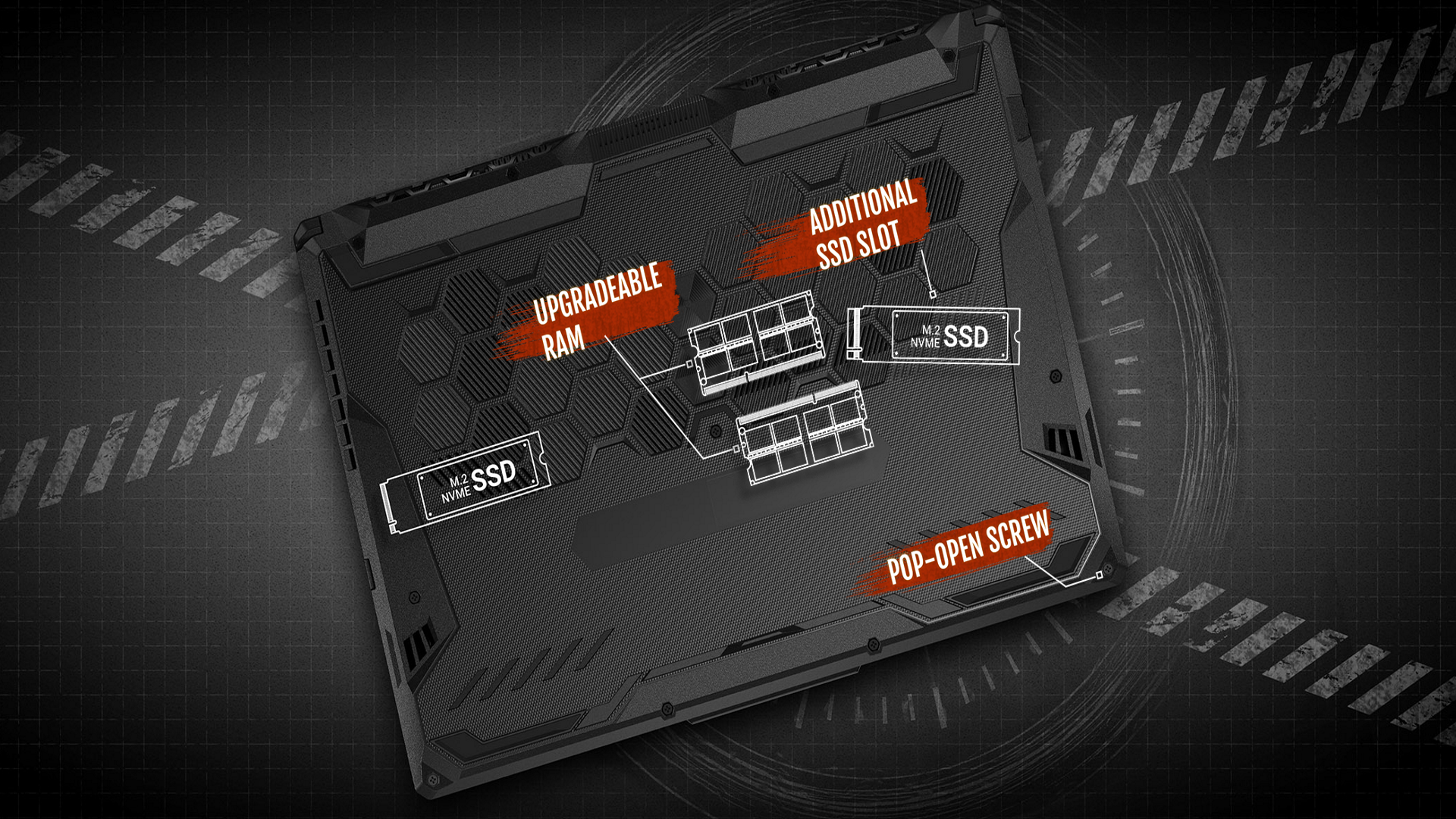 It would, however, be great to have a native 1440p display rather than the standard 1080p. I say "native" because with the integrated Radeon Graphics, you can enable VSR (Virtual Super Resolution) and bump it to a software-driven 2560×1440 with a minimal loss in clarity and straight edges.
The laptop is very well built and doesn't feel like something that would 'fall apart' with constant gaming. The TUF name refers to the military-grade durability that encompass these machines.
In order to earn the TUF Gaming name, these laptops must successfully survive a rigorous battery of MIL-STD-810H tests. Test devices are exposed to drops, vibration, humidity, and extreme temperatures to ensure reliability. Dependable even in the harshest conditions, the A15 is more than capable of withstanding the accidental bumps and knocks of everyday life.
The keyboard has an RGB backlight to it, that can be customised using the included Asus software. I also quite liked the attention to detail with the W-A-S-D keys in a bright colour, that help when gaming in low-lighting.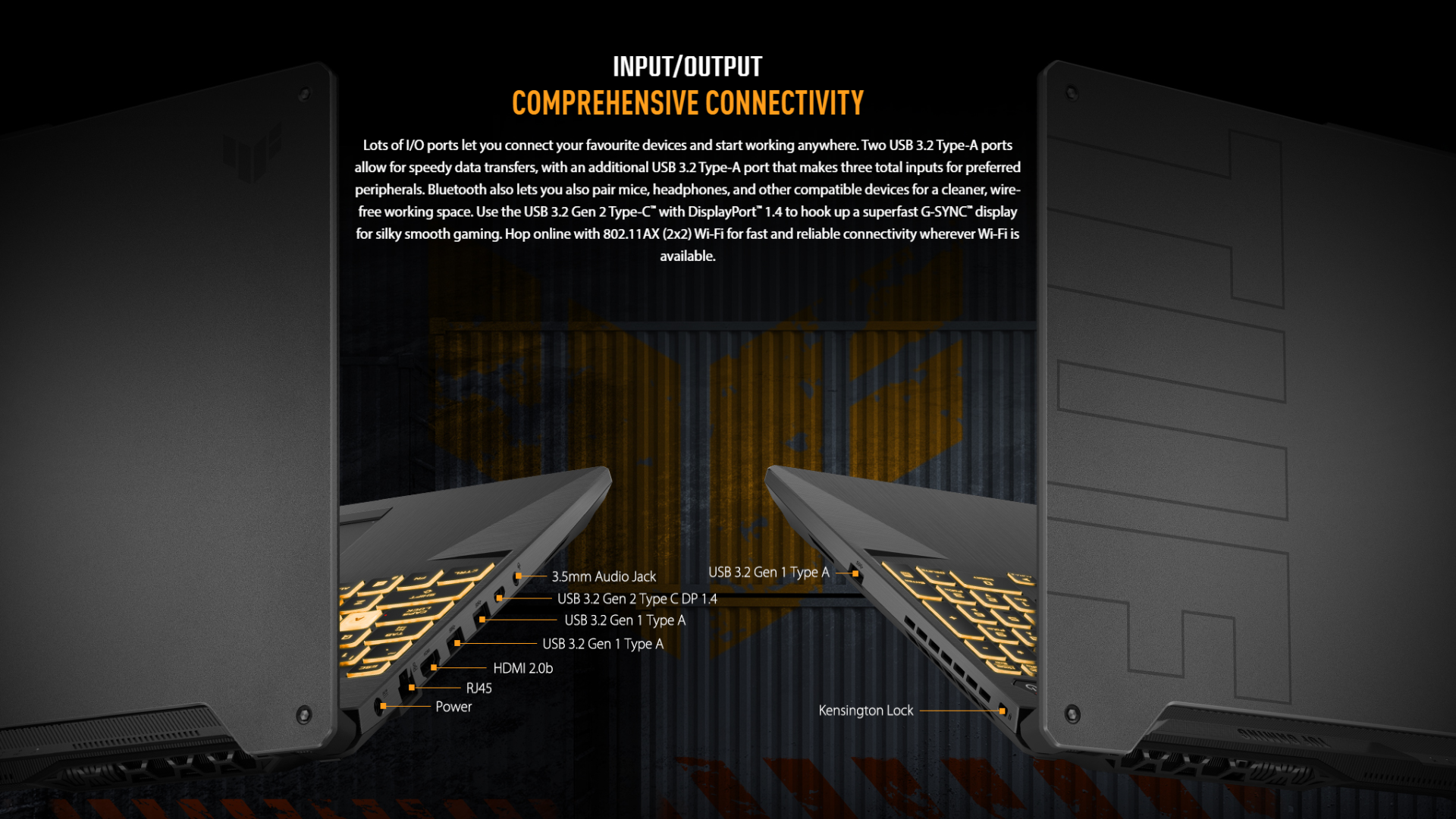 Unfortunately, this laptop is unable to be charged through the USB-C port, as the AC adaptor is rated at 200W, with my power brick only able to output 65W over Type C. Thankfully, running on the 90Wh battery yields a happy medium between Ultrabook & Performance. With normal usage at 50% screen brightness, the Tuf A15 managed a respectable 8 hours running time.
As with most laptops these days, heat can be an issue. Under heavy load, the TUF A15 does get quite hot. If you are using it with external monitor, mouse & keyboard, just leave the clamshell open to prevent too much heat getting trapped and causing potential performance throttling.
ASUS do seem to be able to wring as much power out of their machines as possible, no matter what price range they are placed in.
As an all-round package, once again ASUS has delivered a high quality and high(er) spec'd machine for a price that doesn't make your eyes water and bank balance shiver with fear. Online I was able to find the same spec'd machine as our review model for AU$2599
Check out the benchmarking clips below to see how this TUF machine performs…. You will be pleasantly surprised!

Subscribe to my channel
Sorry, there was a YouTube error.
The Good
Built To Handle Being Mishandled
Excellent Performance
Easy To Upgrade
Decent Battery Life
The Bad
Only 1080p Display
Can Get Quite Hot