Audio is important in our household. Whether it be cleaning the house on a Sunday morning, old school tunes blaring, high octane background music hyping me up for an epic gaming session on a fave shooter or mellow instrumental playlists to set the mood for the train to sleepy town at night, it definitely has its place. Since it is so important, it needs the respect it deserves through a premium set of speakers. So in saying that, do the A2+ wireless speakers from Audioengine step up to the plate?
On initial impressions, these speakers are simple, but sleek and modern in appearance. Coming in 3 colors, a uniquely ravaging red and the classic glossy white and black, the ability to customize your setup look is certainly there. Our review unit coming in as my color of choice, a soft satin black, has 2 speakers with smooth rectangle faces. Each speaker comes with 2cm silk tweeters and 7cm Aramid Fiber woofers full of bounce and spring. All knobs, lights, inputs and outputs are at the back of the head speaker, making for a very clean look. While these speakers aren't very flash in appearance, they certainly make up for it in functionality.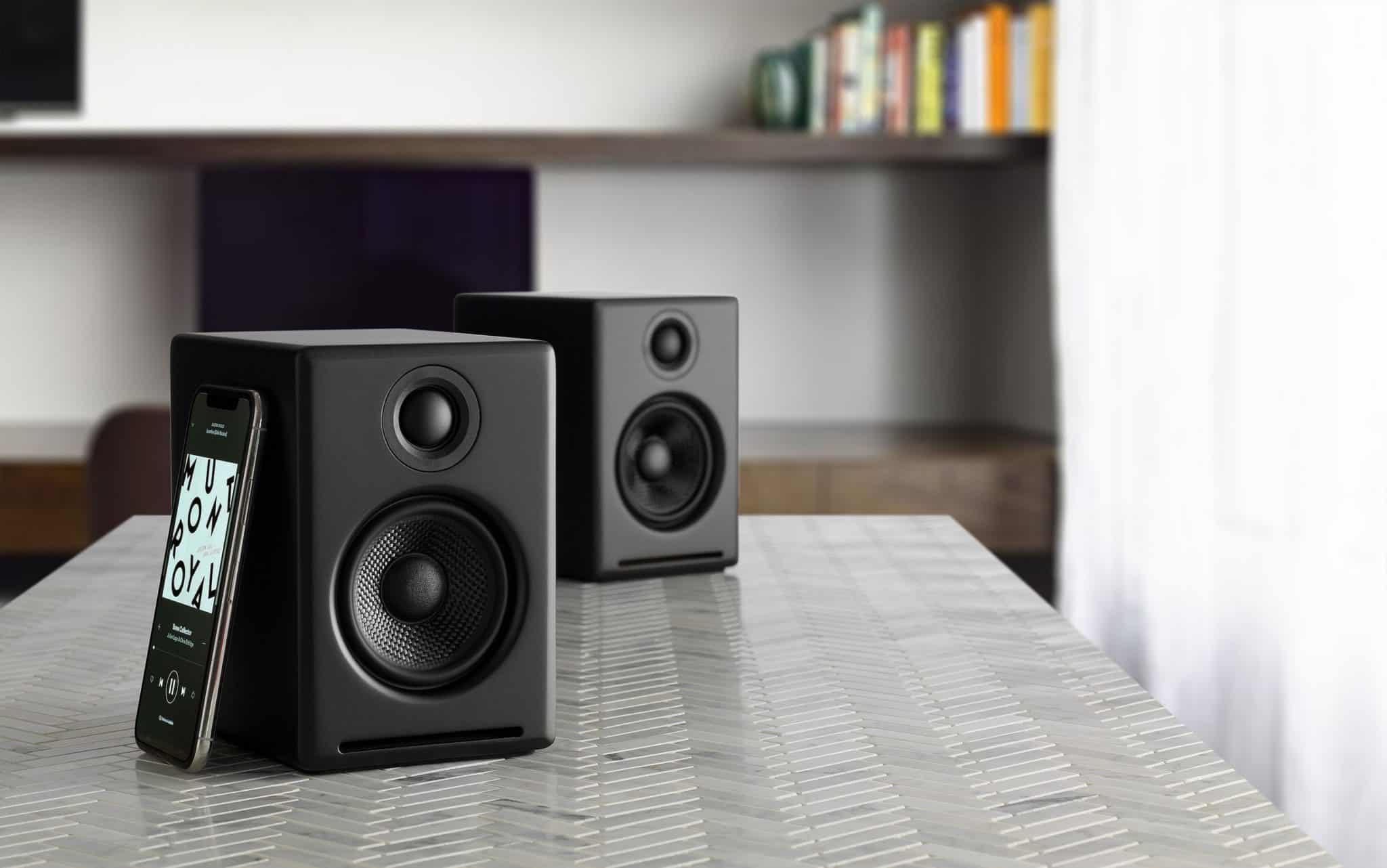 These speakers come with a lot of cables, but lots of cables means lots of possibilities and I was excited to explore all the options. Included is a small power supply brick with some lengthy cable, 3.5mm audio AUX jack, USB input cable and speaker wire for connecting the passive speaker. There is even a sub woofer output on the head speaker, if you decide you want to beef up that bass even more. The A2+ wireless's can be used with mobile phones, tablets, PC, notebooks and TVs and we here at MKAU joyfully tested them on all of these devices.
While boasting wireless, most set ups required 2 cables or less (unless AUXing), if you are pumping sound through both speakers. Fortunately, it takes no time at all to set these up and were one of the easiest to use pieces of tech I've had in a long time, even when used with PC. Easier still and one of my favorite features is the high-fidelity, Bluetooth connectivity. I found they connected flawlessly to my Android phone with little fiddling other than on my own phone. If you wanted to go completely cableless from your gadget and don't care about a lessened output, you can even use Bluetooth to play out of one lone speaker. I found connect ability quick and seamless, as the pairing light at the back indicated a successful delivery of sound. From Bowie to Biggie my Spotify playlist never sounded so good.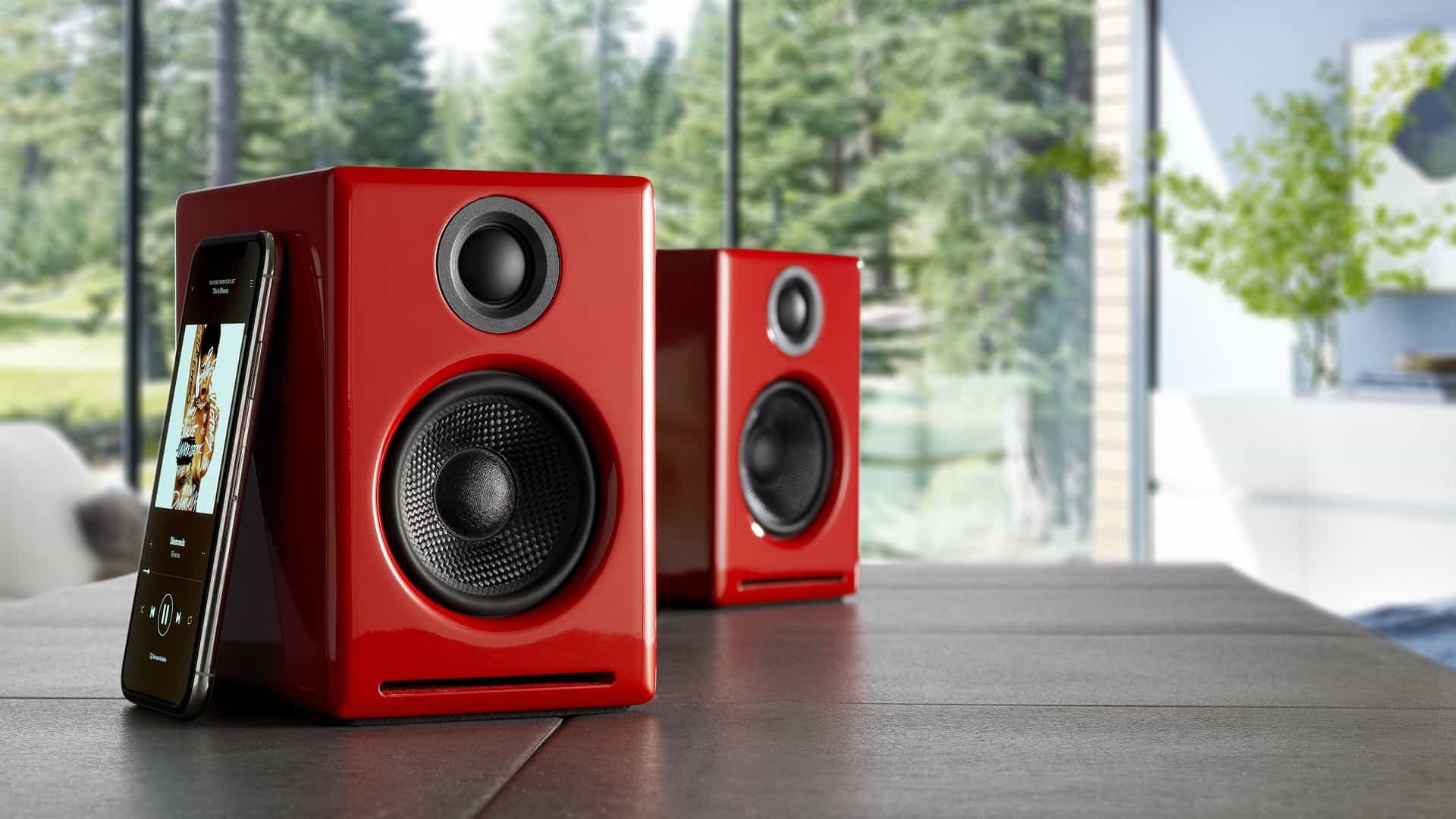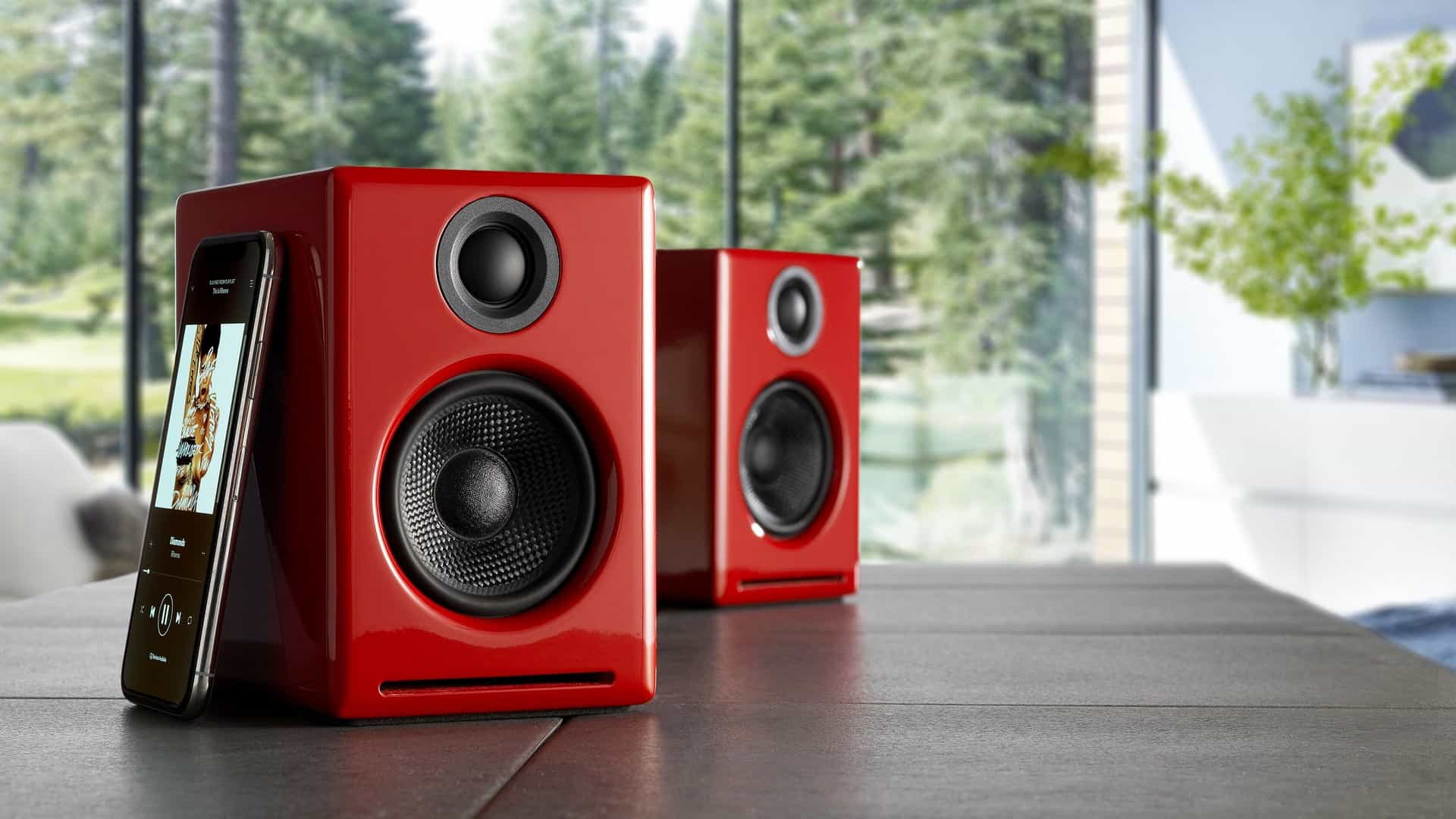 Speaking of sound, was there any difference from each device? After cranking these 60-watts babies up to the loudest volume, I found it lacked any sort of noticeable distorting, which was surprising since they are such a small quaint set of speakers. These little boxes definitely have some punch to them. The optical sound quality was great on all devices, with a decent amount of bass coming out each driver as I played some gritty Wu Tang and clear treble in instrumentals and acoustics. I was most impressed playing a few rounds of Call Of Duty on Xbox through my PC with them, the clarity and background noises were crisp and rich. They make for that added enjoyability factor to your gameplay experience.
Overall, while the Audioengine A2+ Wireless Speakers are small but powerful speakers, they were actually quite impressive. The fact they have so many options for how they are used is very notable, despite their simple, pint-sized appearance. Almost a home run at a pretty premium price of $269 USD, which is quite expensive if converted to AUD, you are ensured a quality product with powerful audio capabilities. Crisp and clear sound in game, relaxing or pounding out a beat, this is one product you can just sit back close your eyes and enjoy.
For the tech savvy enjoy the following specs.
Type

Powered (active) multimedia desktop speaker system

Amplifier type
Power output

60W peak power total (15W RMS / 30W peak per channel), AES

Drivers

2.75″ aramid fiber woofers, 3/4" silk dome tweeters

Inputs

3.5mm stereo mini-jack, RCA, USB, Bluetooth

Outputs
Mains voltages

100-240V 50/60Hz auto-switching

SNR

>95dB (typical A-weighted)

THD+N

<0.05% at all power settings

Crosstalk
Freq. response
Input impedance
Protection

Output current limiting, thermal over-temperature, power on/off transient protection
USB specifications
Connector type
USB device class
Internal D/A converter
Input bit depth
Input sample rate
The Good
Sleek, modern and simple design.
Plenty of cables for multiple audio options.
Crisp, sharp sound with music and gaming.
Bluetooth connectivity is simple.
Easy to set up.
The Bad
Maybe a little too simple for people wanting statement speakers.
Quite expensive in Australia with conversion.