Athletes in all sporting codes train and work hard to be the best in their chosen sport. Not only is the right training crucial to becoming the best but having the right tools to get you there is also just as important.
e-Sports is no different. Granted some will argue that e-Sports is not a "real" sport, but rather just "kids" playing video games. Looking at the ESL Pro League with online viewership of 66.6 million views and over 16.1 million hours in a single season, and a of $1,115,000 going to first place, I'd say e-sports is a little more then just "kids" playing video games.
My point is, e-sports is a real thing with real money and real-life changing outcomes; both good and bad. So if you want to be the best, you need to have the best tools to get you there.
Enter the BenQ Zowie XL2546 240hz eSports Monitor.
BenQ were kind enough to loan us their 240hz DyAc version of the Zowie to have a play with.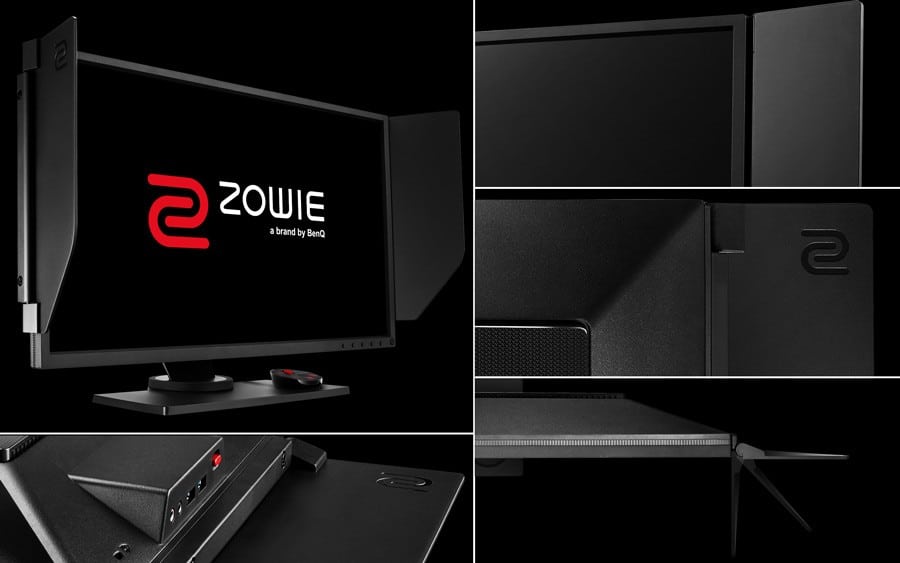 To look at it, it really doesn't look like anything special. There are no pretty lights, no fancy touch panel-like buttons, nothing. Just a plain black monitor with red trim and some physical buttons poking out the bottom right corner of the not thin, but not fat bezel.
It does however have shutters that hang off the sides to keep you focused on your game and an S-Switch that allows quick changing of pre-set screen settings.
Staying with the physical aspects of the XL, BenQ has paid attention to detail in building this monitor. On each moving hinge, there are measurements and a little red arrow. Have you ever set up your monitor in such a way that when you sit down and play, everything just feels right? It is just perfectly set to the right height, right angle, right tilt. Then you finish playing, go off and do something else only to have someone move it on you? Well I have.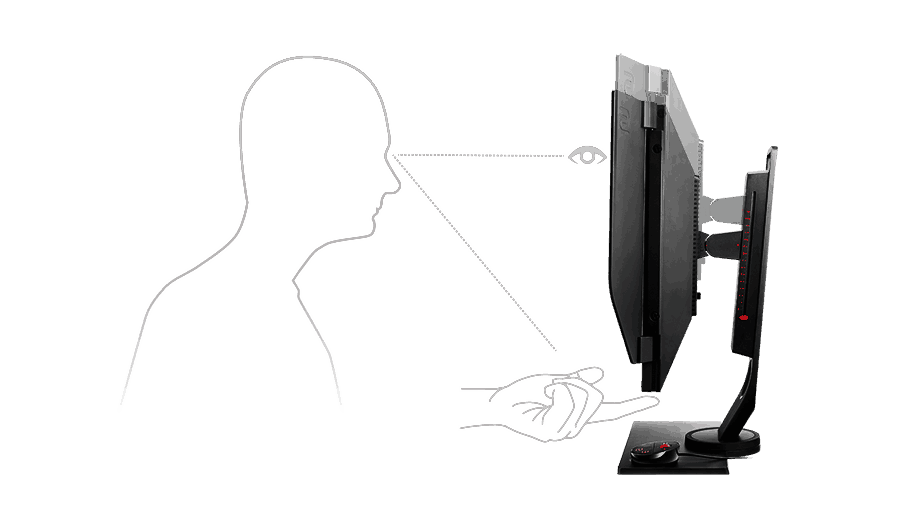 The measurements and arrow on each movable part of the monitor are there to make sure you have the exact same height, angle and tilt every single time you play. No more trying to get it just right each time you play, only for it to be anything but that. A simple yet effective addition to this gaming monitor.
Another simple and I must say, surprisingly effective detail is on the bezel itself. As I said before, there is nothing bright or pretty to see when you look at the monitor. And I can only imagine that the reason for this to keep your focus where it matters, on screen. The bezel finish is a matte black everywhere so as there is no light reflected from the screen on to the bezel and potentially taking your focus off the mission at hand in that one critical second.
Personally, I never noticed this. But then, I am not what you would class as a "serious" gamer. In saying that, I can see why that would be distracting now. It's all in the detail.
Ok, enough of the aesthetics, on to the pièce de résistance, the screen itself.
I have not yet mentioned that our review unit retails at AU$798 – depending where you buy.
"That's not too bad for a high end 4K monitor though" you say.
"This isn't 4K" I say.
"Oh ok, I guess for 2K @240hz it's reasonable" you say.
"Umm yeah, it's only FHD" I say.
Anyway, you can see where I'm going here. Look, $798 for a 1080p monitor is a lot, but this isn't your average 1080p monitor.
This screen is something else. Without a doubt, this has to be the best monitor I have ever used. That sounds cliché, but it is the truth.
The XL comes with factory loaded presets for FPS & RTS gaming. You also have the ability to set your own saved profiles. All of which can be assigned to the quick buttons on the S-Switch. The S-Switch has 3 buttons numbered 1,2 & 3 to allow for quick screen adjustment. This allows many ways to up your gaming. For me, I found it extremely useful when going from light to dark to light in CoD and Battlefield.
The S-Switch also has a "back" button, mouse wheel and Auto Mode button. These are used to access the monitor's menu.
I tested the monitor on 2 systems. An XBOX ONE X and my gaming PC. I play the X1X more than anything on a 4K HDR 60hz 5ms TV. The X1X only does up to 60hz so I never bothered with anything else. This is never truer than testing it on the BenQ. Simply put, don't bother spending your cash on the XL if you only play on console. It really makes no difference.
PC however is just nuts! Simple mundane tasks like writing a review on this monitor are made easier as my eyes didn't seem to get tired or sore like they normally would on my standard monitor. With my desktop resolution set to 1920×1080 @ 240hz, Windows 10 and all of its associated programs and apps felt more fluid to use. I never would have imagined the refresh rate could have such an impact on even daily usage.
Okay, Okay, I'll move on to what you want to know about… PC Gaming.
I suck at FPS. Ask anyone who knows me, they will agree. My co-founder here @ MKAU Gaming is either very good at getting lucky shots or just lucky. I have always been in awe on how he can get "those" shots or see the enemy when they were but a spec of dust at a distance.
I never could do it. Using the monitors' "Black eQualizer" technology combined with the FPS screen setting, I was pleasantly surprised that I was able to finally make more than 1 kill. Yes, I am that bad normally. Using Black eQualiser, you have the ability to increase visibility in dark areas without overexposing the bright ones. This is a battle I have with nearly every game I play. Not just in Battlefield was I able to utilise and make use of this, but even in Diablo III and much to my delight, Forza Horizon 4.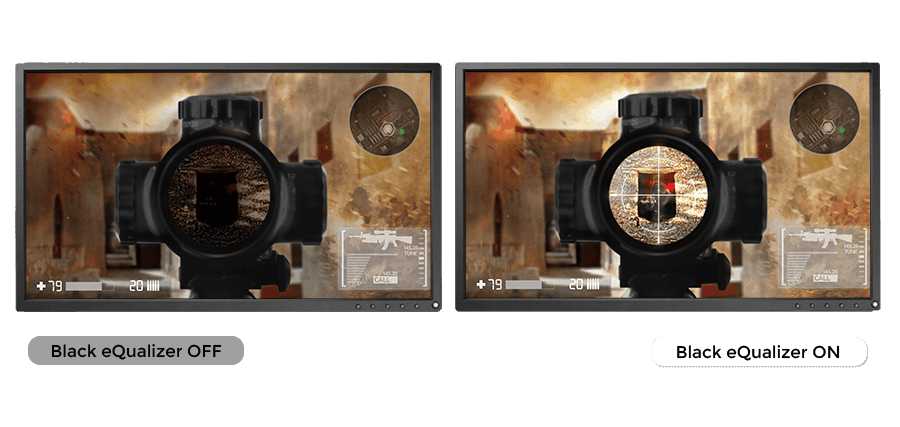 I know Forza and Diablo aren't e-sports games as such, but it shows that while the XL2546 is heavily aimed at e-sports gamers, you don't need to be one to enjoy this awesome piece of tech.
Another addition the XL2546 – not to be confused with the XL2540 – is the addition of DyAc Technology. For this, let me simply steal, I mean use, the description straight from BenQ;
ZOWIE's exclusive technology – "Dynamic Accuracy" maintains remarkable clarity during in-game movements allowing for a smoother experience. Actions with vigorous screen movement, such as spraying of weapons will benefit most from DyAc™ as being able to see more clearly can help with recoil control.
BenQ Product Page
I am always a little sceptical when companies come up with their own "technology terms" and to be honest, it was hard to be able to test this out. I didn't have the XL2540 (it is identical to the XL2546 minus the DyAc) on hand to do a comparison. But I will say that as I am a run-and-gun type player, the overall experience was as smooth as silk.
One caveat with even contemplating a purchase such as this is to make sure your PC is up to the task. BenQ states that you should have an NVIDIA GTX 980 or an AMD RX 480 or better. I tested this monitor on a NVIDIA QUADRO M2200 4GB and the best I could get was 120hz. On my NVIDIA 1080, I was able to get the 240hz. I figured for the sake of testing, I would swap out the 1080 for my older 1050ti 4GB and that also managed 240hz.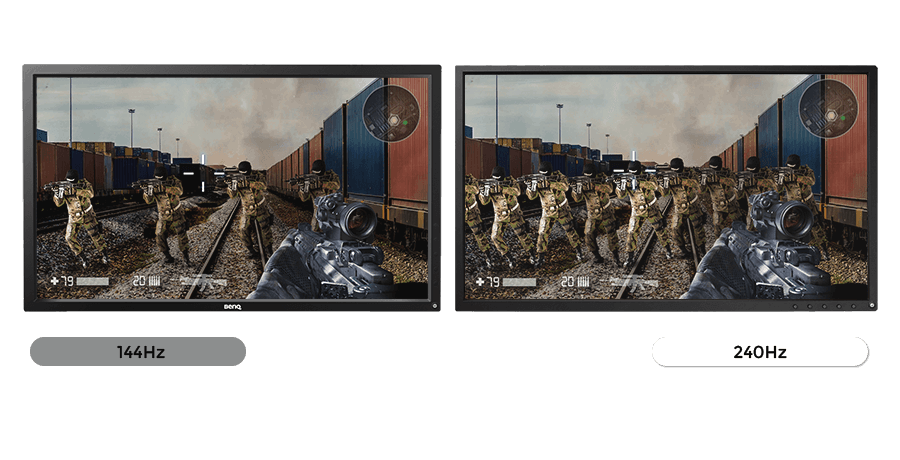 So do please make sure you have your video up to scratch before running out and buying this beast.
To the final stretch now, thanks for hanging there with me.
The BenQ Zowie XL2546 24.5" FHD 1ms e-Sports monitor is an expensive outlay for anyone. It is aimed mostly at serious gaming enthusiasts, e-sports players and those with more money than me, that's for sure. I would have been the first to argue against buying this monitor when I could buy 2 4K HDR 60hz monitors for the same price. However, In having used the XL and getting use to 240hz, I truly find it hard to go back to a normal everyday screen… even for daily tasks.
A 1080p FHD monitor at this price point is a hard sell in the cut-throat PC industry, and unless you are one of those 3 gamers' I mentioned above, this monitor is probably not for you.
The Good
240hz Refresh Rate
Stunning Screen
Attention To Detail
The S-Switch - Easy To Change Presets
I Finally Made Kills In Battlefield
The Bad
A Little On The Pricey Side
Not 4K
Not 2K