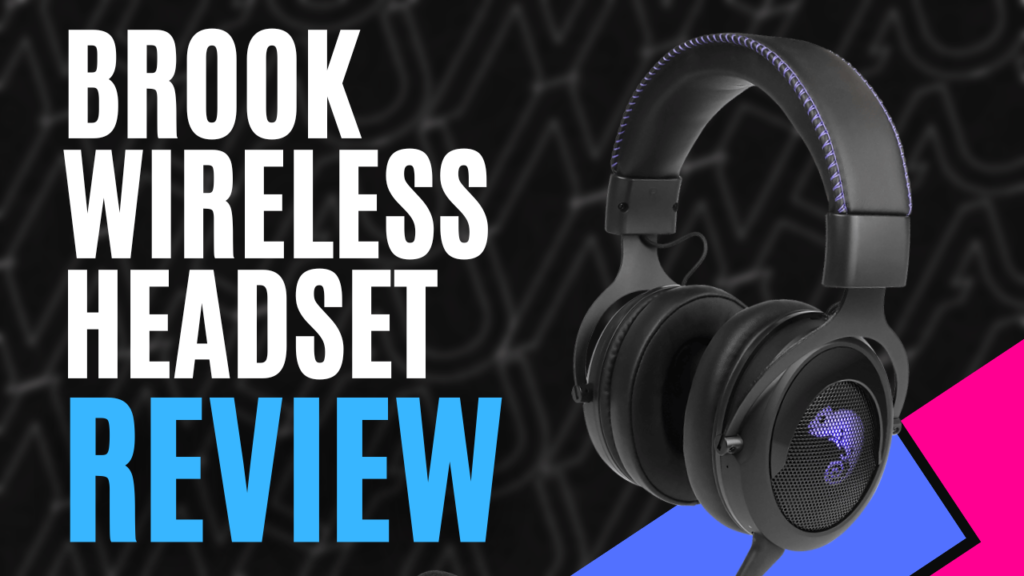 Brook starts 2023 with a bang, and the latest headset, the Brook Wireless Headset, jumps into the new year nice and early. With its sleek design and amazing audio quality, it doesn't disappoint, and Brook was gracious enough to send us a pair to test out.
The headset was so beautifully packaged I almost didn't want to take it out of the box. There was an exterior sleeve with some graphics that really helped to show off the product, and once you removed that sleeve, you got a nice black box with purple accents. Once opened, the wireless headset was safely nestled in there with all of the cables hidden behind a little lift in the box.
Aside from the Brook Wireless Headset, you'll find a spare set of earpads, a 3.5mm audio cable, a 2.4GHz low-latency wireless dongle, and a USB-C cable for charging the headset. The Brook Wireless Headset boasts around 10-12 hours of battery life, which will give you a nice full day of gaming without needing to worry about charging the headset, but it is a little bit lower when compared to other devices.
The headset was super comfy compared to the other headsets I've been using for the past couple of years, and I could feel the difference as soon as I put them on. Even the headband is cushioned, so it's super comfy and well-supported when wearing it for longer gaming sessions.
Brook has also said the earpads already attached to the headset should handle about three years of normal usage before they deteriorate, so with the included spare set, which feels slightly larger than the ones already installed, we can assume that you'll have comfortable earpads for up to six years – a huge selling factor with headsets.
I was surprised about the sound quality of this headset, but boasting 50mm neodymium audio drivers, they can deliver amazingly clear bass when needed, and some crisp sounds overall. Talking to a friend on Discord was a great time to check out the microphone, and while he commented that it was not as clear as my streaming microphone, it was better than some of the headset microphones he has heard from other mates.
The headset states it is compatible with Playstations, PC, MacOS, and Nintendo Switch. Unfortunately, Xbox does not have wireless functionality with this headset, but you can make use of the 3.5mm audio jack by plugging it straight into the Xbox Controller. I feel like it sounded a little nicer when connected wirelessly to a supported device, but it was still able to deliver some clear audio.
The headset was so simple to connect wirelessly with the supplied USB Dongle, and it's simply a matter of plug-and-play. There's no software to install, but this also means you can't adjust an equaliser or change how the RGB logos located on the sides display. For devices that you can't connect via wireless, it's as simple as plugging in a 3.5mm audio jack.
I loved using the headset on the PC and listening to things like Spotify whilst I played around with video editing. The sound quality kept me working hard, and I'm yet to find a product the headset does not sound good on. Coming in at 85AUD, the Brook Wireless Headset is nicely priced, super comfy, and sounds great.
The Good
Comfortable
Great Sound
Good Quality
Well Packaged
The Bad
Shorter battery life
No Software/Equaliser/RGB Control