24- & 25-inch monitors are standard these days and I would even go as far as to say 27 inch monitors are the new normal. This can most likely be attributed to the drop in pricing. It wasn't so long ago that 27" monitors were too costly for most of us. Even ultra-wide monitors have begun to make a home on our desktops as well. The "standard" resolution has also jumped from Full HD or 1080p to 2K or 1440p.
So, when we received the Dell Alienware AW2512H 25" 1080p Full HD monitor for review, surely we could be forgiven for thinking "meh". And let me be honest when I say that after I checked out the price of said monitor, my jaw dropped!
Retailing for AU$1,199.00, but currently on sale at the time of writing for AU$779.35, I had to wonder if it also made coffee and served me breakfast in bed. At these prices you would at least expect 1440p & 27" minimum and even then, that is still a little steep for even those specs.
Doubts cast aside, once the monitor arrived, I connected it up to my test PC to give it a go.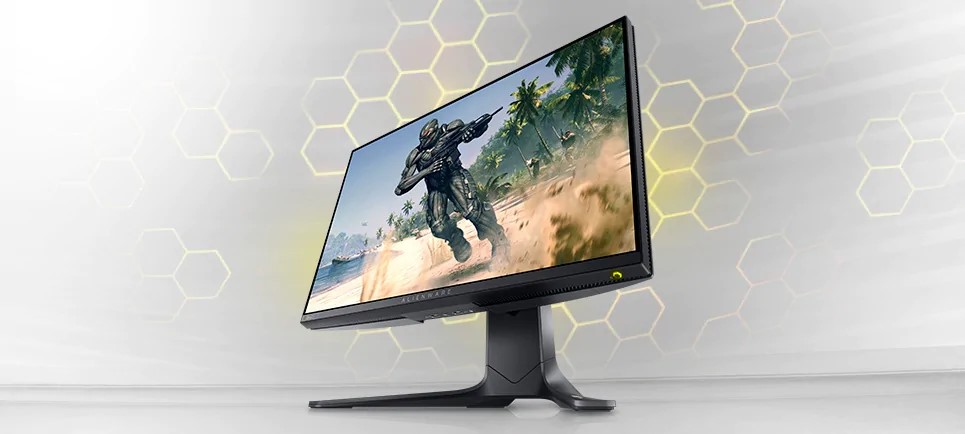 My PC consists of an AMD Ryzen 9 3900X CPU @ 4.25Ghz, 64GB DDR4 3200Mhz RAM, X570 Asus ROG Strix PCIe 4.0 Mainboard and connecting the Dell Alienware monitor to my PC via the DP 1.4, is a Radeon RX 6800 16GB GPU.
These specs are relevant because the native refresh rate on the Alienware AW2521H is a mammoth 360Hz via the Display Port (240Hz via HDMI), couple this with a true 1ms response time, IPS panel with a 1000:1 contrast ratio and both AMD FreeSync & NVIDIA G-SYNC support, and you have yourself a very capable gaming display.
What this means is that you need quite a bit of power under the hood of you PC to be able to make use of V-Sync at 360 Frames in most games. I will elaborate more on this shortly.
The Alienware AW2521H has a premium build quality with the plastic panels made to fit each other like a glove with no noticeable flexing or uneven gaps. It sits perfectly solid on its V-shaped legs and at a touch over 8.1kg as a whole package, the Dell Alienware AW2521H is certainly the heaviest monitor in this range I have had in recent times.
Around back of the monitor, there is an RGB Alienware logo in the top corner and the spine of the stand also features RGB lighting that runs the length of it. At the bottom, in the corner are the control buttons for the OSD. These buttons are easy to use and are also joined by a small multi-directional button/stick to allow for simple OSD menu navigation.
The control buttons and their uses are one of the most overlooked design considerations these days, so it is great that Dell have put some thought into this. Although at this price point, you would almost expect it.
The RGB LED's can be controlled by the AlienFX app. On my test machine however, after the initial install, it wanted to upgrade the app from the Microsoft store which then caused it to go in to an install loop and made the app unusable. No matter what I tried, I could not get the app the work.
I grabbed my ASUS ROG STRIX laptop, connected it to the monitor and tried the AlienFX app install again on it, and it worked first try. Upgrade and all. Windows 10 on the laptop was a version older than that on my test PC, so I will assume that there is an incompatibility or bug hidden in there somewhere that is causing this loop. With all the issues that Windows 10 suffers from, it is hard to say if this is a fault of the AlienFX app or Windows 10.
The Alienware AW2521H has you covered when it comes to connectivity also. There is one DisplayPort 1.4 and two HDMI 2.0 video inputs, four USB 3.2 Gen1 ports with two of them located under the bottom bezel either side of the headphone jack. One is capable of Nvidia Reflex Latency Analyzer and the other port offers up some USB fast charging. Missing from this unit are speakers. Not a deal breaker, but in-built speakers can come in handy in a pinch.
The Alienware AW2521H display is a 25-inch IPS panel with a 1920 x 1080 FHD resolution, blistering 360Hz maximum refresh rate, and a 1ms response time. The backlight is rated to 400 cd/m2, with a contrast ratio of 1000:1. Also of note, while it is not advertised, this unit is an HDR10-compatible gaming monitor.
I personally found the display to be bright and amazingly easy to use for both work and play. Limiting the resolution to 1920×1080 means that text is not always the sharpest to look at, but I had no issues using it for extended periods of time for my work purposes. At no point did my eyes feel tired or strained and again, at this price point, you would hope not.
Only at night did I notice that the blacks looked a little washed out, but this is common occurrence with IPS panels, and I think overall, Dell has done a great job at keeping this to a minimum.
Once I was able to push a few games to a steady 360fps, at no point did the Alienware AW2521H faulter. There was no notable screen tearing, no unwanted blurring, just blistering fast refreshes allowing for an eSports level of gameplay.
As I mentioned, you will need a powerful rig to make full use of the refresh rate offered here, and while GPU's have just recently had massive hardware upgrades from both the NVIDIA and AMD camps, 360 frames is still a big ask for most PC owners at the moment. Although, in saying that, if you are dropping this sort of coin on a premium monitor such as the Dell Alienware AW2521H, then you will most likely have already done your homework and have a PC with the guts to push out those sorts of frames.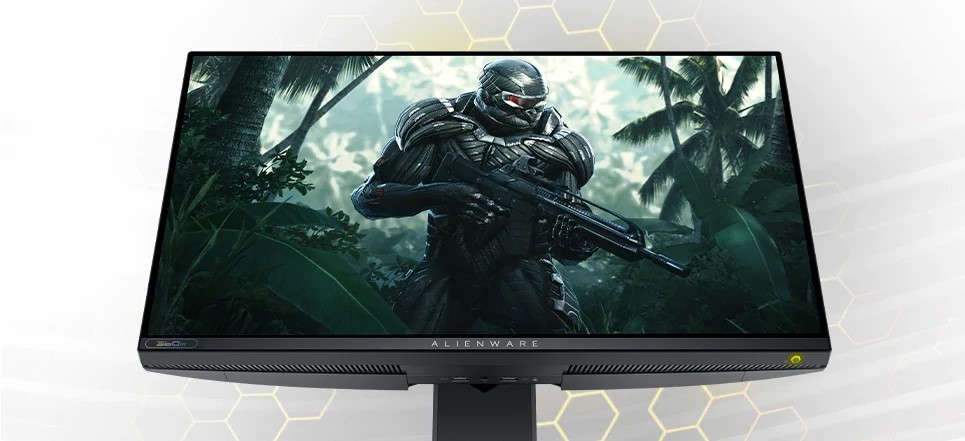 Final Thoughts: I use a 3440×1440, Curved Ultrawide, 144Hz, HDR 400 display for all my work and play daily use. The full purchase price of my display at the time of purchase was equal to the current price of the AW2521H. If I had to choose which I would spend my hard-earned coin on now? This would be a very tough choice having had the opportunity to use them both at length.
The AW2521H is smaller in size and in resolution but has it in spades when it comes to build quality and the quality of the display itself.
I am sorry, but I cannot honestly decide which I would choose. And that alone should give you some idea on just how good the Dell Alienware AW2521H really is. It may be set at a price point that would have it punching above its weight, but it certainly has the goods to deserve to be there.
When it comes down to it, ask yourself; do you have a PC that can comfortably push 360 frames in the games you play? Is 1080p good enough? And importantly, how much do you value your gaming experience?
The Good
360Hz Display Port
240Hz HDMI
Premium Build
Ports-A-Plenty
Display Quality
NVIDIA® Reflex Latency Analyzer
True 1ms Response
The Bad
Still 1920x1080
Steep Price For Most
Powerful PC Req'd To Get Most Out Of Display