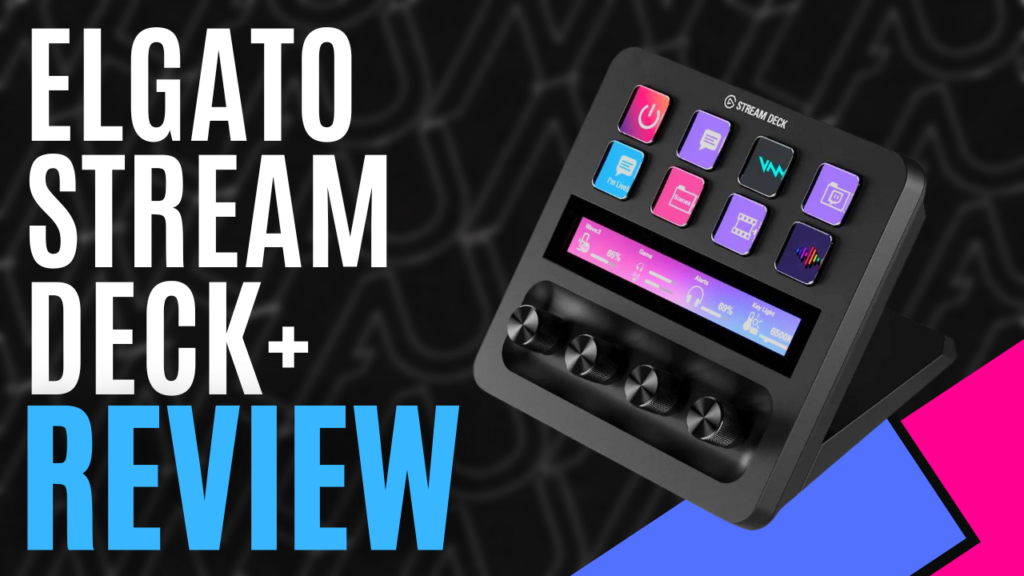 Way back in 2017, Elgato launched the Stream Deck, a must-have accessory for anyone who streams, as it makes controlling their scenes, as well as most used functions, and commands, a walk in the park.
Their first Stream Deck included 15 LCD keys for the ultimate control. They then released a Stream Deck Mini, which offers just 6 LCD keys, before moving on to their big boy, the Stream Deck XL, offering a whopping 32 programmable LCD keys.
Their latest addition to their well-received Decks, available in either Black or White, is the Elgato Stream Deck +, offering 8 programmable LCD keys, a new touch bar, and 4 dials, making it even easier to control everything at your fingertips. The removable stand is also gone, instead favouring a much sturdier fixed stand that gives you the perfect viewing angle.
Starting off with the 8 LCD keys, which for the most part, function just the same as they do on previous Stream Deck models. The only real difference is that they are a little larger in size, and the LCD is noticeably sharper compared to previous models. For those who have never used an Elgato Stream Deck before, let me give you a bit of an idea as to what you can program and control with these LCD keys.
These LCD keys can be programmed to control all kinds of things. For example, if you are a Twitch streamer, the buttons can be used to control your OBS scenes, switch cameras, mute your microphone, trigger a shout-out to someone who has just raided you, or even turn on and off your Elgato Key Lights, which I also recommend for any streamer. These are just a very small handful of things you can program to these keys.
If you think 8 programmable keys aren't enough, don't worry, each key can be configured as a folder, which then gives you another 8 buttons to program. There might be only 8 physical keys on the device, but your options and amount of things you can program really are endless. What's even nicer, is with the addition of the touch bar you can simply tap to go to a new page, which we'll touch on later.
The LCD buttons are very easy to program via the Elgato Stream Deck app. A simple drag and drop of your desired function to the key you want to program and you're done. Within the app, you can also customise the LCD button itself with an icon of your choice, as well as a background on the touchscreen. Going to the Elgato Marketplace will allow you to download all kinds of icon packs, or even other plugins for different applications, such as OBS, Adobe, Spotify, YouTube, or Twitch, really unlocking the true potential of the Stream Deck+.
Now, let's move on to what Elgato has added to the Stream Deck+; the touch bar and dials. I'll start with the dials. As mentioned before, there is a total of 4 programmable dials at the bottom and the Stream Deck+, and these can be programmed to control anything from your PC's volume, Discord chat mixer, your Elgato Key Lights brightness, and even your camera zoom, just to name a few. Whatever it is you've programmed to the dial will display a level bar on the touch screen above, showing you exactly what your volume is set to, or what percentage your Key Lights brightness is set to.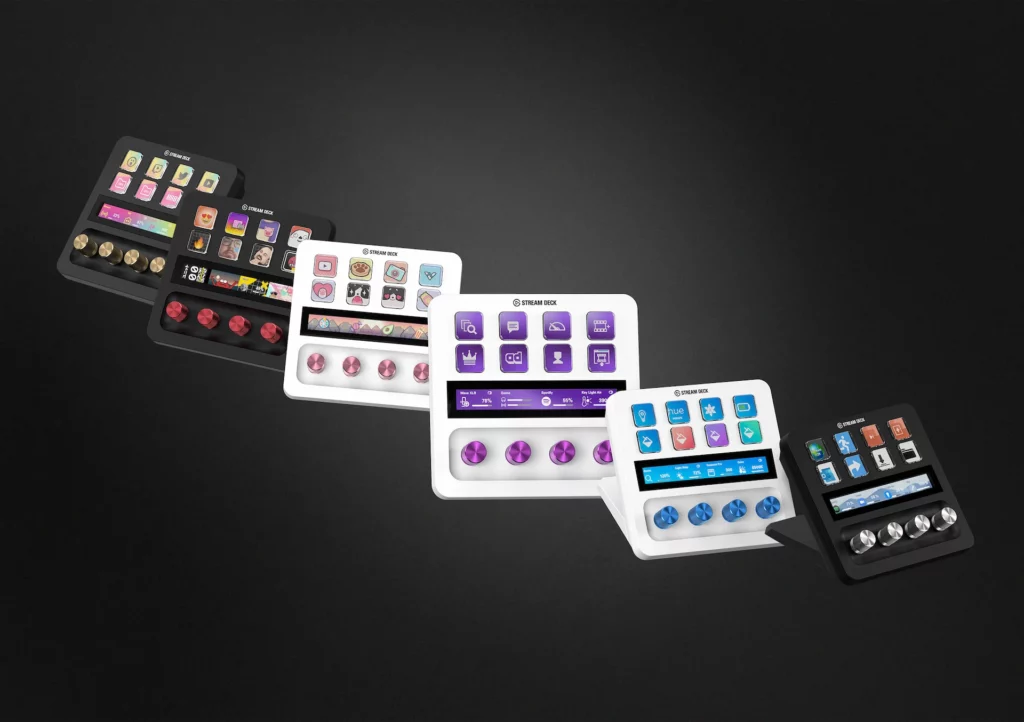 For anyone that uses Discord a fair bit for voice chat, what I like about these dials and display bar is, if you have the Discord plugin installed and set up, the touch panel above the dials will show the people in your voice chat, allowing you to simply use each dial below their name to turn up or down their volume, or mute them all together, right from the Steam Deck. To top it all off, dials can also be stacked, meaning each dial can be assigned with different actions by pressing down on the dial to cycle through each one.
Elgato also offers the dials in a range of different colours, such as Gold, Red, Pink, Purple, Blue, and Silver. Elgato sent us the Red dials, which of course go perfectly with our Red and Black MKAU colour palette.
As for the touch LCD bar, not only is it handy to get a glance of what volume level something is set to, or how bright your Key Lights might be, but having the ability to quickly tap and simply mute something, or an individual, quickly turn something off, or swipe left or right to change pages for your buttons makes everything that much easier and convient.
Elgato have really made things that much easier to control with the Stream Deck+, especially if you combine it with Elgato's suite of software. Whether you are a streamer looking to streamline your streams, or someone who uses Adobe or DiVinci Resolve to edit your content, the Elgato Stream Deck+ is a must-have to improve your workflow and productivity.
The Good
Ease of use
Compatible with alot of different applications
Larger buttons, sharper display
Different dial colour options
The Bad
Might be a little pricey for some
No adjustable stand