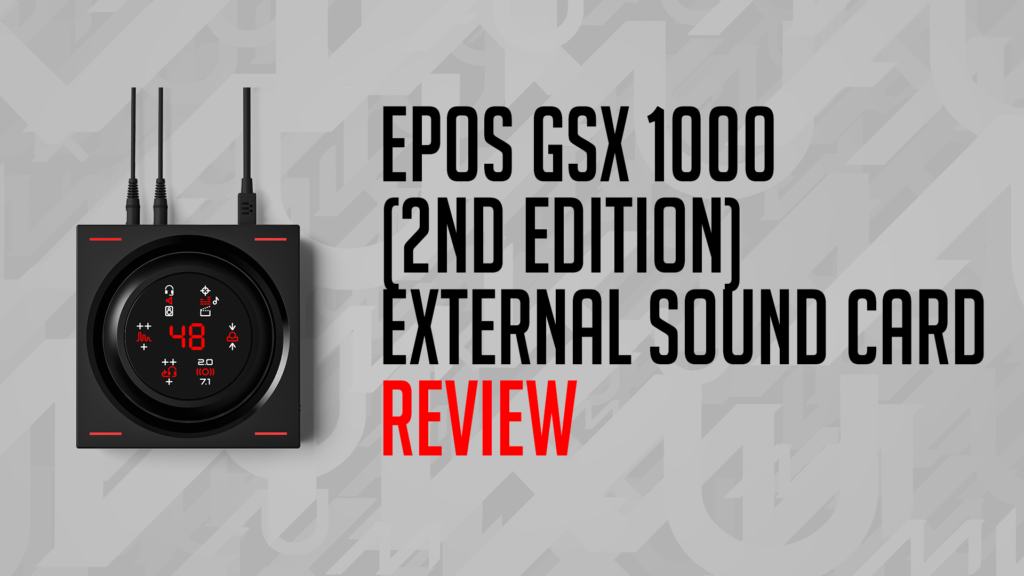 It's been almost two and a half years since EPOS provided us with the EPOS|Sennheiser GSX 300 External Sound Card, and I was extremely impressed by the experience it gave me. Now, in 2023, we've been given the opportunity to test out the EPOS GSX 1000 2nd Edition External Sound Card, and based on previous experience, I am pretty excited to see how it compares.
The first thing that stood out to me was just how sleek and stylish this one looks. The overall design takes up slightly more desk space, but it looks so much tidier with the volume dial nestled on the top, flush with the overall build, and within the dial is an attractive touch-reactive LED screen that displays your settings at a glance, and simply tapping the icons will change how they perform.
Connecting the EPOS GSX 1000 2nd Edition External Sound Card to your PC is as simple as plugging in the supplied USB-A to USB-C into an empty USB port on your computer, and then choose it as your speakers, chat mixer, and microphone input. I still have EPOS Gaming Suite which allows you to unlock the power of audio by offering a wide range of features and a place to ensure you EPOS device is kept up to date with the latest firmware.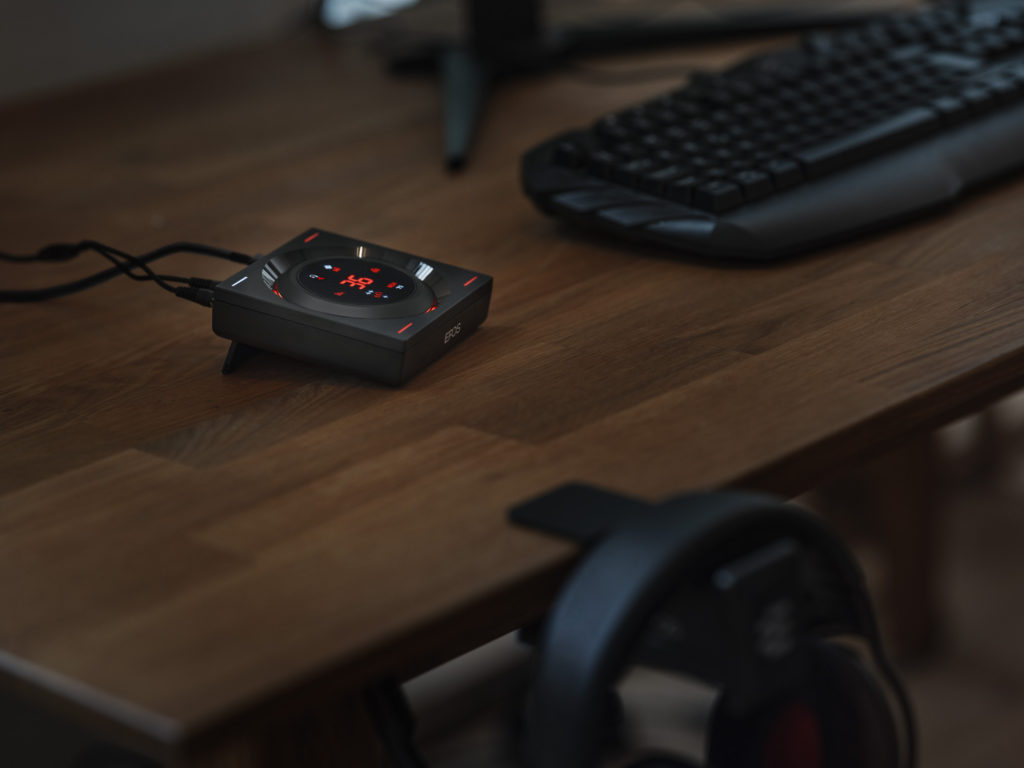 There are a further three 3.5mm connections on the back, set to plug in headphones, a microphone, and external speakers, and this is where I initially struggled a little, as all of my existing headsets are USB or wireless.
Fortunately, I do have some earbuds that I use with my Switch, and a microphone that I occasionally plug into my DSLR when we need an extra video camera for events, so with a jerry-rigged setup, I set about testing, and even with the sub-optimal setup, I was extremely impressed with the quality of sound I was getting, with simulated 7.1 surround sound coming out of a fairly basic set of earbuds, and simply pressing one of the LED touch buttons would easily switch between 7.1 and stereo.
There is also a button for a pre-set equaliser, featuring optimised sounds for gaming, music, and movies, with another option allowing you to adjust if the sound is focused from the front, behind you, or equally balanced, and adjustable reverberation to help with your spatial awareness, perfect for those tight corridors in games like Escape from Tarkov.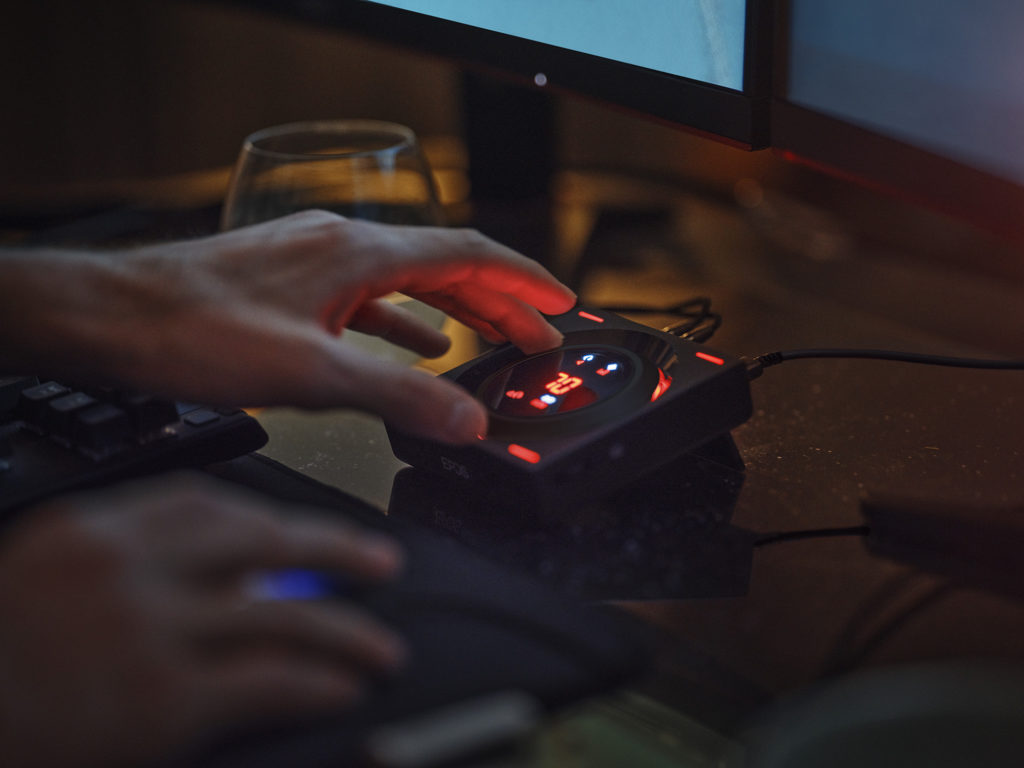 When it comes to your microphone, the EPOS GSX 1000 2nd Edition External Sound Card allows you to monitor your own voice through the headset, with the final touch button adjusting how loud your own voice plays back into the headset, allowing you to hear just how clearly your communications are. There is also a dial located on the right side of the unit that allows you to adjust your chat volume without interfering with the overall volumes or having to delve into your chat software.
Additionally located outside of the main volume ring are four LED touch sensors that allow you to instantly switch between the four pre-set use profiles. These four modes are designed as a starting point, and you can set these how you like by holding the corresponding outer LED sensor until the volume level flashes and you receive an audio cue, giving you quick access to your preferred settings for whatever it is you may be using it for, be it listening to music, playing your favourite game, watching your favourite movie, or just using it as background noise.
The simplicity in its use does come with a minor drawback, and that is the lack of finer controls when it comes to the equaliser, and to a lesser extent, the focus on having a headset that uses two separate analogue connectors for your microphone and earphones.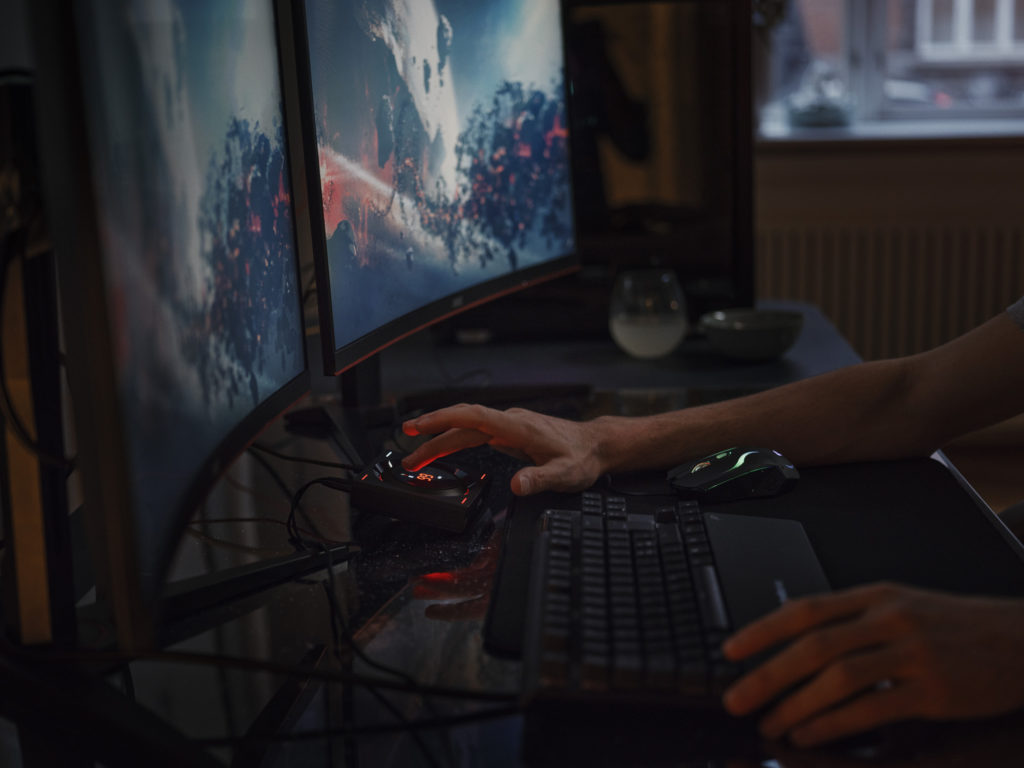 The 3.5mm connectors can be forgiven, as it's relatively easy to overcome this obstacle, and even with a cheaper set of earbuds, I was still receiving some fantastic surround sound with punchy bass and crisp sound, but not being able to fine-tune my preferred equaliser settings was a little bit frustrating, as I really like to turn up the bass for those head-shaking explosions.
As for this being the 2nd Edition of the GSX 1000 External Sound Card, there isn't all that much that has changed, but what has been adjusted has seen an amazing boost. The original GSX 1000 had a 16bit 16kHz recording path on the microphone, whereas the 2nd Edition has been bumped up to 16bit 48kHz for clearer inputs and features the newer USB-C to keep it in line with newer devices, as well as the volume ring benefiting from a redesign.
While EPOS encourages you to use the EPOS GSX 1000 2nd Edition External Sound Card with either the EPOS H6PRO Open or the EPOS H6PRO Closed, the reality is that you can use any analogue-connecting headset on the market, and EPOS's Surround binaural rendering engine will give you beautiful 7.1 sound. If it sounds this amazing with a cheap set of earbuds and a DSLR microphone, I can only imagine how amazing the experience with EPOS H6PRO series headsets would be.
The Good
Simple to use
Delivers amazing 7.1 Surround
Easy setup
Stylish design
Preset features
The Bad
Only uses analogue headsets with separate connections
Doesn't have software for fine-tuning equalisers