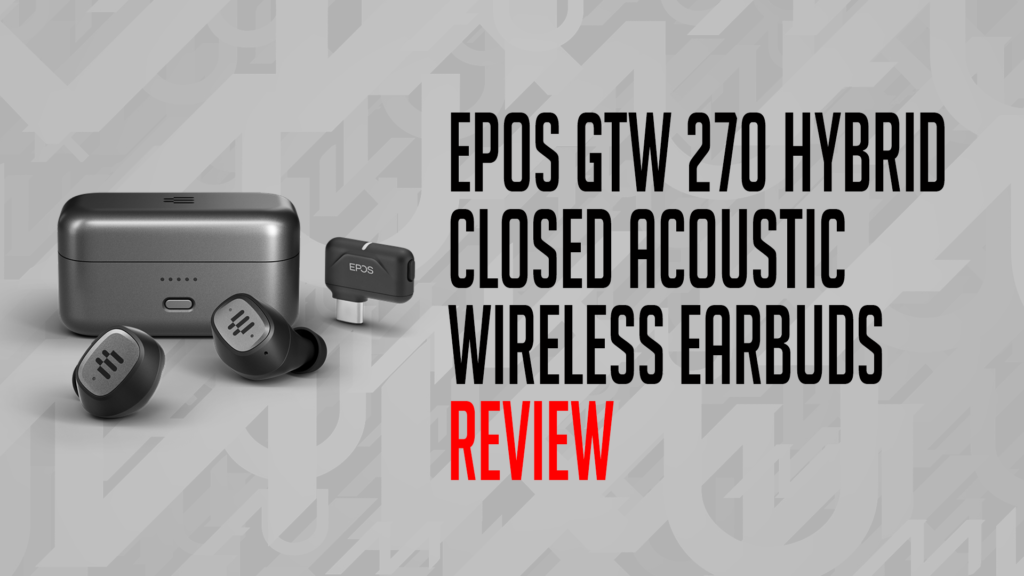 I'm pretty retro in the sense that I still prefer to wear earbuds with a cord. It needs to be something very functional to convince me to change my old ways. EPOS presents the 'GTW 270 Hybrid Closed Acoustic Gaming Wireless Earbuds'. 'Leave the world behind' as you dive into sound and how accessible it can be.
Firstly, included in this neat little bundle are the two uniquely sized IPX 5 rated earbuds. These, sporting a squarish shape, look quite cumbersome, but surprisingly sit very comfortably and don't stick out, keeping a low profile to the ears. In fact, they were probably the most comfortable I have reviewed in a long time, sitting firmly, securely, and slip-free. A hard feat as my ears are quite small and most tend to pop out easily. Luckily, EPOS has also thought about this and included three other silicone ear tips that are interchangeable with ease. On the left bud, you will find a button that is used for all the functions available, such as answering calls or changing songs. Quite disappointing they were not touch activated as they really give off an appearance and style of competing designs.
Also in the box, you will find the slick matte charging case complementing the earbuds in a rectangle design. In a lightweight aluminium and simple design, this nifty little box is where you charge your earbuds and can seamlessly connect to Bluetooth devices such as your phone with the button on the front. I loved this feature, with no messy pushing of buds while they are in your ears, and I found the connection instantaneous.
Rounding out the kit, you will find 2 cables and a dongle with a carry slip. One cable is a USB-C charging wire for the portable charging box and the other is a USB-C to USB-A extension cable. The latter can be used in conjunction with the USB-C dongle to connect to devices such as the Nintendo Switch, Playstation 5, and PC, for clear, crisp in-game audio. The dongle also enables the earbuds to switch between connections instantly due to multipoint support. Unfortunately, using the dongle means a drop out of the microphone, meaning for activity party play, these are a no-go.
So how was the audio? Testing them using music on my phone, a quick phone call from the partner, and while playing the Playstation 5 during the Modern Warfare 2 BETA, I can confidently say it is of good quality. Every bullet whizzed past and every footstep registered clearly, albeit with a certain softness to its treble. I personally didn't experience any lagging issues with the low latency dongle, but I swap between devices constantly as part of my run-of-the-mill day.
The closed acoustic style means you really do feel like you have closed yourself off from the world, with noise reduction really shining, especially when you are gaming with them. Honestly, I was very doubtful about the microphone when responding to phone calls but the feedback was that the voice output was decent enough for people on the go.
The charge life of the earbuds themself isn't anything to write home about with, only 5 hrs of charge roughly, but thankfully, the charging box provided about 22 hours more after the initial charge, and it can charge the buds up to 3 times throughout. Once docked inside, I found it didn't take much longer than a 1hr to have them ready to go again.
With the custom software, EPOS Gaming Suite, the experience is even more in your hands. This simple-to-use software (when it loads: I had issues booting it up on my end) allows you to take control of the EQ levels, noise gates, and reverb. More importantly, here you can activate 7.1 Surround Sound and save profiles of things like movie audio or types of music.
Overall, I actually didn't mind the GTW 270 Hybrids as a single-player experience with the dongle on a console device. The fact that it lacks a microphone really separates the gaming audience as it creates an issue for more community-driven gaming experiences where voice is a must.
With decent sound, these are great for walking around the house listening to music and are great for picking up a call. While they have many functions, the GTW 270 Hybrid Closed Acoustic Gaming Wireless Earbuds feel like everything just needs a slight fine-tuning for perfection.
The Good
Stylish
Lightweight
Multiple connectivity options
Multipoint connectivity
Decent audio
Noise cancelling
Functional microphone
Fast charging
The Bad
Average battery life, nothing impressive
No in-game voice output like when answering a call
Not touch sensitive