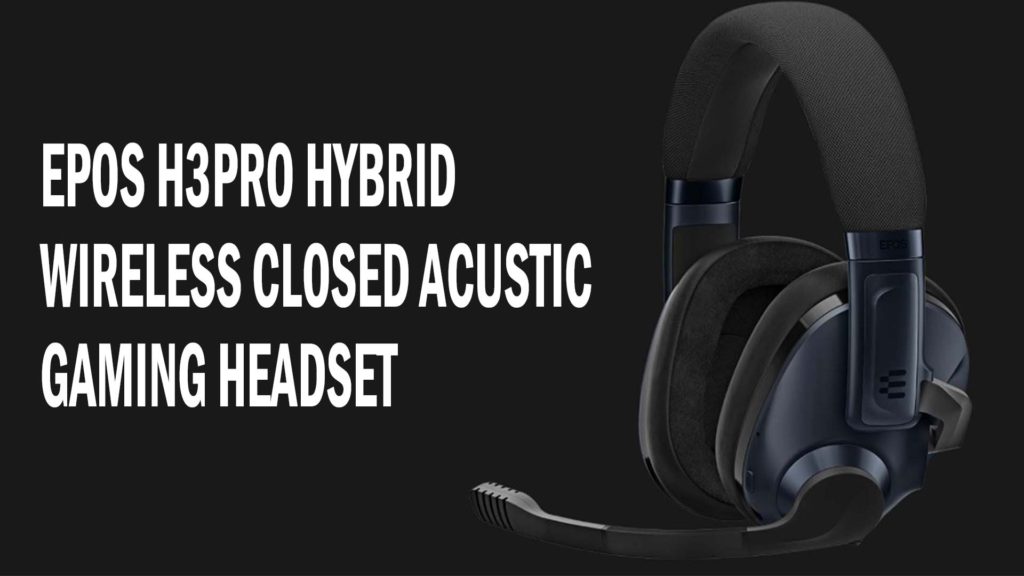 No one can deny, EPOS has a successful method and sticks to it. After reviewing both the H3 Hybrid Closed Acoustics and the H6PRO Closed Acoustics and being thoroughly impressed, they are back with their newest stylish premium headset, the 'EPOS H3PRO Hybrid'. How do these stack up against their auditory competition?
Straight out the box, The H3PRO Hybrid looks like a total machine. In a midnight blueish black matte finish and made of sturdy plastic, this is one durable headset. Even after a vigorous bend of the memory foam-wrapped aluminum headband, everything snapped straight back into place leaving it looking as fresh as ever. With the EPOS branded cleanly on the band, the ear cups are also neatly wrapped in comfy memory foam and soft pleather. On the outside of the left cup, you will find the on button, charging port, and the detachable boom mic. On the alternative side is where you will find the ANC switch and the life-changing Bluetooth syncing button. What I did notice though is that while the cups sit comfortably over my smaller ears they weren't very big for someone with larger ones. To make up for this, the band does stretch to a reasonable width to keep you feeling comfortable regardless. More innovatively, EPOS has included their famous detachable mic that uses magnetic connections. I have never seen this feature so beautifully executed, with it snapping on and off with ease without sacrificing the flexibility of the mic itself.
Other than the headset also contained in this tidy little box is a H3PRO dongle for wireless connecting, a USB cable nifty for PC use, a USB-A extension cable, a 3.5mm jack perfect for wired console use, and a boom arm cover plate for the detachable mic. Each cable was 2 metres in length, which is fabulous as I hate having to overextend or change my set-up due to reach issues. As for the mic cover, it was ingeniously magnetised so it snapped into place seamlessly and completed the overall headphone's aesthetic.
The boom microphone has the ability to deliver your voice to any audience with clarity and total definition. Call-outs have never been so easy and conversations have never flowed so well. Sound cutouts are definitely something you won't experience with this headset.
Functionally, the H6PRO Hybrid is a total Swiss Army Knife of sound possibilities. It is compatible with next-generation consoles, PS4, Xbox One, Nintendo Switch, PCs (both Microsoft and Mac), tablets, and mobile phones. A very impressive lineup indeed; so impressive I tested the Hybrids on as many as I could.
The ANC (Active Noise Cancellation) switch was actually a dream as ambient noise was easily drowned out to the sound of whatever project I was working on. Normally, I am a bit sceptical of these sorts of applications but the subtle difference in the drowning out of background noise is something needed to add to the immersion of any gaming experience.
More importantly, the features that are the most useful, despite the fact it can be clearly wired into nearly any device, is Bluetooth compatibility and the EPOS dongle. The headset pulls out all the stops. Syncing to Bluetooth with any device is as easy as a 3-second push of a button on the right ear cup and you are paired to any PC or phone. The dongle is pretty much plug-and-play into any PC or console, with only a few tweaks to my audio mixer needed to get settled in. Ironically, even as I sit and type this review, hands flailing freely, I am paired via the dongle to my PC listening to Mac Miller's album 'Swimming' delivered straight from Spotify. Awww life is good. They were also just as good with my phone in my back pocket, paired as I walked around the house decorating the Christmas tree. I did notice though that unless my controller was fully charged the quality of the audio when jacked in would drop as the battery life depleted. Pretty obvious connection and not a major issue if a charger is around, but I didn't expect the audio quality to plummet that fast too.
Battery-wise, the H3PRO Hybrids take just under less than 2 hrs to fully charge and powered on through multiple sporadic charges as I changed them up between different jobs. They were an impressive workhorse as I had them on and off charge, however, I found the website minimum quoted 18.5 hours with ANC on using an AUX jack a bit of an overstatement. I found most decent gaming sessions with them jacked in only lasted about 12 hours and if I was switching between modes throughout that session such as listening to my PC using the Bluetooth and playing Xbox via the dongle, even less charge time. Additionally, there is an inner ear AI voice that thankfully reminded me of my battery life anyway. I like when teamwork makes the dream work; I am one very forgetful person so I often just plug and played anyway with her helpful reminders.
The quality of the audio is definitely top-notch. Now, while the drivers in the headset are only 40mm it does support 7.1 Surround Sound, a huge plus in this day and age. Whether it be music, podcasts with talking, or games with environmental sounds, each are delivered to you with such clarity and clearness. By using the EPOS Gaming Suite companion software, you can customise all those trebles and basses to different sound profiles. The software AGAIN didn't like even my new PC very well, but after eventually getting it to open after playing with security settings, it was impressive the tweaks you can make to bass, treble, and reverberation levels. A lot of effort has been put into this interface and a truly customisable symphony of sound is at your fingertips.
Just when you thought they were done, the icing on the proverbial cake is the fact that you can also multitask your sound. With a built-in smart ability, you can answer calls via Bluetooth and listen to the second sound, yes second, in the ear cup of whatever console you are dongled into. This audio mixing capability is so innovative, and while it does my head in too much as someone that struggles to filter sound, it opens up so many possibilities to someone who is busy working multiple avenues.
EPOS isn't the most well-known brand for headsets but after testing a few now, I couldn't recommend them more even with the few niggling flaws. The quality and sheer attention to detail of their devices and how much the customer is at the forefront of their minds should be commended. At a premium price of $399, the H3PRO Hybrid is stylish, compact and so functional. EPOS has another new winner here that has all your office and gaming sound needs covered. This is one freakishly good headset and I live for it.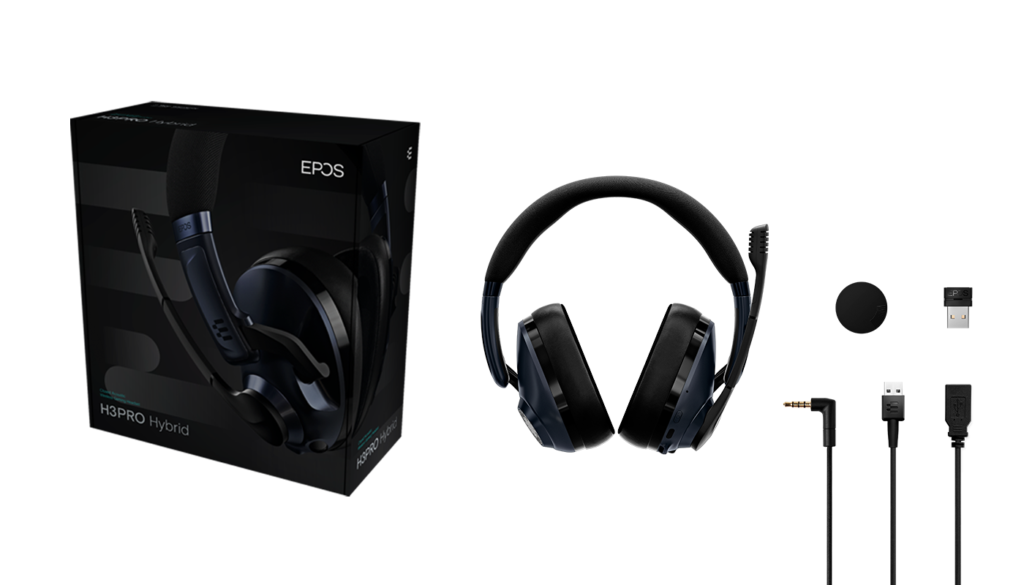 The Good
Modern style
Long, 2m cabling
Flexible headband
Comfortable ear cups for smaller ears
Library of compatible devices due to AUX, dongle and USB cables
Bluetooth compatible
7.1 surround sound
Enhanced noise cancelling
Crisp clear sound
Audio mixing ability
Customisable sound through the EPOS Gaming Suite software
Reasonably priced for the variety of uses
The Bad
When my controller was starting to lose power considerable quality drop in audio
Battery life is not as long as I would like it to be during hardcore usage