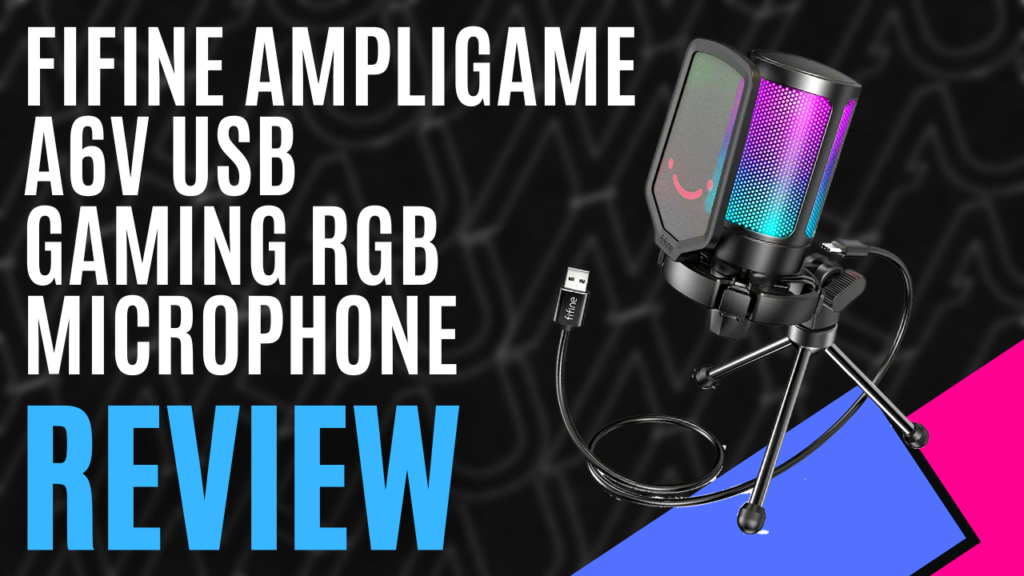 After copious amounts of research into FIFINE and Ampligame, they are still somewhat of an enigma in the hardware space. If you go check out their website though, they provide a selection of interesting and affordable peripheral devices. Fortunately for MKAU, we were given their 'A6V Gaming Microphone' to test out and review. Here is my ride with this pocket rocket of a microphone.
The A6V may be perhaps the cutest peripheral I have ever reviewed, with a smiley face to boot. Coming in the box, you will be given the microphone itself with included pop filter, a tripod, and a USB to USB-C cord. The microphone itself is tiny, but do not let that deceive you. Shock-mounted with elastic cabling, the slightest bumps can be cushioned from disrupting your sound.
The volume control is positioned underneath the base of the microphone, and the matte surface microphone is also two-tone RGB, gradiently lit so you can have that ambient glow to signalise when you are live, with a tap to mute and darkness will cut the input. On the front, you can mount a detachable pop filter to dampen your sound but emblazoned on the front like a logo is the cutest kawaii smiley face. A subtle detail, but cute regardless.
The tripod is made of sturdy metal with rubber feet. Although it looks very solidly made, the microphone needs to be set a certain way so as to not overload the stand and make it fall over from being unbalanced. It is very top-heavy and has to be set exactly at its widest stance. It would work fabulously in conjunction with a boom arm, however, unfortunately, mine was way too skinny for the thread of the A6V.
The microphone is plug-and-play, something I respect as I loathe having complicated installation processes. It also doesn't require any software downloads or integrations. This is both a positive and a negative; this means there is no need to tinker at the loss of the ability to customise anything about the sound quality.
So how was the sound quality on this microphone that shockingly retails at US$35.99? Surprisingly, fantastic. Using it to stream, record some video content, and talk in Discord chats it pitches up in the highs nicely and clearly picks up the lows. Running at 60Hz to 18KHz, it balances out the treble and the bass quite consistently. It was also quite sensitive, picking up my partner's sarcastic comments clearly from across the room.
One feature absent from my standard everyday microphone compared to the FIFINE Ampligame A6V is the inclusion of an AUX female input. I would have loved to be able to use the microphone in conjunction with my headset to cut out the middleman of speakers to hear my games. It really is a feature I utilise a lot on my standard microphone; more integration with a PC would be such a forward move for this series of microphones.
Another thing a sound enthusiast might be deterred by is the fact it only has only one standard polar pattern. Running as a cardioid, it mostly picks up sound from the front, meaning it may not be the best for certain situations involving more than one input from different directions.
Coming in a range of colours, (White, Black, Pink, and Blue) this is definitely a microphone I would recommend for any budding content creators. The quality in relation to its price is insane. The pick-up of sound and voices is on par with a lot of the top USB microphones I have experienced. This thing might be little and cute, but it's a monster in disguise.
The Good
Cutest design
Radiant RGB lighting
Tap to mute
Tripod stand and mount compatible
Plug and play
Quality audio experience
Very reasonably priced
Smiley face logo
Range of colours
The Bad
Very top heavy on the tripod
No customisation abilities
No AUX integration for headphone use
Only Cardioid polar pattern