Clutter, I live in a life of clutter. Every extra-curricular activity I partake in whether it be reviewing, gaming, streaming or even watching the box lately, happens at my desk. I really don't have a lot of room anymore amongst all the peripherals I utilise in my day to day computing, so it was nice to be given the cute, compact 'HyperX Alloy Origins Core Tenkeyless Mechanical Gaming Keyboard' for a test drive.
Noticeably, straight out the box you will realise it is shorter. A lot shorter but still sleek in style and constructed with the highest quality in mind. Quite heavy with a solid aluminum body, this is something I certainly appreciate as it has minimal slip and slide movement when I madly type away. Stylishly cut down, this 36cm long deck (8cm shorter than its brother, the Alloy Origins) has adjustable legs, so the height is all down to your preference.
Coming with three tilt sizes for the feet, it was a welcome addition to have, as I often like my keyboards at a higher angle. It was nice to see it came with a lengthy, detachable, braided USB power cable instead of molded, I don't like the restrictiveness of molded, and always feel it will break with tension. Each mechanical key is a silky, matte black finish, and elegantly backlighted by individual key, RGB lighting; the glow is luminescent and stunning. It is certainly elegant and beautiful to look at, and a statement piece in any dark room.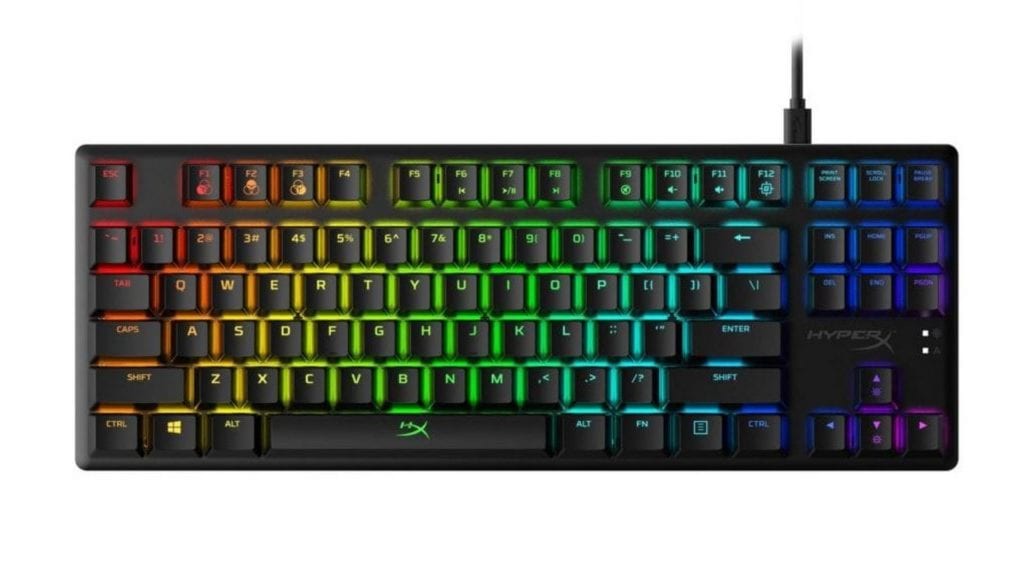 Obviously, like its namesake, the main difference is that it is tenkeyless, meaning an absent number pad. Making the keyboard smaller, this really does free up so much space in my working area, especially when it comes to being able to freely move my mouse unrestricted. Not being an avid PC gamer meant the number pad was no real loss to myself as it had all I needed in one, well designed little space but overall it is so functional that even if you were, it is still a very practical and efficient gaming keyboard.
The keys are comfortable to the touch, and are a trademarked HyperX design much like a tradition Cherry Switch. These ware and tear HyperX Red switches boast durability and have only a 3.8 mm total travel distance, shaving responsiveness time. You can tap away smoothly and it just feels so fluid. This design also supports the HyperX Aqua switches which are tactile rather than linear like the current red that was supplied.
The gem that really shines with this keyboard is in fact the accompanying software. The HyperX NGENUITY software is where the keyboard really comes to life in functionality. This is where you can store up to three custom profiles to keys on the board. So much is on offer; whether it be designing your own layouts, adjusting colour schemes with the amazing LED combinations ( yes, I am obsessed), programming macros and binding buttons, all which can be saved as individual onboard profiles mapped to the F1, F2 and F3 buttons. You can change between your own personal styles at a press of a button.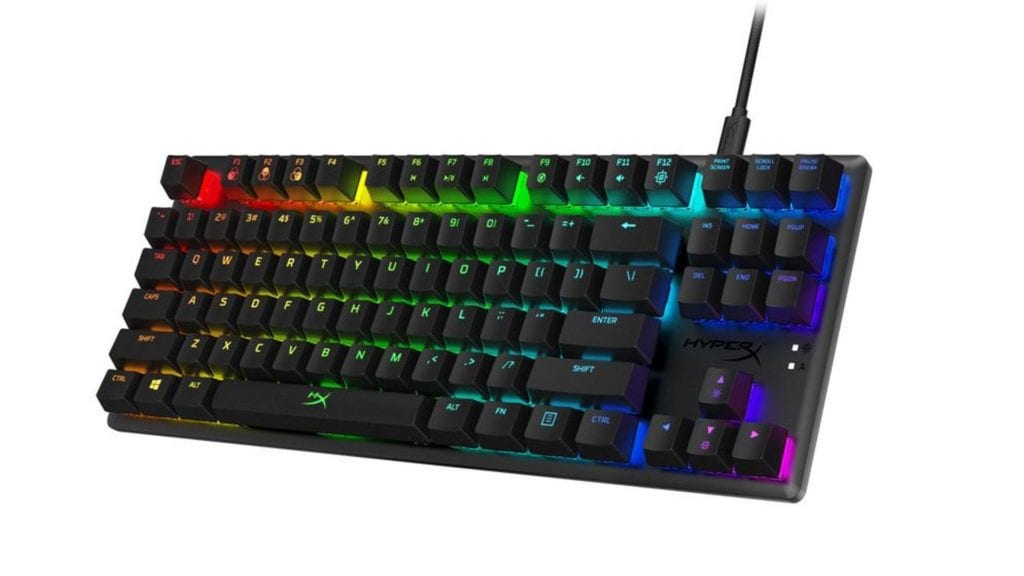 You also have the power to set a game mode, disabling buttons on the keyboard, essential for that pro gamer that wants no slips or mishaps in the heat of a battle. Coupled with 100% anti-ghosting and N-key rollover, I found every keystroke was recognised and detected, no matter how intense gameplay became. The keyboard is definitely Esports ready.
Customisation is imperative nowadays, as we all want to be unique and as comfortable as possible. I love efficient software and coupled with this nifty little keyboard that is easy to navigate and utilise, you can get that ultimate look and feel out of your usage.
The HyperX Alloy Origins Core Tenkeyless Mechanical Gaming Keyboard exceeds expectations with it's sturdy but gorgeous metallic design and state of the art functionality. With definitive keystrokes and expansive customisation of settings, this is one keyboard suited to everyday users and gamers alike and I really can't flaw it. This will definitely be a staple in my current setup. Thanks HyperX.
Alloy Origins Core Specifications:
Keyboard
Switch HyperX Red Switch
Type Mechanical
Backlight DIP RGB LED
Light effects Per key RGB lighting1 and 5 brightness levels.
On board memory 3 profiles
Connection type USB Type-C to USB Type-A
Anti-ghosting 100% anti-ghosting
Key rollover N-key mode
LED indicator Yes
Media control Yes
Game Mode Yes
OS compatibility Windows® 10, 8.1, 8, 7
Key Switches
Switch HyperX Red Switch
Operation Style Linear
Actuation Force 45g
Key Travel Distance 1.8 mm
Total Travel 3.8 mm
Life Span (Keystrokes) 80 million
Cable
Type Detachable, Braided USB Cable
Length 1.8 m
Dimensions
Width 360.0 mm
Depth 132.5 mm
Height 34.5 mm
Weight (Keyboard and cable) 900 g
The Good
Heavy sturdy metal frame
Matte silk keys
Compact size
Adjustable legs to 3 angles
Braided detachable cable
Individual key RGB lighting that is customisable
Durable HyperX Red/Aqua switches
Easy to use HyperX NGENUITY software
3 key profiles
Game mode, anti ghosting and N-key rollover