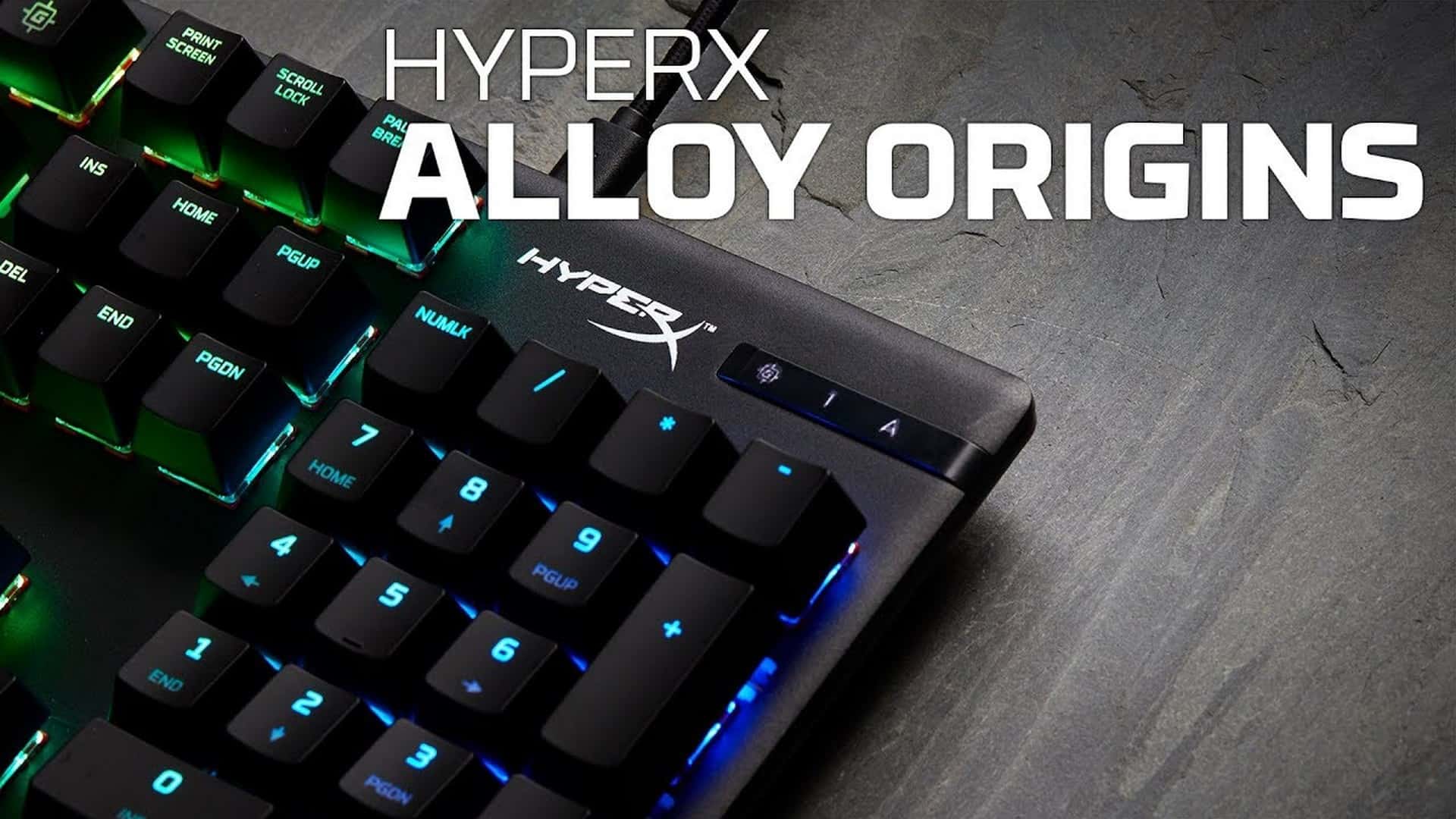 We're all gamers, and don't HyperX know it. HyperX has been smashing it 2020 providing customers with a wide range of devices to make their gaming experiences that much better. Being the not so quiet one in the office, it was up to me to review the also not so quiet clicky HyperX Alloy Origins keyboard. Does the HyperX Alloy Origins Mechanical Gaming Keyboard stack up to its top tier pricing?
Straight out the box, this is one sleek keyboard. Quite heavy with a solid aluminum body, this is something I certainly appreciate as it has minimal slip and slide movement when I madly type away. Generously spaced out due to the inclusion of a number pad, this 44cm long deck (8cm longer than its little brother, the Alloy Origins Core, I review earlier in the year) has adjustable legs, so the height is all down to your preference.
Coming with three tilt sizes for the feet, it was a welcome addition to see, as I often like my keyboards at a higher angle. It was nice to see it came with a lengthy, detachable, braided USB power cable instead of molded, I don't like the restrictiveness of molded, and always feel it will break with too much tension. Each mechanical key is a silky, matte black finish, and elegantly backlighted by individual key, RGB lighting; the glow is luminescent. It is certainly elegant and beautiful to look at, and a statement piece in any dark room.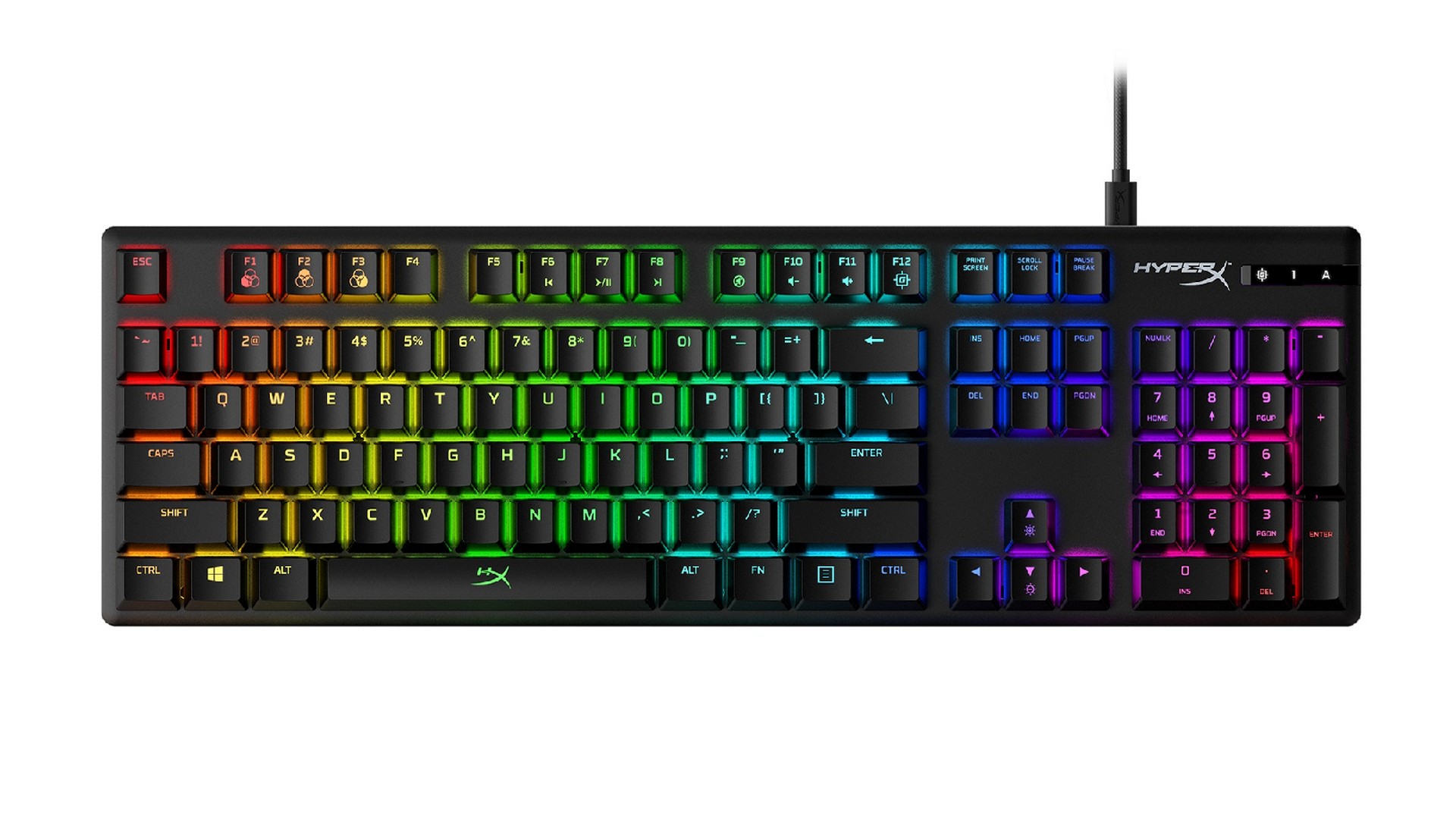 The keys are comfortable to the touch and are a trademarked HyperX removable keycap design much like most traditional mechanical keys. These ware and tear HyperX Blue switches boast durability and have only a 3.8 mm total travel distance, shaving responsiveness time. It is good to note however that they aren't specifically designed for super tap rates which you can feel with the pressure that needs to be applied (50g needed specifically, compared to 45g for their other coloured switches) for that sweet, sweet clicky ASMR sound I'm addicted too.
You can tap away smoothly and it just feels so fluid but it will definitely be loud. Clicky keyboards are a love or hate scenario for most people but as a writer, it's just so damn satisfy and gives me such a sense of achievement hearing the symphony of keystrokes, but each to their own. Couple the velvety keys, tapping sounds and the flashing of the lights this is one keyboard that is just a full sensory overload.
The gem that really shines with this keyboard is in fact the accompanying software. The HyperX NGENUITY software, is where the keyboard really comes to life in functionality. This is where you can store up to three custom profiles, to keys on the board. Design your own layouts, adjust colour schemes with the amazing LED combinations ( yes, I am obsessed), program macros and bind buttons, all of which can be saved as individual onboard profiles mapped to the F1, F2 and F3 buttons. You can change between them at the press of a button.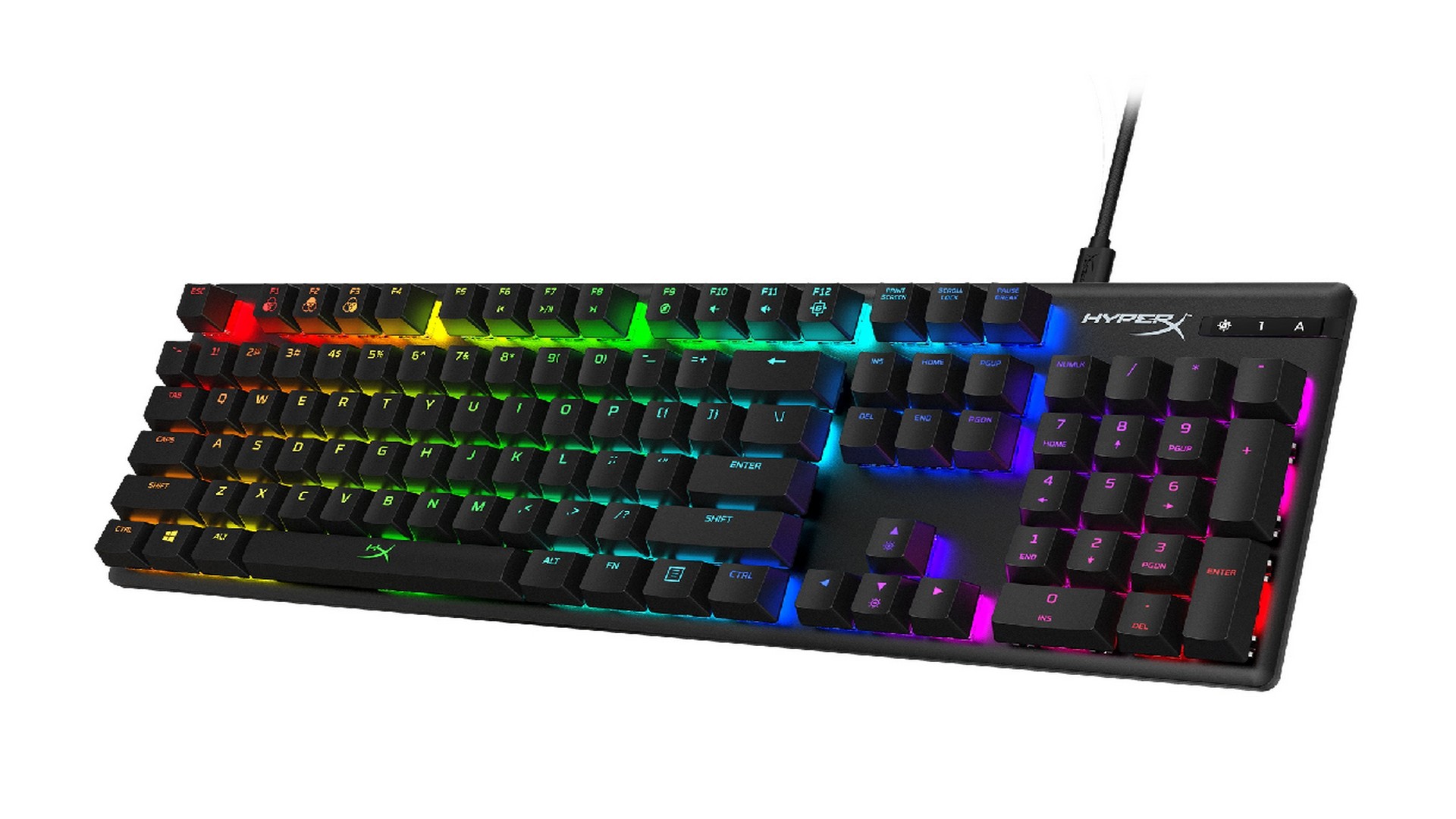 You also have the power to set a game mode, disabling buttons on the keyboard, essential for that pro gamer that wants no slips or mishaps in the heat of a battle. Coupled with 100% anti-ghosting and N-key rollover, I found every keystroke was recognised and detected, no matter how intense gameplay became. The keyboard is definitely Esports ready.
Customisation is imperative nowadays, as we all want to be unique and as comfortable as possible. If you have read my tech reviews before you will know I love efficient software and this is as easy as it comes to navigate and utilise to get that ultimate look and feel of your keyboard usage. Kudos to HyperX.
The HyperX Alloy Origins Mechanical Gaming Keyboard beyond meets expectations with it's sturdy but gorgeous metallic design and state of the art functionality. With definitive keystrokes and expansive customisation of settings, this is one keyboard suited to everyday users and gamers alike and I really can't flaw it. Despite how clicky and downright abusive on the eardrums it is which is frankly awesome; just the quality of construction alone has made them one of my favourite and go-to keyboards in the industry.
The Good
Heavy sturdy metal frame
Matte silk keys
Robust size
Adjustable legs to 3 angles
Braided detachable USB-C cable
Individual key RGB lighting that is customisable
Durable HyperX BLUE clicky switches
Easy to use HyperX NGENUITY software
3 key profiles
Game mode, anti ghosting and N-key rollover
The Bad
Clicky keys aren't for everyone, who cares order it with different switches **shrugs**