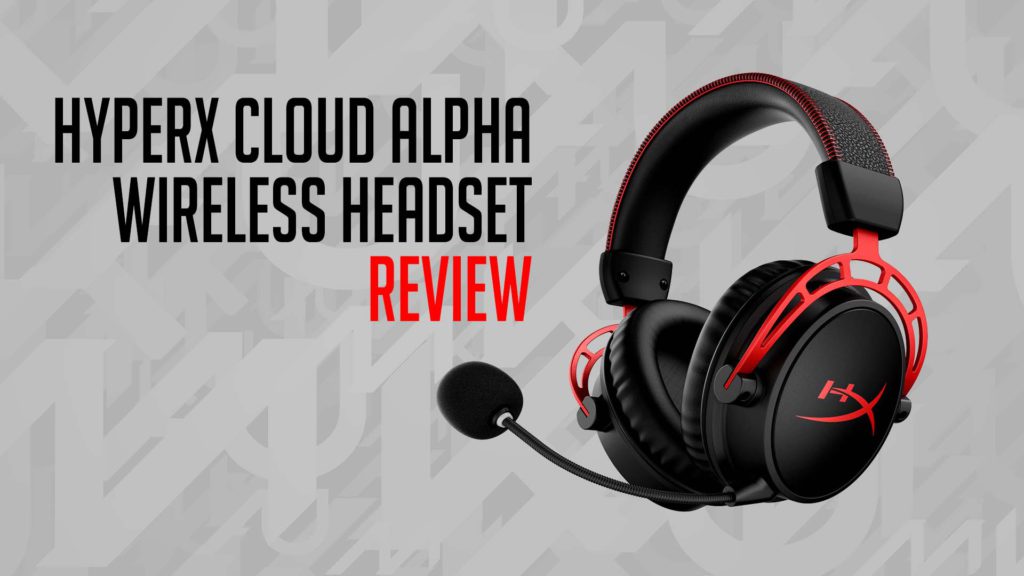 Ask almost anyone that works with the MKAU Gaming group what peripherals they have and a good few of us will mention at least one HyperX item. Heck, when we were recording podcasts together, it was usually done using a HyperX QuadCast microphone. There is no denying that they make some of the best peripherals out there, because as their slogan puts it, "We're All Gamers." This last week, I've had the chance to test out the new HyperX Cloud Alpha Wireless headset, compatible with PC and PS4/5, and I have to say, for a wireless setup, it's pretty damn good.
Featuring 50mm Dual Chamber drivers, the HyperX Cloud Alpha Wireless Headset delivers powerful sound straight out of the box. Watching YouTube videos or blasting others players to smithereens in Star Citizen, I was treated to some deep bass notes and some crisp and clean tones. Pulling HyperX's NGENUITY app onto my PC, I was also able to make use of the simple to use equaliser, complete with several pre-set options, or even activate and enjoy the built-in DTS Headphone:X Spatial Audio, allowing me to pinpoint where incoming fire was coming from and giving me a slight advantage in combat.
Unfortunately, once I activated this software though, I found I had some similar issues to most wireless audio devices I have used in the past. Very occasionally, I'd encounter a little pop of static, most often through the right ear, and even more rarely through both.
Trying to update the app, as well as the device drivers, didn't seem to help this as I was completely up to date. In saying this, it's really no different from what I've experienced out of some high-end Bluetooth earbuds for my phone, and in fact, it happens more frequently on those anyway. I feel it's more a by-product of the wireless technology and possible interference rather than the quality of the product, because the speakers, as mentioned before, are incredibly crisp and clear.
Just like the 50mm Dual Chamber drivers, the detachable microphone is of exceptional quality and paired with in-built microphone monitoring, you'll be communicating perfectly with your teammates. It features a small LED ring to show if you're muted at a glance, and if you choose not to install the optional foam filter, you can physically see the quality of the components used to build it.
Looking expensive isn't enough though. You can feel the quality of the parts the moment you take them out of the box. The HyperX Cloud Alpha Wireless headset has a bit of heft to it, but the quality of the materials used to support it on your head is so high that you can barely feel it once it's on. The cushioned headband feels light as a feather and effortlessly slides to match the size of your head, but it still manages to firmly hold the earcups in place.
The 50mm Dual Chamber drivers are cushioned behind memory foam that ever-so graciously envelopes your ears, helping to block out a lot of external noise. At half volume, these sounded as if they were turned up just as loud as my normal headset, but they are so comfortable I had almost completely forgotten I had them on.
Traditionally, wireless devices don't seem to last very long when it comes to battery, and even the most expensive Bluetooth earbuds will only last a couple of days with constant use. Somehow, HyperX has managed to get these things lasting up to 300 hours. Of course, we do need to take this with a grain of salt, as this time frame is heavily dependent on how loud you have them, but at 50% volume and 60% battery, I was told by the NGENUITY app that I could expect them to last another 172 hours – that's incredible!
They even have a standby mode that will activate after inactivity, which will certainly help to increase the battery life, but otherwise, the power button is easily located on the left earcup, along with the mute button and the USB-C type charge port, while the volume control is located on the right and directly influences your PC volume as opposed to just the headset.
The HyperX Cloud Alpha Wireless headset is the complete package. It comes with everything you need to connect it wirelessly to your PC or PlayStation 4/5, and setting it up can be as simple as plug and play. The proprietary app, NGENUITY, gives you everything you need to enhance the sound, but unfortunately also seemed to introduce some slight interference – something I didn't notice before I started using the app. Again, this is probably more of a wireless issue than a problem with the app or headset, but it was somewhat noticeable. Otherwise, the HyperX Cloud Alpha Wireless headset is a damn near-perfect option.
The Good
Extremely comfortable
Amazing sound quality
Rigid construction
Fantastic microphone pick up
Incredible battery life
The Bad
Occassional static "pop" on the right ear, and very rarely on the left