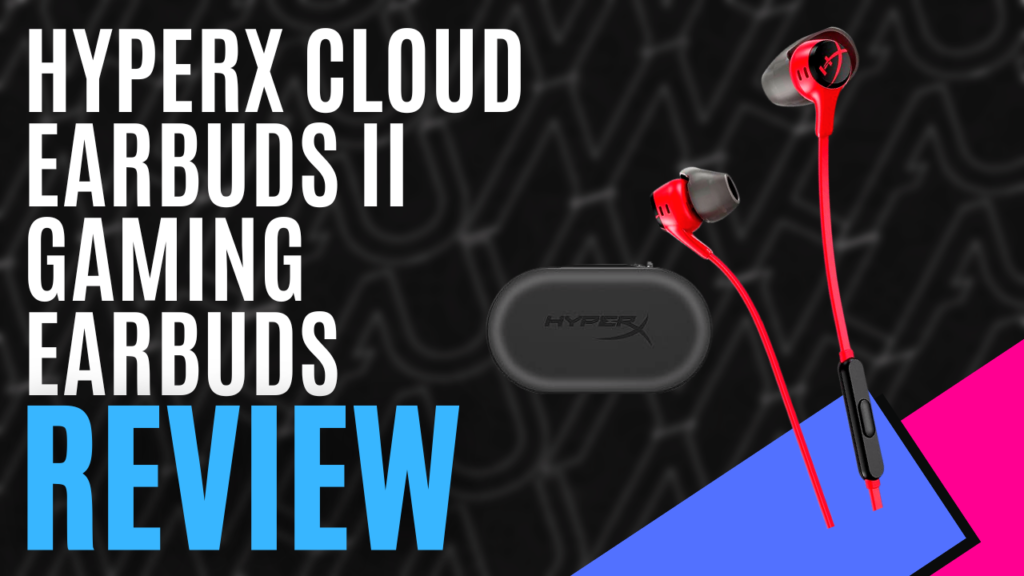 As a society, we are always on the go. We want everything in our lives small, efficient, and portable. One of the things I do the most on the go is listening. Listening to the world around me, voices, video game content, and to my music. Having sound directed straight to my ears makes that escape a reality and distracts me from the ins and outs of the rat race around me.
In saying that, I am sick of having earbuds that are a tangled mess, bad quality or to be brutally honest, just plain cheap and nasty sitting in the bottom of my bag. I have cherished the original HyperX Cloud earbuds since my review back in 2018, and they have been my first choice ever since. In my quest for better earbuds now though, how did the new HyperX Cloud Earbuds II stack up against the rest or even their original brothers I mentioned before?
On first appearance, the Cloud II buds look like any other set of earbuds. However, on further inspection, these silky, matte, black and white buds (also available in the iconic red and black) have a thicker, durable, rubber cord, compared to other generic styles on the market.
I love having thicker cabling, as it really does make it easier to unravel them and stops the internal wires from breaking. I'm forever mourning the death of losing one earbud due to deterioration.
The box includes the earbuds with a 3.5mm jack and mobile multifunction button attached, three other sets of interchangeable ear sizes, and a nifty little carrying case. I loved this cute, hardcover case and with no more tangled mess, it was a welcomed inclusion and something I can easily throw in my bag to take with me.
The genius inclusion of their different ear tip sizes was impressive to see. Not every ear is the same and giving the consumer the ability to customise their fit means HyperX realises we are all different. Too often am I throwing away sporadic purchases because they are too big to even fit my tiny ears. While we are on this topic, they are actually really comfortable with their reversible tips. The choice of silicone over the usual foam is effective as they slip right in with ease, once you have your size of choice.
Performance-wise, these little earbuds have a big attitude. Tested over multiple devices, Mobile, Nintendo Switch, even while podcasting or streaming on PC, these things hit hard. The audio this time round compared to the original Cloud I's is definitely more defined and crisp despite the impressiveness of the first series.
The 14mm drivers really pack a punch with basslines being hard and heavy and trebles delivering clear voices and forefront sound. These are perfect for sitting in Discord, listening to music, or casual gaming. The quality for the price is insane.
It does also have a multi-function button, that to be honest just like the original Cloud earbuds is a little too high up the cable for my liking as it is a bit awkward to reach up to grab. I do understand why they did it though as it is close to your mouth, perfect for in-chat talking or taking calls. I only really used it as a pause button though on Spotify, which is still just as handy.
Now, the HyperX Cloud Earbuds II aren't the most expensive on the market if you do the research, but at a little over $39.99US they are certainly a leg up on most basic sets out there. These classy earbuds are perfect for the Nintendo Switch and Steam Deck but anything with an AUX jack really.
With their sleek design, comfy fit, and their decent sound quality, HyperX is stamping their ground in adding more audio accessories into the market other than basic headsets.
The Good
Durable
Nifty carry case
4 silicon tips to interchange
Comfortable
Functional on multiple devices with AUX jack
Clear voice delivery
Crisp bassy sound and undertones
Affordable