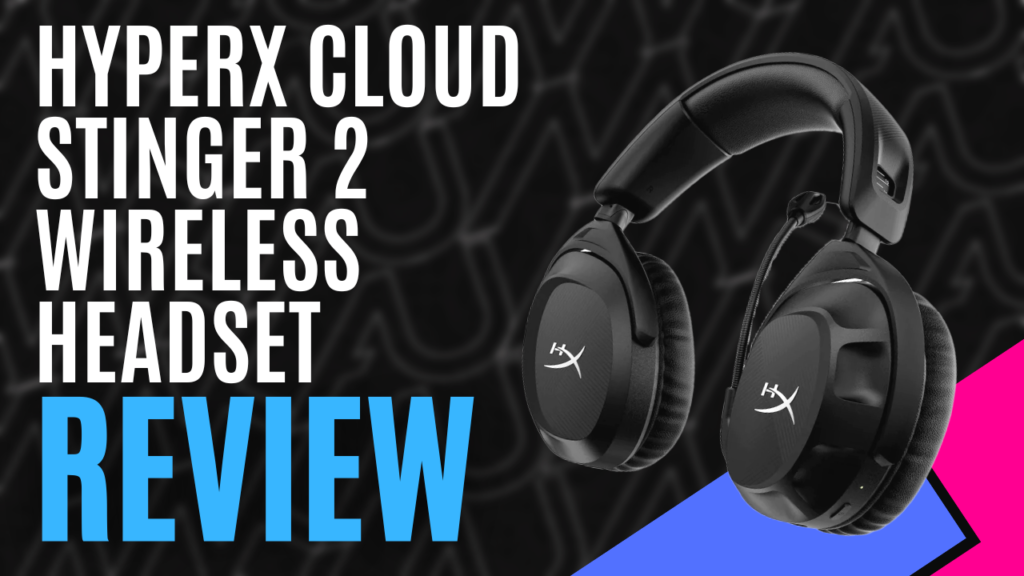 When It comes to peripherals on the market we are no strangers to the juggernaut that is HyperX. After all, "We're All Gamers." This past week, I've had the absolute pleasure of being able to test out the new HyperX Cloud Stinger 2 Wireless headset for PC, and as soon as I cracked open the box, I knew my ears were in for a treat.
Upon opening the box you're greeted with the very sleek-looking headset, USB-C charge cable, Wireless dongle, quick start guide, and a pop filter. The headset itself is a beautifully finished textured matte black plastic build, with leatherette-covered memory foam on the headband and ear cups. At first glance, I was a little apprehensive as to whether or not I would even get to turn it on, for fear of breaking the headband right out of the box, but I was pleasantly surprised by just how durable and flexible the build was. A couple of quick adjustments on the ear cups and I was already in that HyperX Signature comfort zone. Coming in at a very light 265 grams, it was in mere minutes that I had almost completely forgotten that I had it on.
After a very quick and easy setup, I was ready to get into the action. As a content creator and frequent player of multi-player games, there is nothing worse than hearing someone in the party or in game with a horrible mic. You know the ones; the dreaded static, or sounding like they are talking into a tin can on a piece of string. So my natural first point of call was to get into some chats with some friends and get some feedback.
In each and every instance, I was quite relieved to hear the same things from each and every person. Vocal clarity was great, volume was on point, and the noise cancellation didn't have the all too familiar, "Are you in a wind tunnel?" as the breeze of the fan rushes past the mic. A big thanks to the Bi-directional, Noise-cancelling mic for that one. The Flip-to-Mute function offered a nice little tone to let you know when you were muted and back with the gang. With that box getting my all-important tick of approval, I was ready to get into the ear candy.
With the freedom of not being wired as I normally would be, I didn't hesitate to throw on some tunes and take a wander around the house. Boasting a range up to 20m, I was able to zip around and get some chores done all without skipping a beat. Now that my daily things were done, I was but a quick download and install of the NGENUITY application; a way of experiencing the thrill of the hunt and the ever-glorious DTS Headphone:X Spatial Audio. I found myself in awe at how accurately the sound was being projected as bullets whizzed overhead. Volume was easily controlled without getting bogged down in menus thanks to the on-ear volume dial, and the 90-degree swivel on the ear cups also came in handy for those life interruptions.
When it comes to how the HyperX Cloud Stinger 2 performed, I found myself being blown away time and time again. The dynamic 50mm drivers manage to deliver a very crisp, clear, and super high-quality audio experience. Listening to music was pure joy to my ears, and I tested them across a wide variety of different genres. No matter what I threw at it, and across the entire volume range, I was treated to an incredible mix with nothing ever being overpowered.
When it came to game time, it was really time for the DTS Headphone:X Spatial Audio to shine. Coupled with the closed earcup design for that competitive edge, I found myself very easily aware of my enemies whilst playing Call of Duty: Modern Warfare 2.
Knowing that my enemy was about to roll up on me guns blazing from below gave me great confidence in my situational awareness. Listening to the explosions of enemy aircraft coming down from above as they are being blown apart, or the screams of my enemy as they burn from death by molotov was truly satisfying.
After a few days of some pretty big play sessions, music, and a few movies, it was finally time to charge. In total, I managed a whopping 20 hours out of a single charge, and a very reasonable charge time of 3.5 hrs as I took a quick break saw me back in the action in no time.
With the installation of the NGENUITY application, you'll find yourself with the ability to customise your listening experience and find your sweet spot by creating your own custom EQ settings. Not sure if you're talking too loud? Simply hit the mic monitoring toggle and you're sorted. There are also sliders for your volume and mic volume, though I didn't have to make use of these at all; enable DTS Headphone:X Spatial Audio with the toggle and you're good to game. I found the application very simple and easy to use, though it did annoy me a little that I had to toggle the spatial audio in order to get the most out of the experience.
Overall, the HyperX Cloud Stinger 2 Wireless Headset is a very worthy heavyweight sound contender. Though this headset is specified on the box as a PC headset, it was a nice little surprise to also see in the quick start guide that it is also compatible with the PS5. With a crystal-clear mic, lightweight and durable design, incredible comfort, and delivers a sound that you expect to hear in a premium headset, the HyperX Cloud Stinger 2 headset is very easy on the pocket with a budget-friendly price of $159.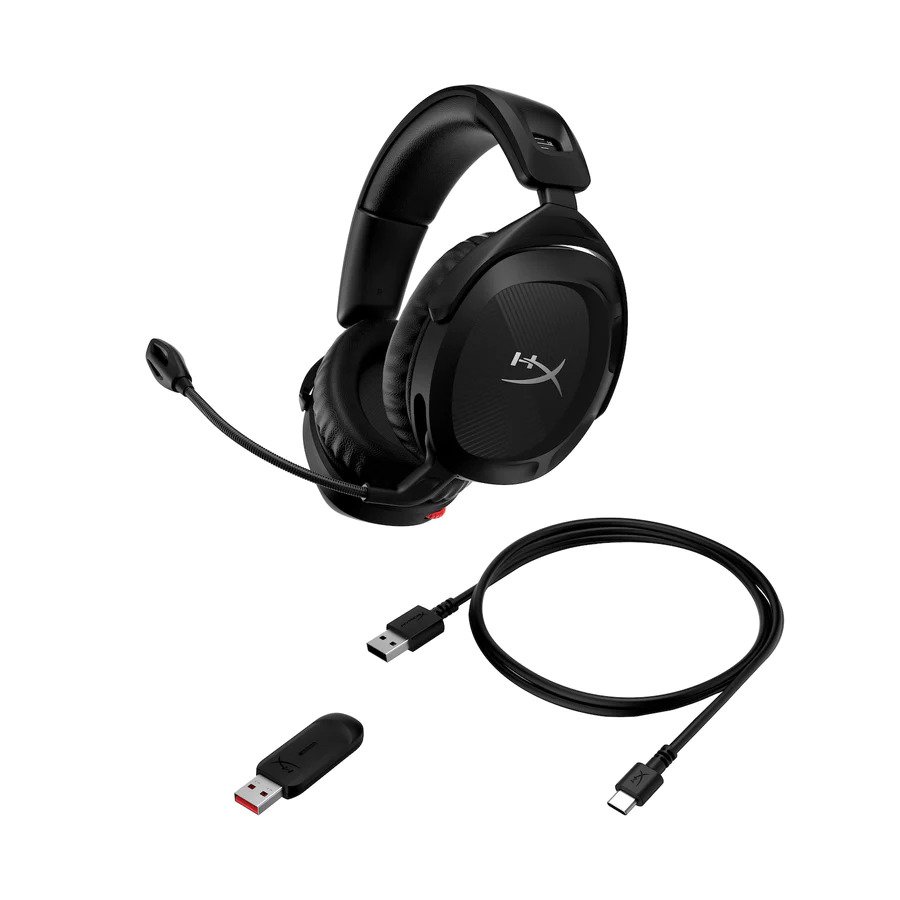 SPECS
Headphones
Driver Type

Dynamic, 50mm with Neodymium magnets

Form Factor

Closed Back

Frequency Response

10Hz – 20.2kHz

Impedance

32Ω

Sensitivity

104.5 dBSPL/mW at 1 kHz

T.H.D

≦2%

Frame Type

Plastic

Ear Cushions

Memory foam and premium leatherette
Microphone
Element

Electret condenser microphone

Polar Pattern

Bi-directional, Noise-cancelling

Frequency Response

20 Hz – 6.68 kHz

Sensitivity

-12 dBFS/Pa at 1kHz
Connections & Features
Audio Connection

Wireless USB

USB Audio Format

Stereo

USB Specification

USB 2.0

Sampling Rates

48kHz

Bit-Depth

16-bit

Included Virtual Surround Sound

DTS Headphone:X®

Audio Controls

Onboard audio controls
Battery & Wireless
Type

Rechargeable lithium-polymer

Battery Life

20 Hours

Charge Time

3.5 hours

Type

2.4GHz

Wireless Range

Up to 20m
Physical
Weight

275g

Cable length(s) and type(s)

0.5m USB charge cable
The Good
Lightweight
Durable
Comfortable
Budget Friendly
High Sound Quality
Great Battery Life
Also compatible with PS5