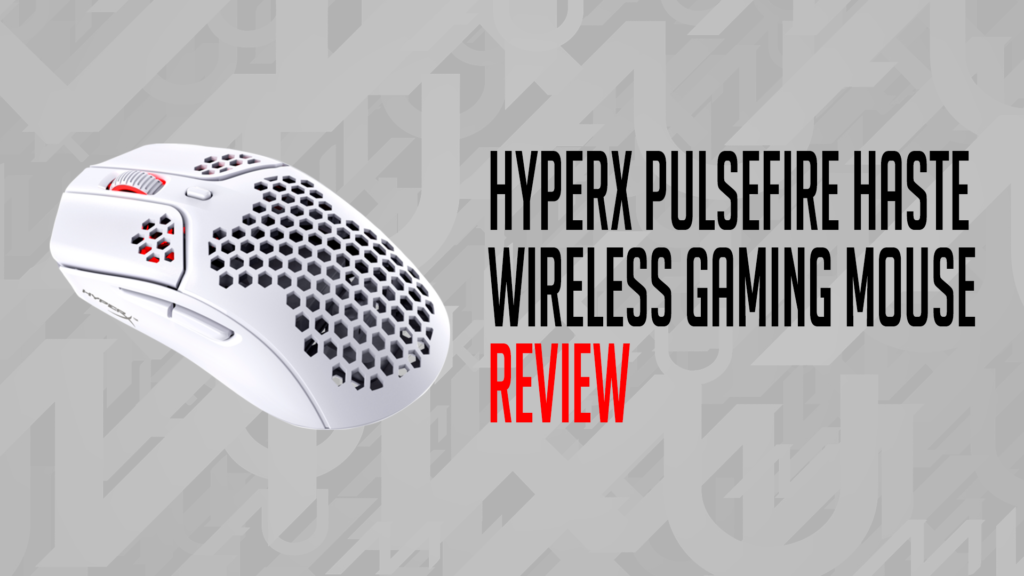 HyperX is back AGAIN, this time they have the 'Pulsefire Haste Wireless Mouse' to add to their roster of impressive products. Let's take this little beast for a whirl and see if it can keep up with the ins and outs of our daily MKAU errands and intense gaming sessions.
Firstly, included in the box packed neatly away is the Pulsefire Haste wireless mouse, USB wireless receiver, wireless adapter, USB power cable, grip tape, extra PTFE skates, and your guide. The Hyperflex USB cable will ensure plenty of length for when you want a wired-in mouse that can manoeuvre across a considerable distance.
The HyperX Pulsefire Haste is a good-looking mouse. Coming in black or white, this sleek matte white review unit is exactly what I was looking for as lately, I have been obsessed with white peripherals. With a solid hard framed shell, the hexagonal patterned air holes add a unique aesthetic look to the mouse that I love.
Now, I understand that this look won't be for everyone and I was disappointed to find out there is no RGB lighting in the shell to make the mouse even more of a statement piece. What is RGB though is the clear silicone scroll wheel. Underneath is an on/off button and 4 PTFE skates that definitely are low friction and allows you to glide your strokes uninterrupted. The mouse has a steepish arch, which is comfortable for claw or fingertip grip, but maybe slightly stiff for palm with smaller hands, but generally, it is a relaxing ride.
Coming in at 62 grams, while not the lightest mouse I have ever reviewed, for a wireless mouse that is quite impressive. Altogether with 6 mappable buttons; 2 bouncy right and left finger pads, 2 side thumb buttons, 1 DPI adjuster, and a clickable scroll wheel.
Since it is wireless, how is the battery life? HyperX boasts 100 hours of life and I can confidently say that I used my haste for more than 7 days on and off before recharging it. Even then it didn't completely die, I was just worried it would turn off mid-project. In conjunction with the wireless receiver, this thing really is plug and play and has you skating around wireless in no time. We love efficiency. It is also noteworthy, that the whole experience was smooth and lag-free with input seemingly instant due to the 2.4GHz and 1ms reporting times.
Responsiveness I hear you inquire? The TTC golden micro dust proof switches are springy to the touch and input seamlessly. With a polling rate of 1000 Hz which is pretty standard, and a DPI rate that can be customised up to 3200, which isn't the highest but in reality, what psycho really needs is a mouse pointer you can't see. This is one gaming mouse that when used wirelessly and with its Pixart's sensor gives you the movement and accuracy capabilities to hit all the dirtiest shots.
With the use of the HyperX NGENUITY software the doors open for even more customisation. Now as stated before there aren't many lighting options to customise, here is where you can map out your buttons till your heart's content. I have said many times before, that it is such a credit to companies that make their software interfaces simple and user-friendly, and HyperX is no different. With a simple click and tweak of a few settings, you can have your mouse exactly the way you want it. Unfortunately, the only way to map buttons is through the software as you can only have 1 online profile.
Compatible with PC, Playstation 5|4, and Xbox Series X|S|One, the Pulsefire Haste is a mouse worthy of any gaming or home office setup. Stylish and slick with its hexagonal-metric design you will have next to no input delay despite being able to be wired in or wireless. With hours of battery life, you can glide your way across the mouse pad for session after session. For $AU139, make haste and pick up the Pulsefire Haste by HyperX for a solid addition to your collection.
The Good
Unique styling
Solid build
NGENUITY software
Long battery life
Compatible with multiple devices
Lag free on wireless
The Bad
Only 1 zone of RGB lighting
Only one on board profile