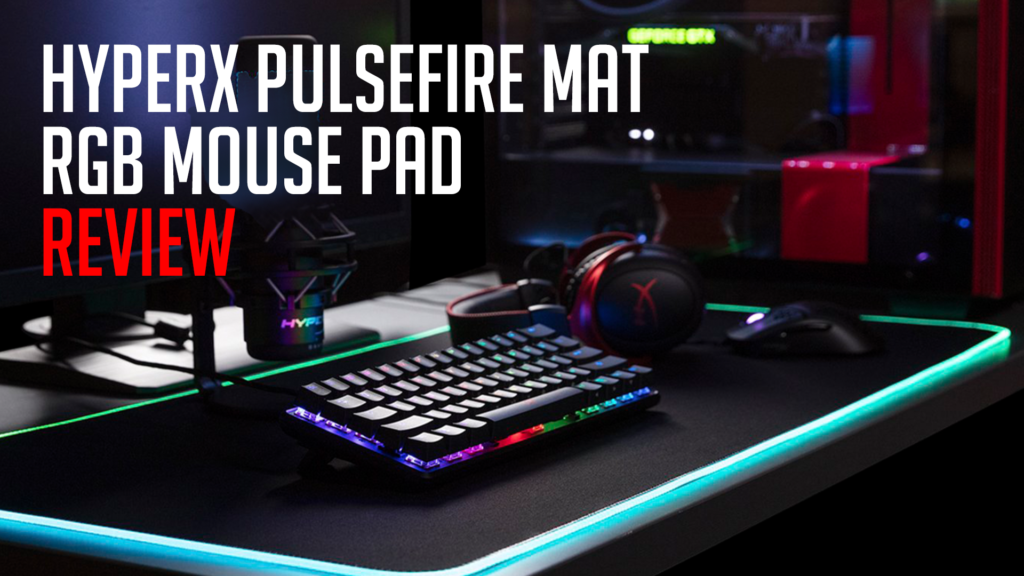 HyperX is a legacy in itself. They continually push the boundaries on what the gamer wants and needs with innovation at the forefront of their minds. With that to consider, of course, they would try to Frankenstein a more awesome series of mouse pads. HyperX would like to present to you, the Pulsefire Mat.
Straight out the box, the Pulsefire Mat has a silky smooth but densely clothed matting. This material is so flexible that you can also roll the mouse mat up and take it on the go for all those different gaming needs. Lining the perimeter of the map is a strip of dynamic lighting woven in with clear fine tubing for that stylish customisable lighting glow.
In the top right corner is a profile panel that the USB power cable links to. The USB power cable is lengthy, coming in at 1.8m, meaning placement options for most computer setups.
The whole mat is very minimalistic in design with not even a logo present, it certainly lets the keyboard and mouse shine on the desk.
The Pulsefire Mat is large my friends, in fact, this one is XL. Stretching a whopping 90cm long and covering 42cm in width this baby takes up a lot of desk space. This means my keyboard and mouse has plenty of space to move around comfortably.
In conjunction with that, the non-slip rubber pattern underneath means my mousepad isn't slipping anywhere and my peripherals on top aren't going anywhere either.
The RGB lighting strip has 2 zones of lighting effect, which some might think would be quite a subtle glow but the Pulsefire really shines as a statement piece in any dark room.
As mentioned before, you can save up to 3 onboard profiles to the mat. These profiles can be adjusted via the HyperX NGENUITY software. This simple-to-use software, I am well versed in but luckily it is super user-friendly for newbies. Here you can create your onboard profiles and tinker with the lighting settings such as your traditional solid, breathing, waves, and even a combination of custom colour sequences.
The mat is beautifully soft and my mouse glides across it seamlessly with minimal drag as you pull your strokes and shots. Unfortunately, I have sensitive skin and the wiring around the edge of the mat holding the lights to it was very scratchy on my arms and after long sessions made them a little sore and irritable.
Overall, the HyperX Pulsefire Mat in XL is a fabulous addition to any setup if you want an almost full coverage with a non-slip, minimal drag surface for your mouse and keyboard. In short sessions, this simple design will glow especially for the price but after long stints, it may leave you with an itch that pains you to scratch.
The Good
Lots of coverage
Smooth clothed mat
2 zoned RGB lighting
Minimal drag
Well made
The Bad
The wiring cable around the edge can feel a bit scratchy over time