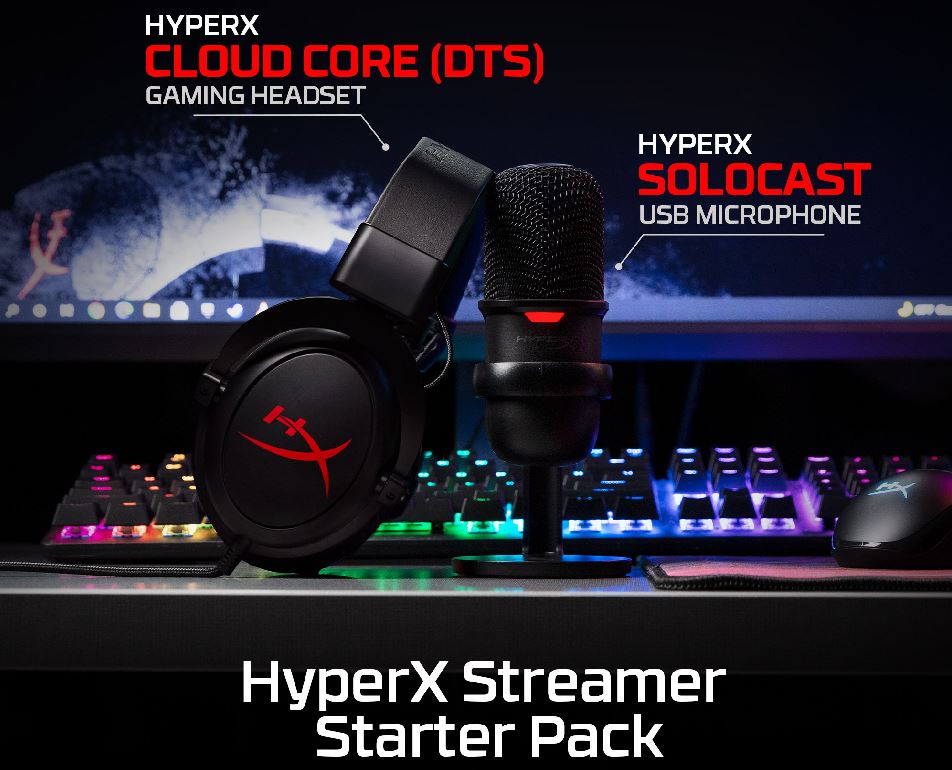 Are you stuck on ideas for what to get the gamer in your life for Christmas? Perhaps you know someone who has expressed an interest in streaming? Either way, HyperX have you covered with the release of the Streamer Starter Pack, and it's just in time for the big day. Containing the HyperX Cloud Core headset and the Solocast USB microphone, this kit offers a great way to dabble in streaming without breaking the bank.
The first thing to note is the headset. The Cloud Core is an incredibly comfortable and well-built piece of technology, with the added bonus of working on every platform. Featuring a 3.5mm headset jack, this headset will connect to any current-gen console or PC, and for those running slightly older machines, it comes with an adapter to change the single 3.5mm 3 channel cable into the separate and somewhat older headphone microphone leads.
The ear pads feature a leatherette finish, complete with memory foam that comfortably covers your ears, seemingly blocking out a lot of external noise, while the 53mm drivers deliver some very punchy audio, and this can be further improved by using the included two-year subscription to DTS Headphone:X Spatial Audio, although this is only compatible with PC. In saying that, console users can still experience some fantastic quality audio. The boom mic features a foam pop filter and allowed for crisp and clear communications with my teammates, the flexible boom meant that I could position it in a way that either reduced or increased the volume in which they heard my voice, and the inline volume/mute controls were always within easy reach, whether on PC, Xbox, or Playstation.
The HyperX Solocast microphone is a little more basic compared to what else is on the market, but that isn't to say that it doesn't have its own place. Aptly named the Solocast, it features a single cardioid pick-up pattern, meaning that it is designed to pick up sounds from a single angle. Most streamers will only use this mode anyway, as more often than not, they're wanting to eliminate background noise, but it does mean it is less suited to those wanting to start a podcast or perform interviews. While it is limited in this aspect, it does an amazing job at what it was designed to do, once again picking up wonderfully clear audio from a single location.
Being a USB interface means the Solocast is incredibly easy to set up and use, and a distinct lack of an onboard mixer means that you're extremely unlikely to accidentally adjust input volumes. You quite literally only have one button on the microphone that just controls whether or not you are muted, and a single red light shows that you're active. A simple tap of the touch-sensitive mute button will cause the light to flash, indicating that you're muted. It really can't get much simpler to set up. The microphone comes with an adjustable mount in which it easily slides on and out of, and it can be tilted back and forward or side to side. Alternatively, you can use a boom stand, which can screw into the bottom using either the 3/8" or 5/8" screw mounts located on the bottom of the microphone.
The HyperX Streamer Starter Pack is a fantastic gift idea for someone just starting out, offering them high-quality tech at an affordable price. The Cloud Core headset offers great quality audio and includes a subscription to DTS Headphone:X Spatial Audio, while the Solocast provides a fantastic entry-level microphone that won't take up too much of your desk. It's a great pairing at a very affordable price, and it will quickly and easily get you or your favourite gamer up and running.
The Good
High quality manufacture.
Includes a premium subscription for 2 years
Great audio pick up on both headset and standalone microphones
Great sound quality from the headset
The Bad
No on-board mixer for the Solocast
The single pick up pattern limits the Solocast's potential.
The headset only uses analogue connections