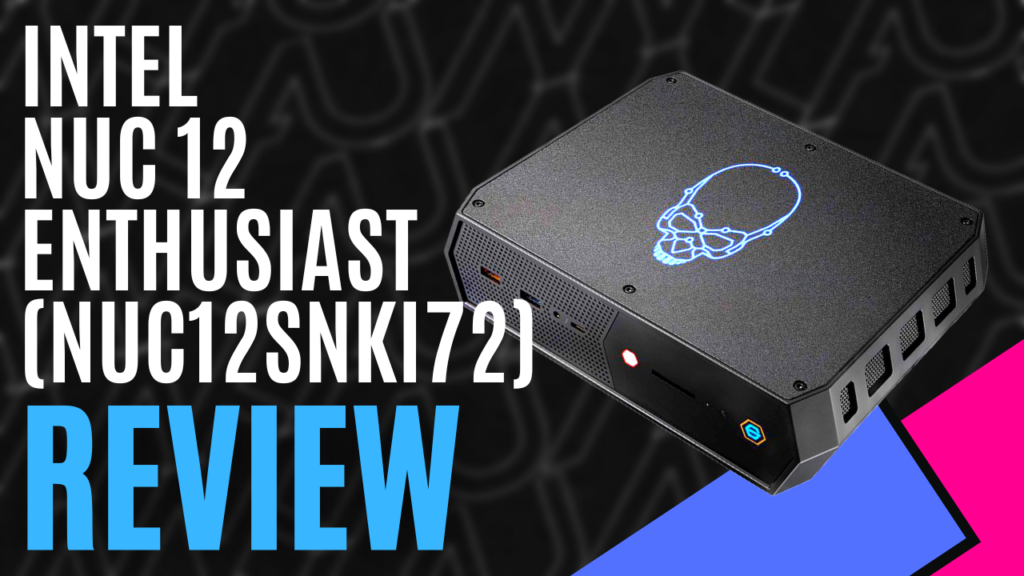 Typically, when I think of small-form PCs, I think of the horribly slow systems we used to use at my previous job. They had the bare minimum to do the job required and were typically more hassle than they were worth. It never really occurred to me that they could be strong competitors in today's market.
Intel, on the other hand, have different ideas, and they were kind enough to supply us with one of their NUC12SNKi72 desktop computers, and straight off the bat, I have to say I'm impressed. Featuring an Intel Core i7-12700h, with 14 cores and 20 threads, boosted to 3.9GHz, and 16GB DDR4 RAM at 3200MHz, it was already looking like quite the performer.
The box it came in was quite large, so I wasn't exactly expecting what I found inside. Tightly nestled in the surrounding foam packaging was yet another box, only this one was very nicely styled with an acrylic disk on the front, and splitting it open from the top like a geometric easter egg presented the beast within. Measuring in at about 20x18x6cm, it was a lot smaller than I expected, especially given how large the original box was.
Following a similar angular geometry to the inner packaging, I have to give the NUC12SNKi72 some style points, and thanks to the friction-fit stand it comes with, I was pleased to find it could be mounted vertically or simply laid on the desk.
Rummaging through the packaging a little more, I was also able to locate a couple of smaller acrylic squares, one of which featured the Intel skull logo, with another that represented an angular cobra. Initially, I was a little dumbfounded, as I couldn't see anywhere that these would slow into, so I continued on with setting it up. Aside from the power brick, there wasn't much else in the packaging, so grabbing a spare keyboard and mouse, I connected it all up and hit the power button. It was about now that I noticed the glowing square panel on what would be the top of the computer if it was laid down.
Six hex screws can be undone, and the previously mentioned acrylic designs can be slotted in, allowing the light to shine through and display the design on the side. This LED panel, as well as the LEDs in the power button and HDD indicator, can be adjusted in the Intel NUC Software Studio, easy-to-use software that allows you to pick your colour and your preferred pattern, but it is a little restricted compared to some other systems. With Windows 11 pre-installed, getting up and running was really simple – you just follow along with the screens, and this all happened very quickly thanks to the CPU, RAM, and 500GB SSD.
Before I knew it, I was up and running, and after a quick Benchmark test, I was curious to see that it rated quite highly as a gaming PC, hitting the 82% "Aircraft Carrier" rating on user benchmark, and this is thanks to the Intel Arc A770M graphics card, which would easily explain the two Display Ports and single HDMI I found on the back.
With all that in mind, it was time to actually play something, and seeing as how Marvel's Midnight Suns had just released the Redemption DLC, I knew what I had to play. With everything set to Epic, and my resolution bumped out to 3440×1440 to match the monitor I've been testing, I was very surprised to find that I'd hold an average of 45 FPS during the majority of my missions. It would occasionally drop down to 30 or so during some of the more intense plays, but 45FPS is nothing to turn your nose up at.
While walking around the Abbey, I noticed my average FPS was in the high 80s, but there was a rare stutter in between loading screens. Based on the computer's specifications, I'm putting this down to the DLC being fresh and maybe needing a patch, not the computer itself, because the majority of gameplay was buttery smooth.
Aside from the monitor connections, the Intel NUC12SNKi72 features plenty of connectivity. The front face hosts two USB-A ports and a single Type-C, a headset port, and something I haven't seen in a while – an SD card slot. The rear houses an additional 4 USB-A, another Type-C, an RJ-45 ethernet port, and a single TOSLINK connection. Additionally, there is a variety of wireless connections, including the Intel Killer™ Wi-Fi 6E AX1690 (i/s) integrated wireless, Bluetooth, and even an Infrared Sensor.
The Intel NUC12SNKi72 is a pint-sized workhorse, able to easily tackle any challenges thrown its way. It's small enough that you won't notice it in your workspace, but it's flashy enough that you can proudly display it. Whether you're using it to make your workload easier, edit photos, render videos, or spend an afternoon playing games, this tiny PC will keep up with you.
The Good
Small formfactor
Great performance
Stylish design
The Bad
LED system colours and patterns are restricted