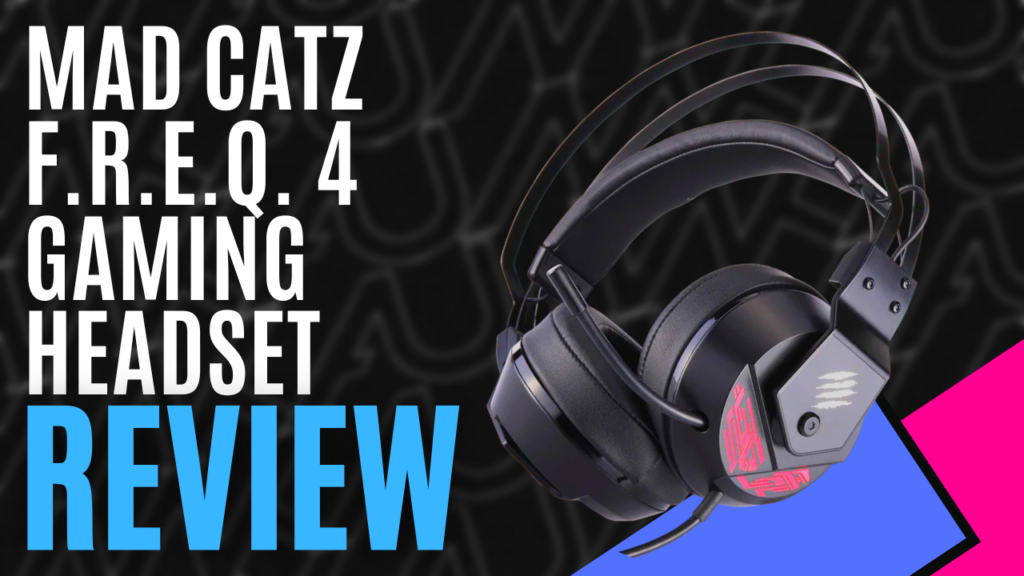 MAD CATZ dares to lead, and after decades in the industry, has recently been busting back into the international gaming scene. Providing MKAU with the authentic 'F.R.E.Q. 4 Gaming Headset', I got to put them through their paces. Is this headset a raging tiger or just a soft kitten in disguise?
Firstly, straight out of the box, the F.R.E.Q. 4 is interesting looking, that's for sure. Rocking a double band, the frame is of solid metal with a soft pleather cushion band balanced below. With a very industrial look, the band is screwed to the plastic ear cups, which are a decent size and also cushioned with memory foam and comfy soft black pleather. The microphone retracts in and out of the left cup and sits snugly around the mouth.
The whole headset is a sleek matte black, with cool silver cat scratch logos on each cup, and more uniquely, RGB lighting so you can glow in the darkness of your gaming sesh. The overall design is impressive and comfy, however, if you have a smaller head like I do, the metal suspension band sticks way above your head. I just didn't feel it was that necessary and just ruined the look.
They are a wired headset so nothing extra comes in the box other than some decal stickers. Being wired for PC use, the headset is powered by USB and a built-in controller that controls the mute, volume up and down, and the 7.1 surround sound channel. Some may feel restricted by the wireless aspect, as the wire is long, but it would need to be longer for a more free feeling if your PC was further away from your desk.
Boasting Advanced Environmental Noise Cancellation, they are very good at blocking out the ambient noise and conversations going on around you so you can immerse yourself in what you are doing, whether it's gaming, jamming to tunes, or going about every day of business. Coupled with that, the microphone itself cancels out external noise too making your voice clear as day in those intense Discord calls. The microphone delivers your voice with amazing quality and clarity too due to its omnidirectional pickup pattern – something always great to see.
The audio quality is impressive as well. Utilising 50 mm Neodymium Drivers the bass is strong in this one, delivering a heart-pounding deepness. The highs are direct too, with the trebles of pin-point detailed sound.
Match that with the 7.1 surround, and the spatial awareness of your game is an added impressive feature. Bullets wizz around you in games like Apex Legends, where the direction is crucial, and the ambient environmental sounds of the wilderness and creaks of dungeons in the likes of 'Diablo 4: Server Slam' send chills down your spine, you know it's good.
Like any good peripheral company provides, there is accompanying software to customise your experience. Here you can customise the master volume and even the left and right ear cups independently of each other. You can also adjust the mic volume and audio sampling rate. Finally, with all that RGB lighting in the frame, it was nice to see you could customise the colour of your look. The software is pretty simple and user-friendly, however, it would have been nice to be able to set some profiles for different audio scenarios as the audio settings are very basic.
Overall, the F.R.E.Q. 4 is a solid headset with unique features that stand out in a crowd. While the suspension frame is not to my liking, the audio quality and technical abilities will blow you away. Affordable in price, MAD CATZ has one punchy headset.
The Good
Stylish design
RGB lighting
Comfy
Pretty decent noise cancelling
Amazing mic quality
Insane audio quality
7.1 Surround sound
Simple and user friendly software
The Bad
Metal headband sticks out
Wired only
No audio profiles
PC only