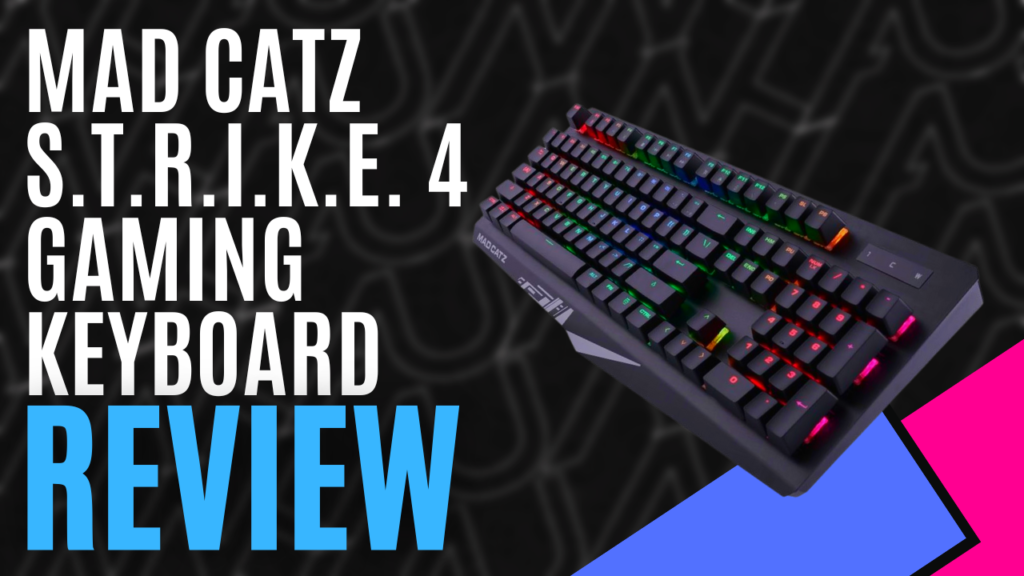 The working class and nighttime gamer can be one and the same, so having a keyboard that can fit both ecosystems can be tough to find. With a recent resurgence in build quality, Mad Catz has continued their line of affordable and dependable S.T.R.I.K.E gaming keyboards. Continuing with this iteration, the Mad Catz S.T.R.I.K.E 4 edition comes packed with the ever-satisfying Mechanical keys sitting on Cherry MX RED switches for a responsive design and a resonating clicky sound.
First and foremost, the design for myself was the most alluring part, with a toughened aluminium faceplate giving the keyboard a sturdy and easy-to-clean finish, and the 104 keys stand tall, springing back into place as you type away with a rhythmic click-clack response. For a bit more technical look at the keys, there is a 2mm trigger depth, 4mm distance travel, and a response time of 5ms. The response while gaming was instant, and the advertised anti-ghosting technology would register several key inputs at once, so chaining abilities in Destiny has never been easier for me.
The RBG lighting shines through the letters/symbols and glows underneath in unison, and the bold letters acting as little windows for the light to shine through are also beneficial, as the letters won't wear off with extended use.

The RBG capability has an extensive range of colours and 18 different lighting effects to pair with the different schemes, able to quickly adjust them via the function button to skip through, and additional software for on-the-fly adjustments.
Holding Function and using the insert, delete, home, end, and page up or down can cycle through all the presets. There are static colours, breathing, which causes the light intensity to rise and fall, or my favourite, the pulse setting, which leaves the keyboard blank until you press a button, causing a wave of colour to spread through the surrounding keys.
In addition to the quick access of the function key to change the lighting display, there is free software that can be downloaded to further customise your experience. There are three presets that let you set up certain lights to show, so if you want to highlight your W, A, S, and D keys to be a different colour, you can. In the menu, you can also set up a few limited macros as well, but the input window isn't substantial, so it would be best kept to a few keystrokes. It should be noted you can completely skip this software and simply plug and play.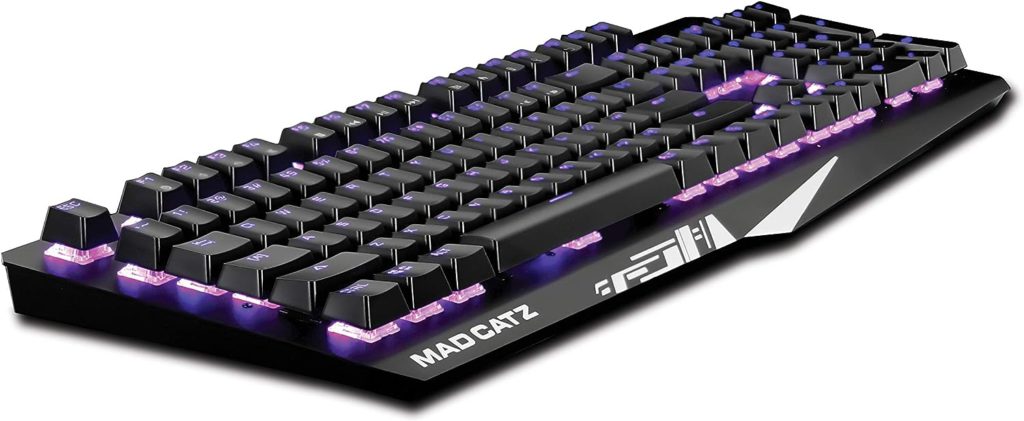 The board itself does require a bit more space (450x150x40mm) as it has the extra number pad on the right of the board, I personally can't go without them, so it was a treat for me. The rubber feet, paired with the nearly 1kg weight kept the board in place and the recessed cable groves on the back let me position the 1.6m threaded fabric USB cable to branch out to the left, right, or centre, depending on how your desk setup is.
There is a feature that isn't widespread, but missing out on having a USB pass-through port does feel like a missed opportunity, although they are less in common in this price range to begin with, so it may be more wishful thinking that this would be the standard going forward.
A keyboard that packs a punch and has a satisfying crunch, Mad Catz S.T.R.I.K.E 4 Gaming Keyboard is a great addition to your setup. The black finish keeps a professional look with the Mad Catz artwork across the bottom reminding you that this is a gamer-first company.
The Good
MX RED cherry switches on an affordable keyboard
Function key to adjust lighting settings was quick and easy to navigate
Aluminium faceplate is sturdy and easy to clean
Threaded fabric cable is durable
Optional software to customise presets
The Bad
Extra features could elevate the experience