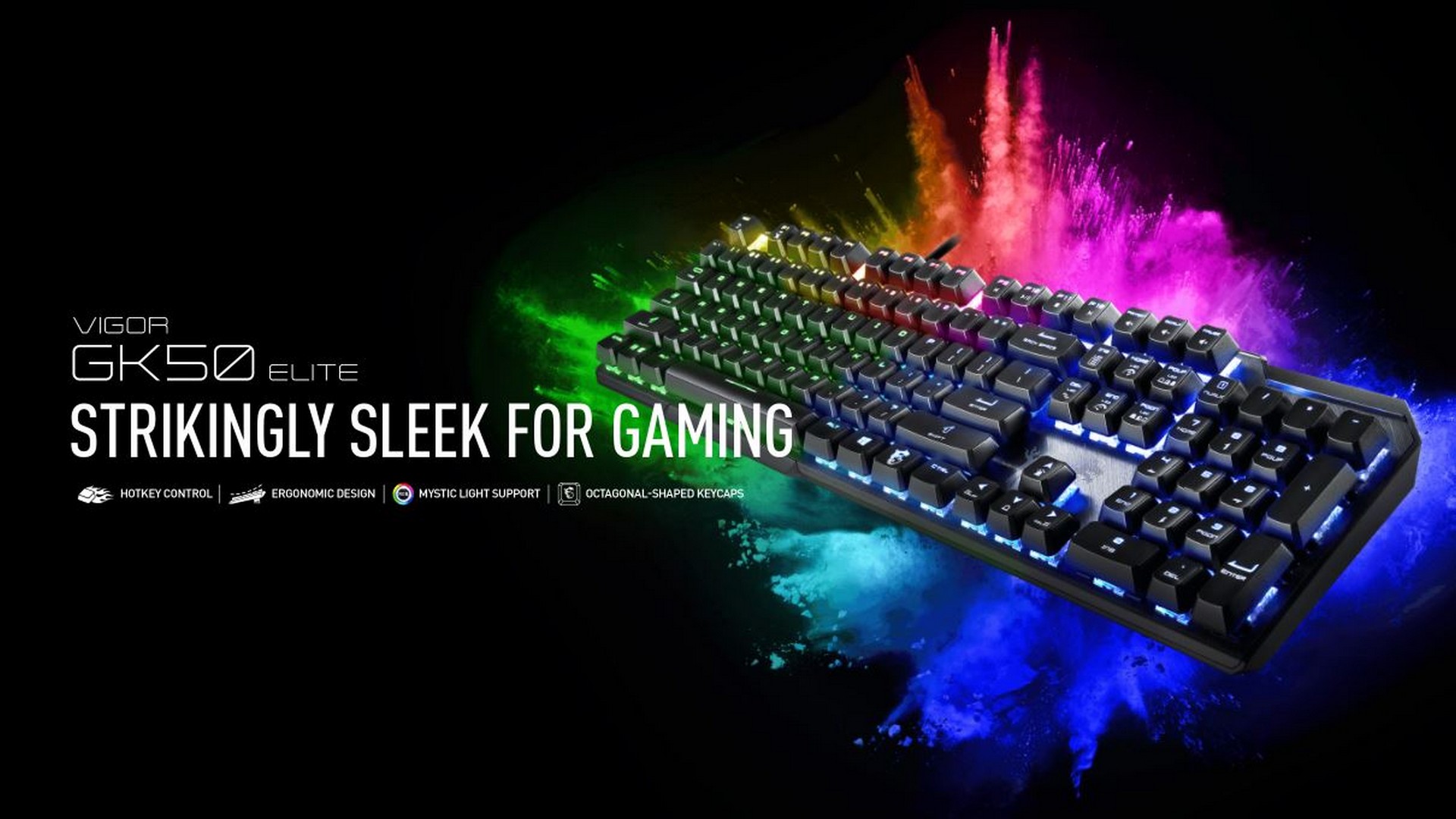 I've done some keyboards in my time now at MKAU but to me, MSI are an unknown enigma. So putting on my investigative Sherlock Holmes cap, I went on the search for what they stand for. Famous for sponsoring over 20 esport teams and being a leading brand with years of innovation and design, I was excited to see what MSI brings to the table with their Vigor GK50 Elite Mechanical Keyboard. Let's dive into their keyboard and see if it delivers a "True Gaming" experience.
Coming straight out of the box it is definitely apparent this is one quirky keyboard; I dig it. With glaring tapered edges and keys, these might seem like only minor details but when most keyboards look the same, it really makes it stand out. Adding to its stylish modern frame, the scuffed aluminum top plate with its iconic dragon logo stenciled on is certainly eye-catching. As mentioned before, the tapered keys create a unique octagonal shape that also feels so nice to the touch with their silky matte finish. I didn't think I'd be this obsessed with such a small detail change to the classic style of keys.
It also comes with flip out feet that are set at a reasonably comfy angle and well-placed rubber pads that reduce slippage on any setup, great for those intense gaming moments where over-excitement might reign supreme. I just wish the feet were adjustable for optimal angles but the rubber is a must for this keyboard as it is plastic-based and incredibly lightweight meaning even the tiniest nudge could knock it out of place, personally, I like a bit of heft in my products so they are rooted in place.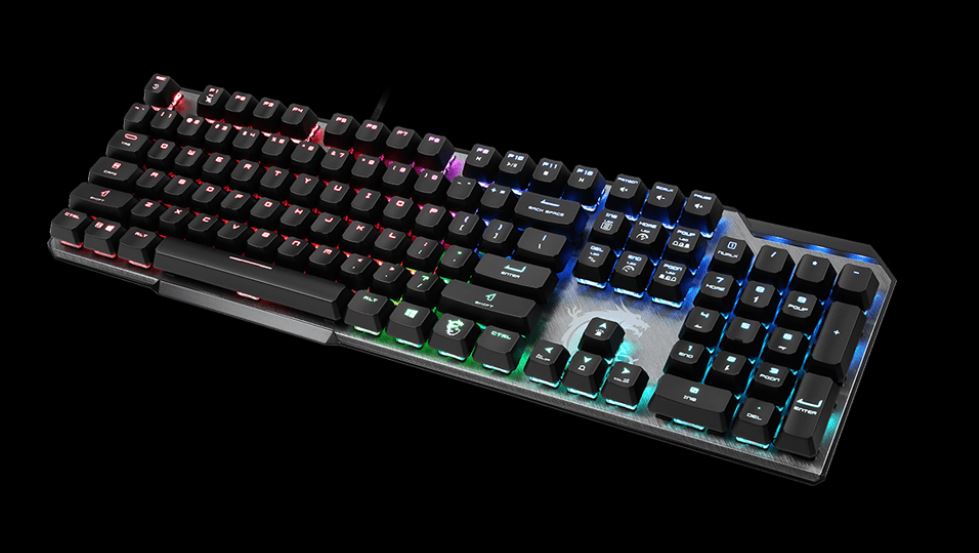 This deck sports a 1.8m, molded-in, USB, braided cable for powering. We all know I love braided for wear and tear reasons and hate molded for fears of yanking it by accident but it does seem sturdy enough. The box also includes a spare "ALT" and "CTRL" key and a key puller, just in case you decide to customise your board.
The keys are 'Kailh BLUE' in design and being a mechanical keyboard means they are very similar to traditional cherry switches but with a slightly less travel time and very noisy in nature. Requiring heavier finger pressure these sort of keyboards, in general, I wouldn't suggest for the precision reflex type of gaming but it got me across the finish line in 'Fall Guys' easy enough, though not really shaving any time real-time off for this pro (this is pure sarcasm, I suck). I also definitely found these keys comfy though, with the copious amounts of typing I have to do as a reviewer, with each click fluid and precise. It has N-Key rollover and anti-ghosting too; a must with all modern keyboards.
Visually, this deck is stunning, lighting up any area like a beacon in the dark with its RGB lighting. With each individual key backlit you know you are getting a bang for your buck. This can be coupled with MSI's Dragon Centre software to really customise the glow of your keyboard. This is the first time I have used this software and while it is very basic compared to other keyboard customisation software I have used before, it was simple and functional enough to get the job done. Here you can set up to 3 profiles of custom light shows and even create ambient links with certain games. I was pleasantly surprised that it even links with Nanoleaf and Phillips Hue too, customising more than just your keyboard but the ambiance of your whole space if necessary.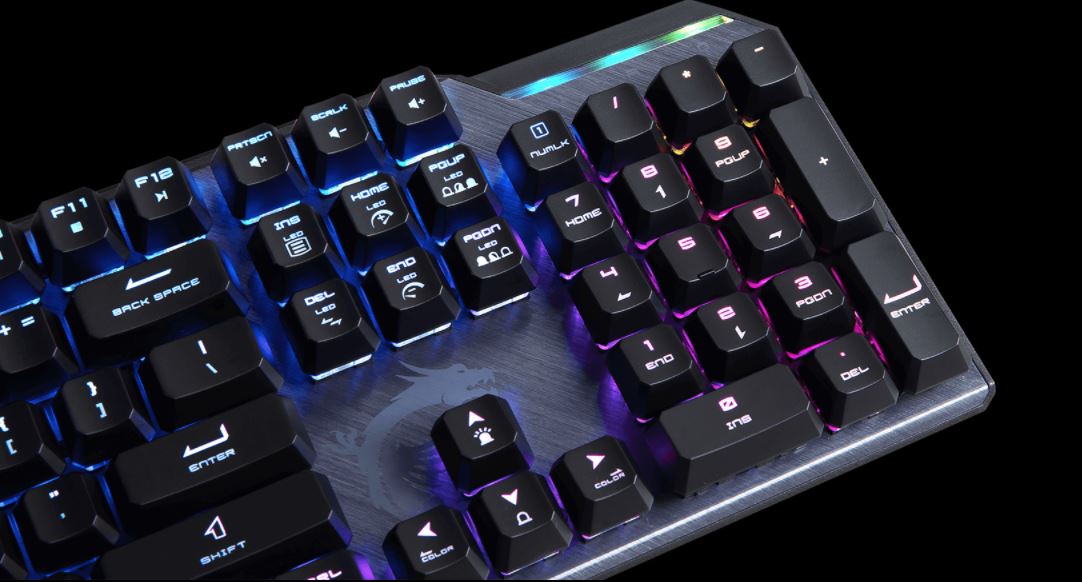 Despite appearances, the Vigor GK50 Elite is actually a pretty functional keyboard. It has onboard media keys so you can control your music at a click of a key and also LED indicators so the adjustment of your RGB lighting's colour, brightness, or even pattern can also be controlled manually without any downloads. While these aren't dedicated keys it is still good to see it is cross-operative. You can also even access their Afterburner software at the push of the F1 key.
While, I didn't bother downloading this software too (I already have the Dragon Centre for the lighting) as it analyses the inputs, controls, and performance of your graphic card and mine is poo anyway, I was impressed that the Vigor GK50 Elite could link with a range of applications.
Now, the Vigor GK50 Elite by MSI doesn't have all the bells and whistles like some keyboards I have had in the past but geez for its price of about $AU119 at mwave.com.au, it packs an impressive punch in the market. With its 'out there' design, functionality, and show-stopping RGB lighting that can be changed with ease, MSI definitely leaves their iconic mark on any setup but in an accessible way.
The Good
Unique modern design
Stylish matte octagonal keys
Rubber placement underneath
Spare keys and key puller included
Braided cable
Media and lighting keys on a FN key
Clicky
Individual RGB lighting
Easy to use software
Links with Nanoleaf and Phillips Hue
Bang for your buck
The Bad
Lightweight
Molded-in, power USB cable
Fixed feet for the tilt of the keyboard
Too clicky for some