Mobile gaming isn't for everyone, however it can be incredibly addictive. When Call Of Duty Mobile dropped early, we at MKAU were obsessed. Alternatively, though that community is divided over the use of controllers to get that competitive edge. While, I don't really care too much about the argument, there are some cool devices out there to add to the fun. Will a Controller Phone Mount assist in my efforts to smash the opposing team?
Made for the Xbox One controller, this controller phone mount is designed by PowerWave Accessories to give you that edge in your mobile game experience.
Straight off the back, as a mobile gamer, I would assume you have already done your research and obtained an Xbox One controller that is Bluetooth capable and are running your games on iPhone iOS 13 or above or Androids with Pie. These mobile specs are the only way to have a controller pair with a mobile phone.
Now, this mount is small and compact straight out of the box, definitely easy for transporting and gaming on the go. Unfolding into two parts made of plastic, it feels quite confusing in quality. While the black phone mount is sturdy, slides with ease to be adjusted and made with hard plastic, the transparent brace for the controller is contrastly flimsy, feels cheap and restrictive. I felt like it could potentially snap with too much force.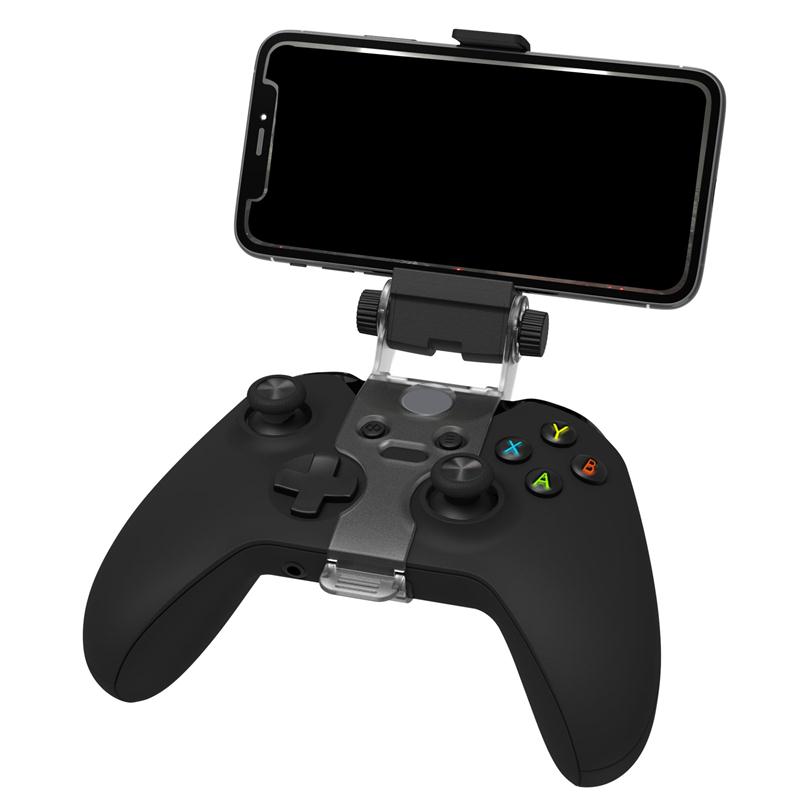 It was refreshing to see that the phone mount extendable arm reaches to a decent height, even fitting my Razer phone in comfortably, despite it being one of the thicker phones on the market. It is often exasperating to buy an add on that doesn't fit, especially even with the case off, so this is a welcomed feature. It also has screws on each side so you can adjust your desired angle and tighten it into that perfect position for those ultimate PUBG Mobile kills.
The controller brace, despite it's quality, has cut outs that fit snugly around the placement of the controller's buttons, and latches with a lip at the front. I found this added extra support for weight but also allows easy access to functional buttons.
Locking the brace in itself, at times, became an issue. Firstly, you need to run what I call, a pure controller setup, a stock controller wired in or with the original Xbox batteries. Since a lot of my controllers sit in a docking station, they have customised backings and batteries that the brace could not fit around. It was no problem transferring back to the O.G. controller setup but it was a lot less convenient when swapping the controller back for Xbox use. I also found since my phone was so heavy, even with the case off, it would pop the brace open with the extra weight when aggressively pushing buttons in games like C.O.D Mobile. Testing it on lighter phones were fine though and is perfect for iPhones and other similar shapes.
Overall, while this device does not improve your skill level or speed (that is the use of the controller), it does make your life a hell of a lot easier. No more juggling your phone up against a wall or tilting it on your lap to avoid the glare. The PowerWave Controller Phone Mount is a device to keep those mobile gaming problems at bay, while providing one upfront and comfortable gaming experience with a screen angle customised to your needs. With a few niggling issues this is still a solid device that will add the edge on your competition with most mobile devices.
The Good
Small and compact for transportation
Solid phone mount with smooth slide bar
Wide expansion of extendable arm in the phone mount
Adjustable angles for the perfect position
The Bad
Flimsy controller brace
Needs original backings on Xbox controllers or it doesn't fit
Tends to pop open with a phone that is too heavy