I already use a BlackWidow Tournament Edition I personally bought back in an EB sale a couple of years ago. I love how it is small and compact it is as I already have a cluttered work area, but how will its big brother the Razer BlackWidow Mechanical Gaming Keyboard convert me back to a longer keyboard?
Coming in a sleek matte black, this is definitely one good looking keyboard. While longer than my previous keyboard at 44.8cm, it does have the extra number pad typically found on the left. It comes with a nicely braided, long cable centered in the middle for tidy management.
Powered by the famous, customisable Razer Chroma, you can back-light each individual key if you'd like, the patterns and options are yours to tweak. My favorite has always been a tossup between the rainbow spectrum cycling or a breathing green sensation to match the rest of my green and black set up. Boasting up to 16.8 million colors, so much style customization is at your fingertips. Each key is also removable using the iconic, Razer Green Mechanical Switches, these give you not only that ASMR-like, clicky, tactile sensation but also makes for easy swap outs and cleaning. Certainly, a distinctive and stand out feature.
A feature I particularly appreciated was the HyperShift ability. I've never really owned a keyboard that gave you the ability to give certain keys a second function. Other than obvious pro of making gaming reactions faster by assigning more than one purpose to a key closer to your dominant hand, I actually found it useful in day to day typing, editing, and even in my stream commands. Extending on that point, once you map keys out you can save up to 5 profile configurations to the Cloud or in its on-board memory, meaning you can always have it to your style, even on the fly.
Being a pro over the years at the Razer Synapse now, this keyboard is compatible thankfully too. The product comes with free, easy to use software to customize all these Chroma colors and profiles mentioned earlier. This means not only can you customize this keyboard but sync it with any other Razer products compatible, which is quite a wide range. This is also updated frequently to meet all your Razer needs.
Overall, the Razer BlackWidow Mechanical Keyboard is very nice to the touch. It is sleek and typing is smooth and precise. It has innovative button mapping, dual functionality and profiling for reactive and immersive gaming, but surprisingly is just as useful in most facets of typing. While the mechanical click of the keys may be too much for some, it is very responsive to the needs of a day to day tech head and the hardcore gamer. This is one keyboard that oozes style.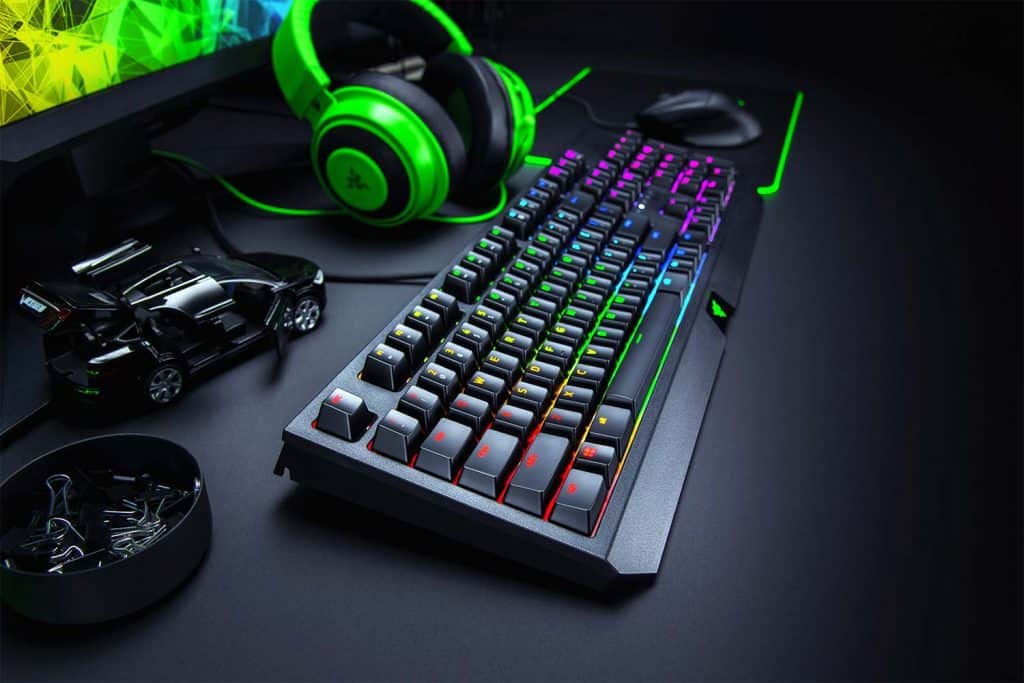 RAZER BLACKWIDOW TECHNICAL SPECIFICATIONS
Razer™ Green Mechanical Switches designed for gaming
80 million keystroke lifespan
Razer Chroma™ customizable backlighting with 16.8 million colour options
Hybrid On-Board Memory and Cloud Storage – up to 5 profiles
Razer Synapse 3 enabled
Cable routing
N-key roll-over anti-ghosting
Fully programmable keys with on-the-fly macro recording
Gaming mode option
1000 Hz Ultrapolling
Instant Trigger Technology
The Good
Sleek stylish appearance
Beautiful customisable Chroma lighting
Mechanical keys, easy to swap out and clean
HyperShift Keys, means dual functionality for fast reactions
Customisable profiles that can be stored
Free, user friendly software for updates and customisation
The Bad
Clicky, loud keys may not be for everyone