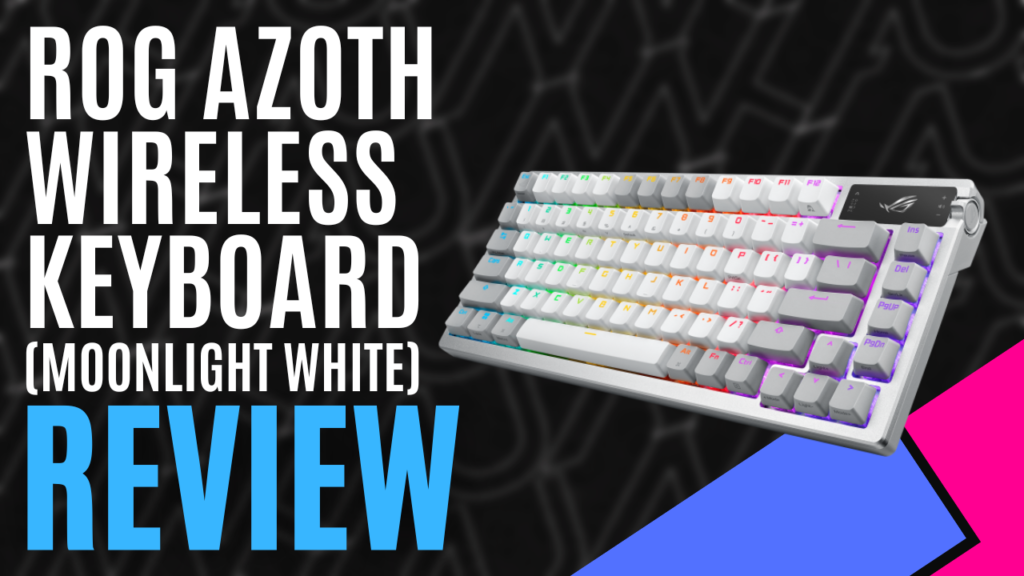 'Republic Of Gamers' STILL never ceases to amaze me. Their constant drive for 'Bigger and Better' means they pump out innovative and stylish products for the consumer at an alarming rate. The question is, will this one be a banger? At MKAU, we were lucky to review the ROG AZOTH 75% Wireless Gaming Keyboard. What do we think? Read below to find out!
Coming in Gunmetal Grey and White, this review unit in white is a thing of beauty straight out of the box. A sleek matte white with select muted grey keys, contrasted by what appears to be an aluminium frame with a silicone gasket mount means it is exquisite in appearance. Running at 75% form, it is 326mm long, keeping it compact for ultimate desk space, but hefty in weight so as not to slide around.
A first for me, it has a 2-inch OLED display screen in the top right corner, perfect for viewing system information, battery life, and profile settings of your keyboard at a glance. A three-way lever also allows for quick adjustments to things like volume, media, and brightness via the Functions button on the side. I have never experienced a screen in a keyboard before and found this feature very innovative and intriguing. I loved using it to quickly change applications on the fly.
The underside is ribbed for minimal slippage and the feet are adjustable for up to three levels, making sure you have an ergonomic and comfortable wrist angle. If you do decide to use it wired in, at the back, you will find a USB-C plug for the braided cable and a magnetic USB receiver holder so you don't accidentally misplace the small device.
Also included inside the box is a wireless dongle extender, ROG switch opener, ROG NX Switch, ROG keycap puller, ROG switch puller, lube brush, lube stand and a little tube of switch lube for ultimate customisation.
The keycaps and switches on this thing are insane. With each doubleshot keycap individually lit with RGB lighting the Azoth lights up like the Fourth of July. You can customise your backlights in a range of colours and styles with their Aura Sync capabilities, meaning all your similar devices can be the same. From static, breathing, or even pulsing to music, the keyboard really shines in any colour and sets that ambient glow in your office space.
The keycaps and switches are also fully customisable and interchangeable, an area I am only just starting to get into. Delivered with the ROG NX Snow switches, you are provided all the gear to replace switches or change a full set to something else. These switches, though, have 1.8mm actuation with 40gf of force for fast input and quick delivery of commands.
Not super clicky, but streamlined and soft acoustically for a smooth and quiet typing experience from 3 layers of damping foam inside the frame. Coupled with the Anti-ghosting, on-the-fly macros and N-Key rollover, input was lagless, meaning accuracy in every keystroke. This is one keyboard that is comfortable for office use but sturdy and quick enough for the quickest taps of erratic gameplay.
Using the receiver, you can connect up to three different ways. This means you can connect via Bluetooth, low latency 2.4 GHz SpeedNova wireless connectivity, or with the USB cable itself. The cable will charge your device with up to 1500 hours of type time, but be aware the brightness of your RGB lighting will diminish this time. I always love to keep my peripherals plugged in, but I found the wireless connectivity flawless and lag-free. I happily typed away for hours on wireless without a single delay issue.
The 'Armoury Crate' is ROG's software used to customise all your peripherals. Here I could customise my lighting, create up to 5 profiles, map out keys, dabble in macros, and even customise my cute little OLED screen. The software looked daunting at first, but was actually really easy to navigate, simple, and user-friendly, with all updates included to keep things running smoothly. Everything is clearly labelled with instructions, and even the biggest noob can learn to set macros, a series of recorded inputs at a tap of a singular button, in an instant.
Overall, the ROG AZOTH 75% Wireless Gaming Keyboard is everything I want from a wireless keyboard and more. It is super sleek in style, comfortable, and versatile enough for any casual or hardcore gamer, making it one of the best wireless keyboards I have used. The Azoth is innovative with its customisation abilities, and paired with the 'Armoury Crate,' the world is at your fingertips. Made to impress, this keyboard might be small, but geez it is mighty.
The Good
Looks sleek and stylish
Slip proof and hefty
75% in length
3 feet heights
Keycap, switch puller and all the gear to lube switches included
Individually lit RGB lighting keys
Silky quiet mechanical interchangeable switches
Anti ghosting and N key rollover
Lag free wireless connectivity
Reprogrammable keys
Multifunction button and OLED screen
Simple software