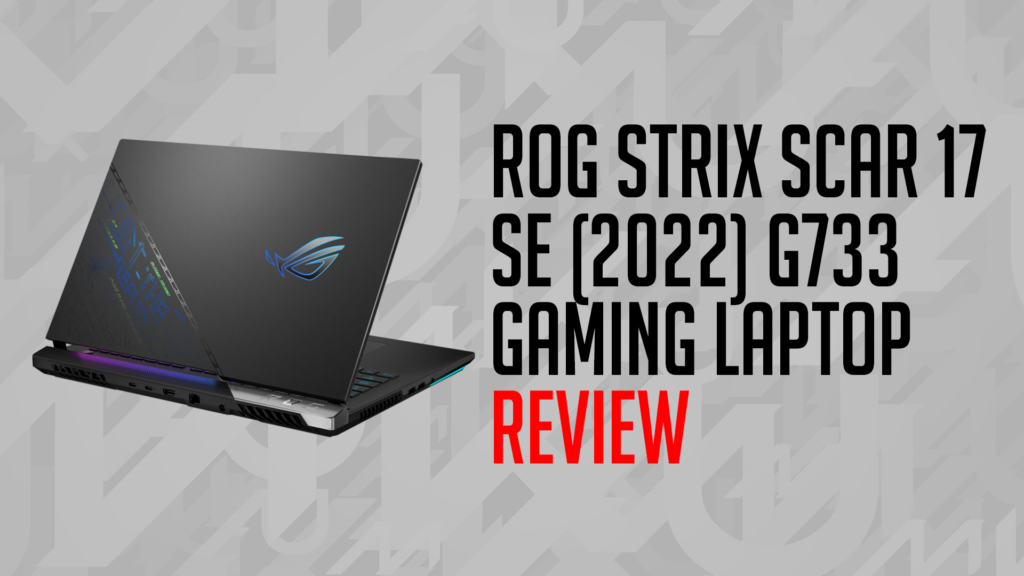 While we were in Melbourne attending PAX AUS 2022, we had the pleasure of being shown some of the new tech coming from ASUS ROG during a personalised tour, and let me tell you, there were some amazing items on display. Shortly after returning to Brisbane, it just so happened that a brand new laptop appeared in our office and we had a chance to check it out.
The ASUS ROG Strix SCAR 17 SE (2022) G733 Gaming Laptop is an absolute beauty to behold. The simple design is accented with RGB underlighting and a gorgeous illuminated ROG logo on the cover, and when I pushed the power button, individual keys light up in a Mexican wave across the keyboard. Aside from the laptop, looking into the box I discovered they'd also included an additional 2 different coloured covers for the rear left-hand side case, a strange clip with a removable plastic piece, and more confusingly, a UV LED Torch.
The additional coloured covers provide a little bit of personalisation to the laptop, allowing the user to choose between a lighter grey, a clear translucent, and a darker cover for a small section of the rear-most portion of the laptop. I am still at a complete loss as to why they included a UV LED torch, but the clip with the plastic tag in it had me most interested. This plastic piece is actually called a Keystone, and it fits into a slot located on the side of the laptop. Once inserted, it opens up several different capabilities, with the main one being unlocking the Shadow Drive, a section of the hard drive that can be hidden away and made inaccessible unless the registered Keystone is inserted into the laptop.
Using the proprietary app, Armoury Crate, the Keystone can also be configured to swap the laptop into a particular running mode, allowing you to bump up the performance without having to go into your settings. In this App, users will be able to choose between 4 pre-set system optimisations, as well as use a manual mode to further tweak the performance of the CPU and the GPU, while easily monitoring the computers performance, temperatures, and power consumption; a handy little feature for anyone who likes to squeeze what they can out of their PC. The Armoury Crate can also be used to control the onboard RGB LEDs, with 13 pre-set lighting options, or create their own in Aura Creator, allowing the user to create their own effects, right down to lighting individual keys, the Aura Sync Light Bars on the bottom corners, and the ROG logo on the back.
You can also control aspects of the 17.3-inch anti-glare FHD display using the Armoury Crate, choosing between 8 different display settings to make the best use of the potential 360Hz refresh rate and 3ms response time. To further assist with this, the ASUS ROG Strix SCAR 17 SE (2022) G733 Gaming Laptop comes with an NVIDIA GeForce RTX 3080 Ti GPU, with 16GB GDDR6 memory and 1640MHz with ROG Boost, pushing the graphical performance significantly. Also aiding with this is a 12th Gen Intel Core i9-12950 HX CPU, boasting 16 cores at up to 5.0GHz, and 32GB DDR5 RAM at 4800MHz, and when it comes to connections, there are more than enough for the average gamer.
Neatly tucked on the left side are two USB 3.2 Type-A USB ports and the 3.5mm audio jack. The rear houses a USB 3.2 Type-C that supports DisplayPort, Power Delivery, and G-SYNC, a single Thunderbolt 4 with DisplayPort support, an HDMI 2.1 socket, and your RJ45 LAN port. When it comes to wireless connectivity, it comes standard with Triple band Wi-Fi 6E and Bluetooth 5.2, so all of your high-speed wireless bases are covered. It's also about now, halfway through writing this review that I worked out what the UV LED torch is for! The rear casing has some intricate line markings on it, and to the naked eye they don't really stand out, but once you hit them with some UV light they add a little bit of extra pizazz to the case.
Using Armoury Crate, I boosted everything to its highest pre-set and ran it through a benchmark test. It should come as no surprise, but it absolutely slaughtered the test, scoring well above 100% in the Gaming and Workstation classifications, and low 100s for Desktop. Using a DirectX 10 benchmark test, the system was able to hold a consistent 174 FPS, so it was time to boot up a game. Of course, I'm still on that Star Citizen bandwagon, and while there wasn't much of an improvement in the FPS I experienced, I did notice that the game was loading significantly faster and suffering fewer load-related stutters.
I also play a whole lot of Arma 3, and even though it's an older game, it is still extremely demanding on your PC, specifically on the CPU. I was really impressed as I easily pushed past 120FPS while playing with 17 other players on a map with destructible environments, and the character movements were clean with no tearing whatsoever. It almost makes me want to rebuild my desktop PC. Unless, of course, ASUS wants to sponsor me…
Begging aside, the ASUS ROG Strix SCAR 17 SE (2022) G733 Gaming Laptop is an incredible system with a few fancy tricks up its sleeve. The Keystone and Shadow Drive are excellent features for users who deal with sensitive data, and the ability to switch the performance settings by simply inserting it is amazing. The Armoury Crate makes dialling in the computer's performance a breeze, and the fact that the same app can control all of your RGB settings, including Aura Sync peripherals, makes it one of the most straightforward systems to configure that I've had the chance to use.
The Good
Each key has an independent RGB source
Laptop LEDs (So. Much. RGB!)
Armoury Crate is easy to use and controls everything
Amazing performance and ability to boost it more
The Shadow Drive is great for sensitive data
The Bad
I worry the Keystone could be easily lost
The UV LED torch/reactive paint is a bit gimmicky