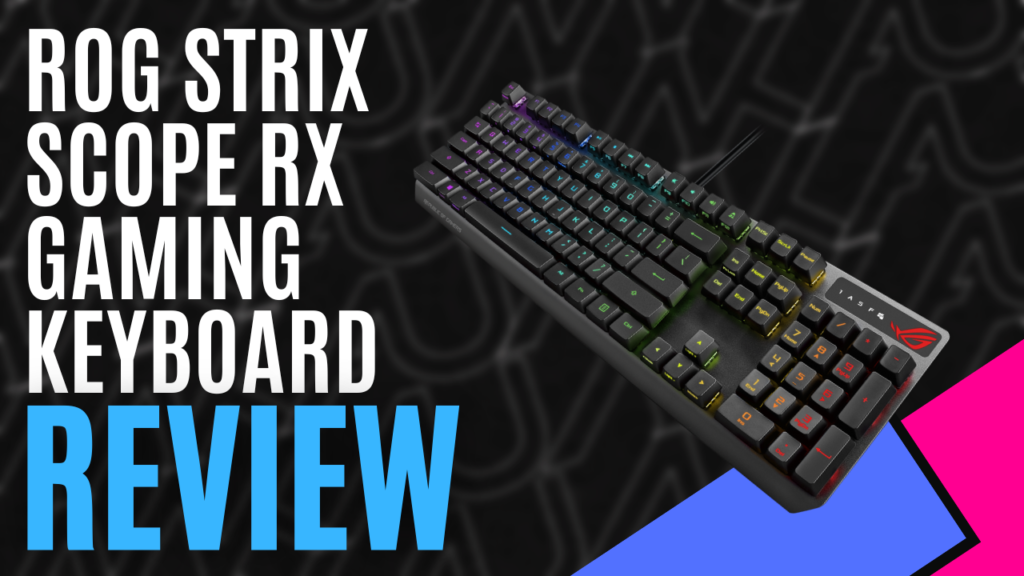 Republic Of Gamers or ROG for short are a leading brand in knowing what gamers want and always striving for 'Bigger and Better' since their humble start in 2006. MKAU got their hands on the ROG Strix Scope RX Mechanical Gaming Keyboard and put it to the test. It is certainly big but is it better?
The ROG Strix Scope RX straight out of the box is gorgeous and even more so once plugged in. Being long, at 44 cm in length, this full-sized board has all your arrow keys and number pad. In a frosted, matte black with a unique angular font on the keys, this keyboard oozes style and flair as a statement piece on any desktop. On the underside it is ribbed which helps with slippage and the feet, while not adjustable in slant, are set at a comfortable and ergonomic wrist angle. Offering IP57 waterproof and dust resistance qualities too, this alloy lightweight beast was born to keep looking good.
The keyboard is moulded and cabled in with two USB cables, taking up precious USB slots however thankfully it includes onboard memory and a USB 2.0 passthrough meaning you can run a mouse or anything else through your keyboard. I used it mainly for my mouse and was ecstatic about how lag-free it actually was. It is also handy for charging the army of extra devices you may have lying around. My only issue was the fact the cable wasn't braided, I just like the durability of cables.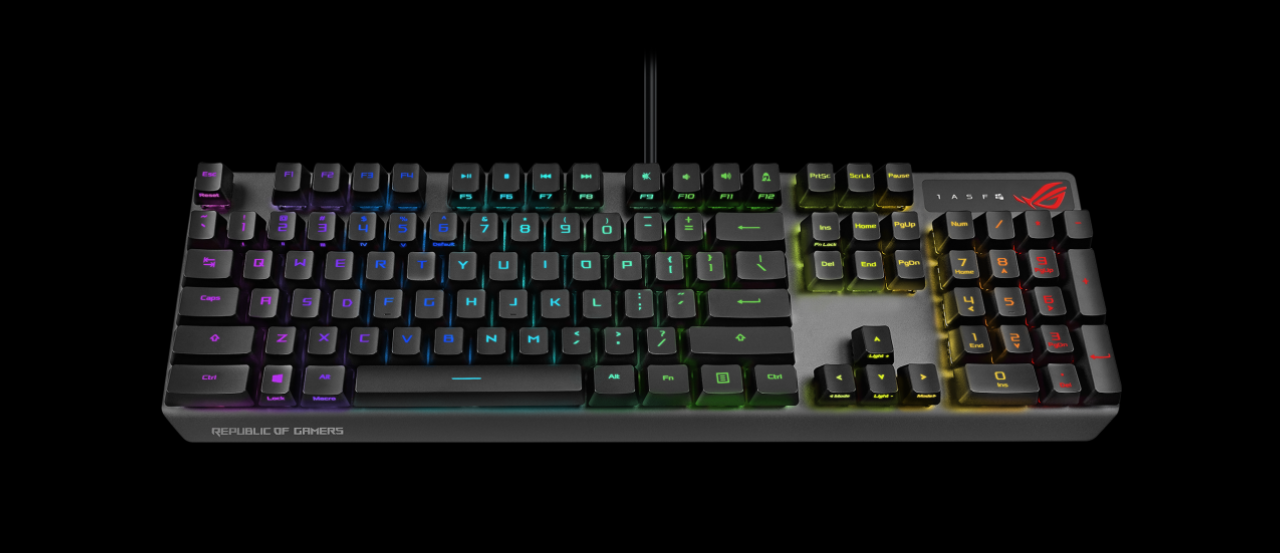 Like most modern keyboards the ROG Strix Scope RX is lit up like a Christmas tree. With individually lit keys, you can customise your backlights in a range of colours and styles with their Aura Sync capabilities meaning all your similar devices can be the same. From static, breathing or even pulsing to music, the keyboard really shines in any colour and sets that ambient glow in your office space.
The switches themselves are red optical mechanicals designed in a way to resist wobble as you input with your fingers. Solid in design with square hollow pegs these switches are made to last. Coupled with the Anti-ghosting and N-Key rollover input was lagless meaning accuracy in every keystroke. Using the keycaps and switches though was a smooth and pinpoint experience perfect for casual typing and excellent for online gaming as I smashed through the endless grind on Diablo.
Most interestingly, there is the inclusion of a stealth key allowing for instant privacy as it mutes all audio and minimises all open apps and screens. The Instant function lock too allows for your F buttons to be locked into media only or function to alleviate any misstroked mess.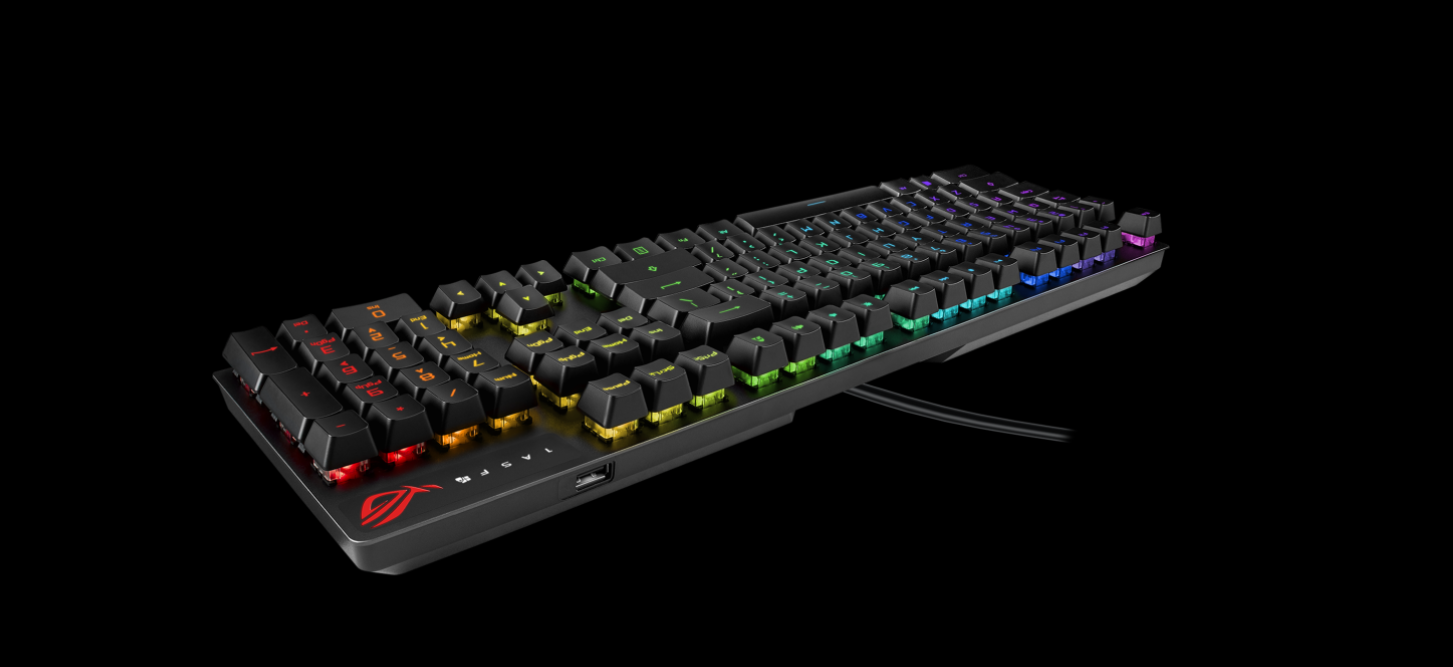 The ROG Strix Scope RX Gaming Keyboard also boasts an extended CTRL key that the ROG R&D team have designed with FPS gamers in mind. The CTRL key is 2 x wider than usual making it easier to find and hit in the heat of the moment when you need to the most.
The 'Armoury Crate' is ROG's software used to customise all your peripherals. Here I could customise my lighting, create up to 5 profiles, map out keys and dabble in macros. The software looks daunting at first but was actually really easy to navigate and simple and user-friendly. Everything is clearly labelled with instructions and even the biggest noob can learn to set macros ( a series of recorded inputs at a tap of a singular button) up in an instant.
Overall, the ROG Strix Scope RX Gaming Keyboard is one powerful but gorgeous-looking keyboard. With a vast array of functions, precision strokes and customisation coming out of the wazoo this keyboard is a jewel amongst peripherals at your battle station.
The Good
Sleek design
Rad font
Individually lit keys
2.0 USB passthrough
Wobble free switches
Stealth key
Wide control key
Easy to use software