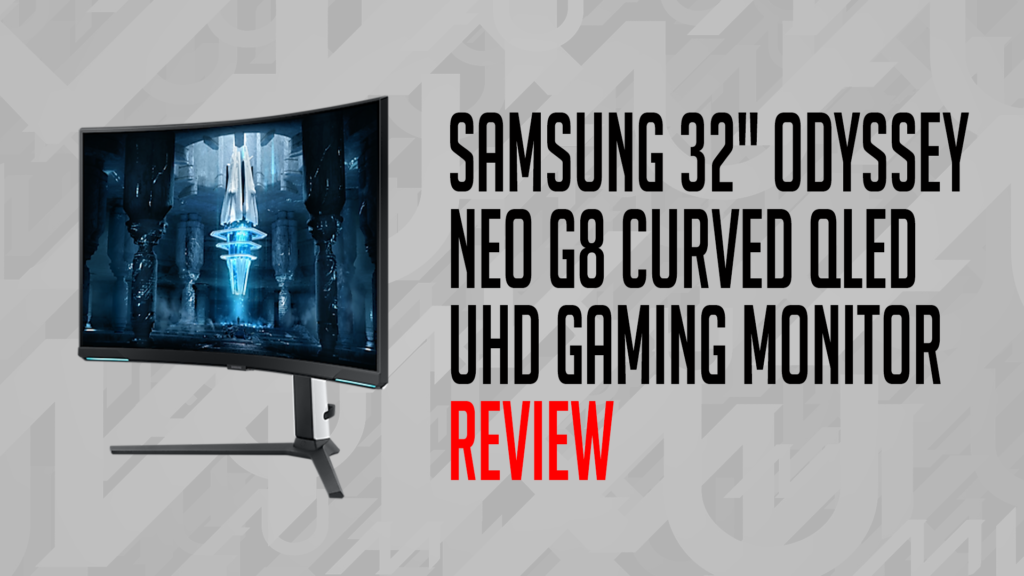 Samsung has pretty much always been my go-to brand when it comes to consumer electronics. TVs, sound systems, mobile phones, I've always ventured towards them as a brand because they're one of the market leaders. Unfortunately, I had never really considered them when it came to gaming monitors, but the Samsung 32″ Odyssey Neo G8 Curved QLED UHD Gaming Monitor has me wishing I had.
While I have reviewed several gorgeous gaming monitors in my time with MKAU Gaming, none of them come close to the Samsung 32″ Odyssey Neo G8 Curved QLED UHD Gaming Monitor, and this is completely due to it being the world's first UHD 240Hz 1ms gaming monitor, but that isn't all that sets it apart. It also features Quantum Matrix Technology, which means it can make sections of the screen brighter or darker without affecting the whole screen like traditional edge-lit monitors can do.
Using Samsung's Quantum Mini-LEDs, there are a total of 1196 dimmable zones across the screen rather than the standard 4 to 12, and this leads to some incredible scenes while playing some of my favourite games. This works hand in hand with the Quantum HDR2000, featuring a contrast ratio of 1,000,000:1, making it incredibly easy to make out the slightest of shadows, or the faint blip of navigation lights on a bounty I was tracking in Star Citizen.
The 240Hz refresh rate was an absolute godsend on both my PC, Laptop, and Xbox Series X. As can be expected, it meant that I was receiving some incredibly smooth motion, and this is all helped with the inclusion of AMD FreeSync Premium Pro, which worked perfectly fine on my NVIDIA-based GPUs, though I do feel it would have been better were I running an AMD graphics card. Either way, with a refresh of 240Hz, the screen itself isn't going to be what's causing you to have a drop in frame rate.
The 32" super ultra-wide screen really helps pull you into the game, almost making you feel like you're part of the action, but not so far as to throw off your depth perception like 3D monitors can do. It features a matte finish 1000R curvature that helps to fill your peripherals while absorbing any RGB lighting you have around, so as to not distract you with screen glare, and the supplied stand is completely and easily adjustable, allowing you to move the screen into the best position for your setup. Being a super ultra-wide monitor, you can adjust the screen to an aspect ratio of 21:9, giving you a wider viewing angle and giving you better situational awareness in the game.
The player-facing areas of the monitor are a dark matte finish, with one reactive LED strip on each bottom corner, while the back is a beautiful white gloss finish. The stand slots into what I can only describe as Ironman's arc reactor, surrounded by an RGB LED ring that reacts to the screen using CoreSync– if you have this near a wall, this ring will cast a gorgeous glow on your wall, helping to bring the world into your room and creating yet more immersion. Alternatively, make use of one of the other colour modes, but having it match the display was easily my favourite. If desk space is a premium for you, it also comes with an adapter plate that allows you to connect a wall mount or a monitor arm where the stand would slot in, and it does this without compromising the RGB arc reactor on the rear.
Sadly, this beauty is let down by a rather simple cable management system; a rubberised loop that helps to tidy things up, but it doesn't really help to hide what could be a mess of cables. This is mitigated a little with the removable panel on the back of the monitor, which hides 2 HDMI ports, a DisplayPort, 2 USB ports, a headphone port, the power connection, and the USB interface to connect to your PC, but if you were to connect every possible cable, it'd be a very tight squeeze for the rubber loop and the rear panel.
There is a positive to all of these connections though, and this will be especially noticeable to anyone using their monitors for console gaming as well as with a PC, and that is the Auto Source Switch+ function. If you're using your PC and getting ready to stream, simply turning on your console will automatically change the monitor to the newly powered source. No longer will you have to fumble about with buttons to switch from one source to another like I have needed to do for the last 2 years. The only time you'll be playing with the input buttons is when you need to adjust the brightness or switch back to the previous screen.
Needless to say, the Samsung 32″ Odyssey Neo G8 Curved QLED UHD Gaming Monitor has got to be the best gaming monitor on the market. Being one of the world's leading consumer electronics companies, it should come as no surprise that they have developed the world's first gaming monitor with a refresh rate of 240Hz, a 1ms response time, 4K UHD resolution, and a ridiculous contrast ratio of 1,000,000:1. It leaves me wondering what limb I should sacrifice in order to keep it bolted to my desk.
The Good
240Hz refresh rate
4KUHD resolution
Capable of a 21:9 aspect ratio
High contrast and immaculate colour reproduction
Brighter brights, blacker blacks
Awesome immersive RGB effects