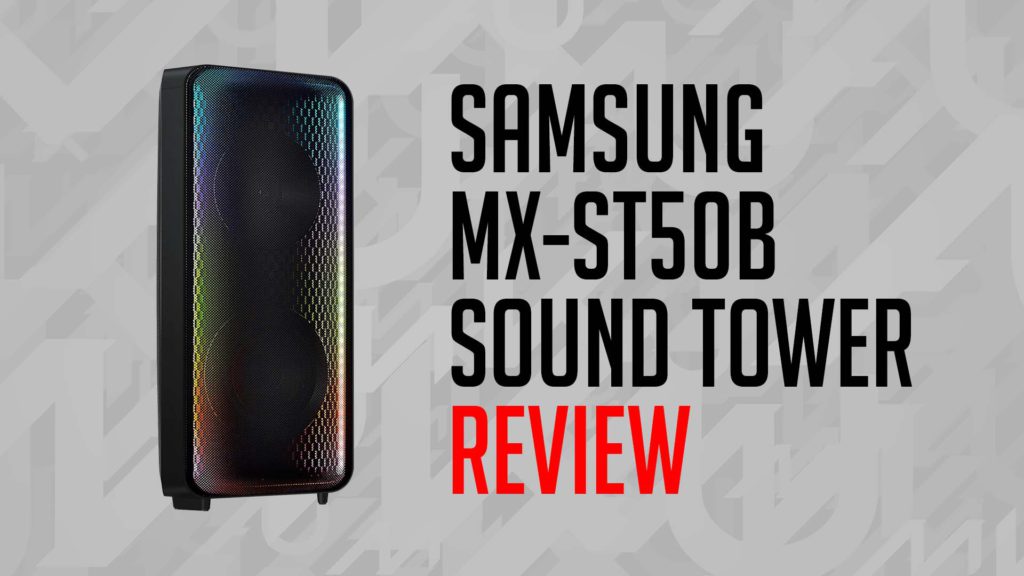 As I've said before, I'm a bit of a Samsung fanboy, so you can imagine my excitement when the boss handed me the new Samsung MX-ST50B Sound Tower to check out, and with Samsung taking on more ecologically friendly packaging, it was hard to guess what to expect. The unassuming box, however, holds one incredibly sound system.
As the name suggests, the Samsung MX-ST50B Sound Tower is designed to stand upright, as its triangular shape features 4 bi-directional speakers on two of the sides, and the rearmost panel houses some of the connection and control ports, but the majority of onboard controls are located on the top, giving easy access to skip through songs, adjust the volume, or make use of the DJ features.
I was a little surprised that I was able to turn it on without having it plugged into power, not realising that like most other Bluetooth speakers, this one has a battery built into it, and even with its size and power, can last up to 18 hours. This is all the more impressive when you take into account the RGB lighting effects that run up each side of each speaker panel.
The Bluetooth connectivity also allows multi-connection, allowing multiple people to share their music so that you're not limited to just one person's playlist. The Samsung MX-ST50B Sound Tower can play music loaded onto a USB-A device, or connect via a 3.5mm audio jack, and you can connect a microphone to sing along in Karaoke mode.
There is even a Group Play mode, allowing you to connect multiple Samsung Sound Towers to spread the music around, and this can be done wired or wirelessly.
There are eight different sound modes built into the tower, featuring Party, EDM, House, and Reggae modes, as well as five lighting modes for the RGB LEDs, and five different DJ effects complete with Bass Boosting.
For even more support, you can use the Samsung Sound Tower App, an easy-to-use app that gives you more options and control over how it sounds and looks, as well as giving you a run down on what songs are available on your mobile device. Failing that, there is a handy remote control that allows you to change all of the settings on the fly.
The Samsung MX-ST50B Sound Tower potentially pushes out 240W when connected to a power point, meaning it can really belt out the music, whereas running on battery reduces this to 90W, which is still belting out the tunes, and I was really surprised just how far away I could clearly hear the music when I went for my daily walk. We even used it when we had our New Years MKAU BBQ, and even with our rowdy bunch, the music was nice and clear and the RGB effects added a nice little bit of party atmosphere.
Considering the amount of power this speaker can put out, it really doesn't take up that much space. Standing roughly 65cm tall and about 30cm wide and deep, and weighing in at only 12Kg, it's still a very portable speaker. It's also rated IPX5 water-resistant, so small splashes and light rain mean it's perfect to take for a picnic.
There is a reason I'm a Samsung fanboy. They make some incredible products, and the Samsung MX-ST50B Sound Tower is no exception. The stylish design fits perfectly with any décor, while the RGB lighting effects offer a little bit of flare, and even running off the built-in battery, it can still put out some amazing quality sound with its four speakers. It's a fantastic setup to either keep in your house or take with you on a trip, allowing you to enjoy high-quality music wherever you might be.
The Good
Amazing sound quality
Fun RGB effects
Built-in battery (up to 18 hours)
Easily portable
The Bad
Output is reduced when running on battery