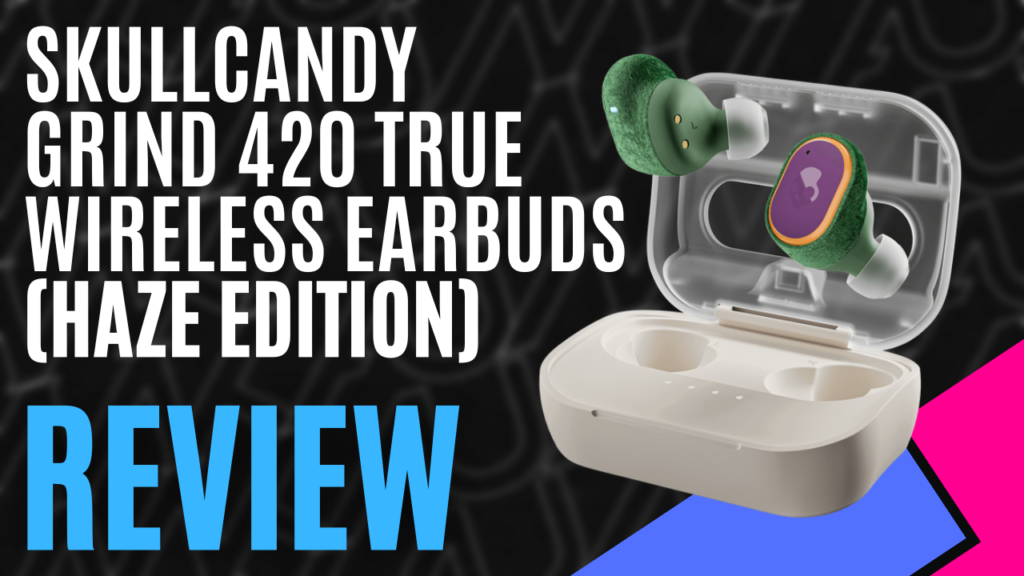 Skullcandy, the #1 selling brand in true wireless earbuds under $100, has released a 420 Edition of their Grind earbuds paying homage to cannabis culture, in particular the infamous strain, 'Purple Haze'. With certainly a kickback and chill vibe to them, find out what MKAU thought of these uniquely but true to Skullcandy's brand earbuds. Introducing the limited-edition 'Grind HAZE True Wireless Earbuds'.
Firstly, the irony is definitely not wasted on the fact that the 'buds' are a deep green lined velvet. A cool and very tactile feature. In the centre of each bud are purple touch buttons rimmed in a nice contrasting orange. These both nestle nicely into their white and clear-fronted lidded charging case. These certainly look the business, and if it wasn't for the weed tribute I would have loved to see these in even more colours as the fluffy element is so different.
With soft silicone inserts, the buds sit in your ears comfortably for a long time without slippage. Boasting water resistance, I don't really sweat or trust dumping water on their furry fellows to test them, but regardless that's cool either way. They don't tend to stick far out from your head too, always a worry especially if you have long hair that may tug them out.
The buttons are rubbery and pleasant to the touch and give off a nice click when pushed. Pairing easily with Bluetooth 5.2 connectivity you can pause, answer calls, volume up and down and even share audio. They work flawlessly with any Bluetooth devices but the features to be used with the phone are the most handy. Something I have never heard of which is genius is the Tile™ technology that paired with the app will help you find any earbuds that get misplaced in a mind-melting haze.
Battery life? Well, the earbuds themself have up to about 9 hrs of charge, which lasted me about 2 days with an additional 31 hrs of charge from the case. I got about 29 hrs out of the charging case before I felt I needed to pop it on charge using the USB-C power cable included. It is also rapidly charged so it did not take long before the case was back up to full. Back to full blazing!
The audio quality is also a real trip. With rich tones and face-melting bass levels, The Grind HAZE editions definitely carry over that formula Skullcandy has perfected so well in audio levels and balance in sound. Despite not boasting noise cancelling, the snug fit means you are in a zone of your own, to indulge in whatever audio sensory input you need to relax. The 6mm acoustic drivers really pack a punch.
These earbuds can be updated with the Skull IQ App and have sound profiles that can be customised to your ears, however, the coolest feature is already built into the earbuds already like a neat little Easter Egg. I was surprised and elated by the onboard voice controls. Hands-free you can command your earbuds with your own voice with a simple 'Hey Skullcandy,' you can play, pause, volume up or down, next a song, accept or decline calls and even start up your Spotify.
Costing a reasonable AU$179.95 on Skullcandy.com.au, the Grind HAZE True Wireless Earbuds are made with some of the highest quality features in mind and Skullcandy delivered with full force. Seeing no real flaws worth mentioning, these are one set of unique earbuds that will really take your audio experiences to a new 'high'.
Technical Features:
Skull-iQ Smart Feature Technology 

Over-the-Air Updates 

Premium Audio Quality 

Up to 40 Hours of Battery Life 

Personal Sound 

USB-C Rapid Charging Case 

Auto On/Connect 

IP55 Sweat and Water Resistance

Built-in Tile™ Finding Technology
The Good
Unique colours and velvet lining.
Sit comfortably with silicone inserts
Water resistance
Hugs ears closely
Bluetooth Connectivity 5.2
Tile™ App compatible
Decent battery life and recharge options
High quality audio
Decent noise cancelling despite no ANC
Accompanying software
On board voice controls