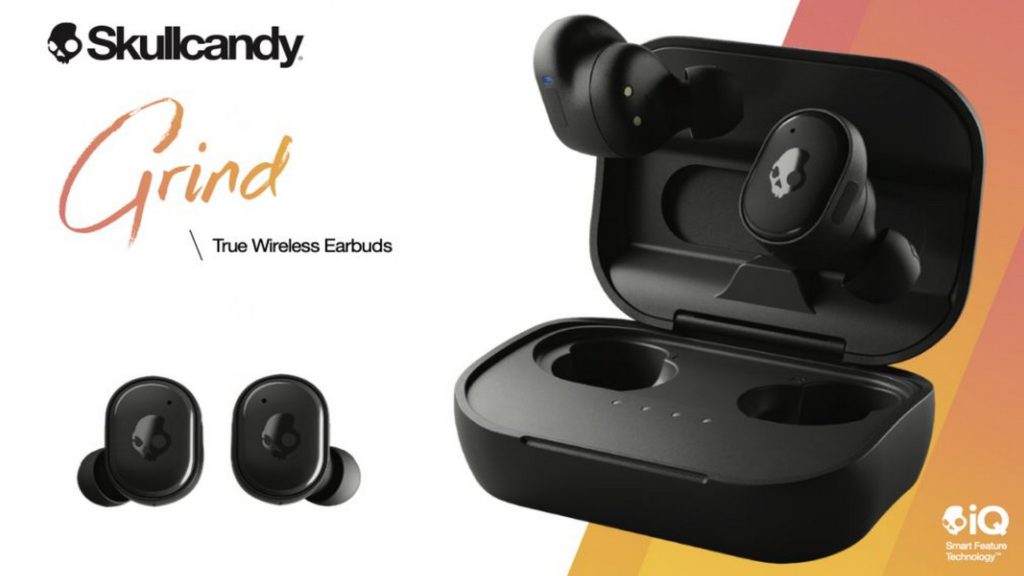 I'm really starting to dig Skullcandy earbuds. I started off with the Skullcandy Indy Evo wireless earbuds back in 2020, followed by the Skullcandy Dime back in May, and as this year comes to an end and we carefully open the doors to 2022, I have now been given a chance to test out the Skullcandy Grind.
Of course, I've played with a few other "premium" branded earbuds during the last few years as well, and as of right now, the Skullcandy Grind is hands-down my favourite. Even with the stock silicone sleeves on them, they fit comfortably and securely in my ears and are a significant improvement on the jelly-bean-shaped ones that I've been using for the past six months. They also come in a neat little storage container for charging, offering a total of 40 hours of battery life, once again, leagues ahead of that other brand.
I also feel like the sound quality is better, and just like the Skullcandy Indy Evo, the Skullcandy Grind offers rich sounds and brain-shaking bass. In fact, they actually have a lot in common with the Indy Evo, just better. They focus heavily on voice control but using the Skullcandy App on your mobile device, you can program the buttons to perform different functions if you are worried about looking silly while talking to yourself. Ambient mode makes a return but has been renamed "Stay-Aware," allowing users to activate the built-in microphone and listen in on their surroundings – particularly useful if you're out and about exercising.
Unlike the Skullcandy Indy Evo, the side-mounted buttons are tactile and offer a satisfying click when you press them. They are also rated at IP55, so they'll stand up to intense workout sessions and a bit of rain, but I certainly would recommend against taking them for a swim. The only thing that they don't seem to have is Active Noise Cancelling, but truth be told, with the way the silicone buds fill your ears, I don't really feel like they need it.
Like all BlueTooth devices, they are extremely easy to pair with your devices. I was able to easily connect them to my phone and my PC. I spent a few hours one evening talking to my Arma3 group while playing some DayZ and the coms were just as smooth as ever, plus the weapons fire actually sounded better than the headset I was using beforehand. They're absolutely amazing!
You won't have to worry too much about losing the Skullcandy Grind either. The case comes with a built-in Tile, allowing you to quickly and easily locate it using your mobile device, which I found to be a really useful feature given how often I put them down absent-mindedly and proceed to forget where I last had them. As they become available, additional features can be downloaded and updated using the Skullcandy App, and as I briefly mentioned earlier, this easy to use App is where you'll adjust your equaliser or program the buttons on each earbud to do your bidding.
Needless to say, I think I'll be swapping over and using these more frequently. They pack a whole lot of high-level tech into an attractive package, plus they are easily the most comfortable earbuds I have worn in a long time. The 40-hour battery life is a huge advantage over the competitors, and the Skullcandy App is a dream to use. If you're after a high-quality set of earbuds and you're not worried about having certain "premium" logos plastered all over your devices, these are well worth the investment.
Grind True Wireless Earbuds – $179.95 RRP
Skull-iQ Smart Feature Technology – Issue simple, hands-free voice commands to take calls, change tracks, adjust volume, turn on Stay-Aware Mode, activate device assistant, launch Spotify Tap, and more
Over-the-Air Updates – Update earbuds via the Skullcandy App to add new features for enhanced functionality and added value
Premium Audio Quality – Experience supreme sound thanks to expertly-tuned acoustic drivers, dual noise-reducing microphones for natural and clear call quality and a noise-isolating fit
Up to 40 Hours of Battery Life – Listen longer with 9 hours of battery life in the earbuds and 31 hours in the charging case
USB-C Rapid Charging Case – For 10 minutes spent in the case, receive 2 hours of battery life
True Wireless via Bluetooth® 5.2
Auto On/Connect – Enjoy automatic turn on and pairing with the last device used
IP55 Sweat and Water Resistance – Go on any adventure without missing a beat
Built-in Tile™ Finding Technology – If an earbud is misplaced, simply 'ring' it from the Tile app
The Good
Extremely comfortable
Easy to pair
Secure fitting
Skullcandy App is easy to use
40 hour battery
The Bad
No Active Noise Cancelling