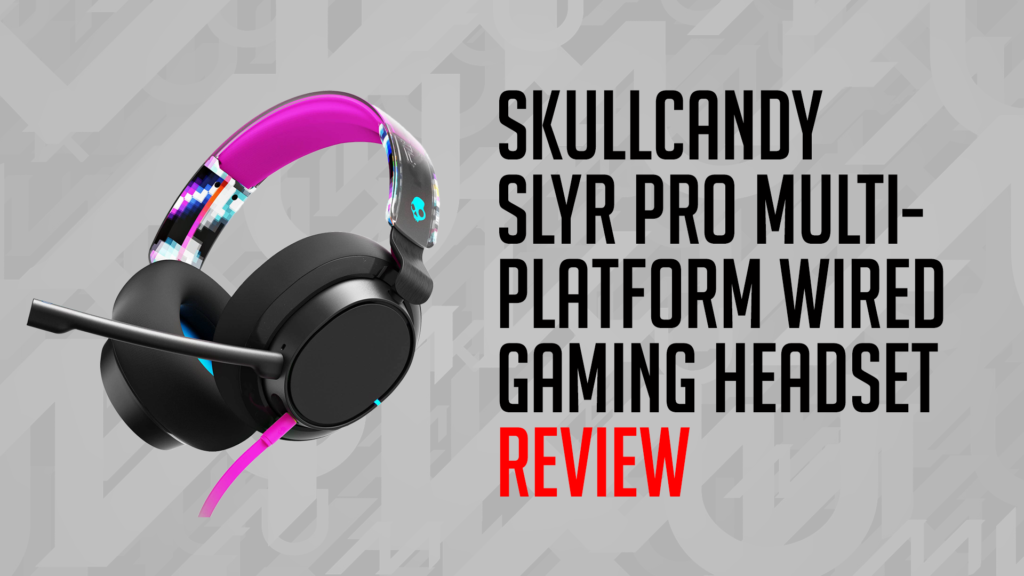 Skullcandy, as a brand, is nothing but style. Bursting with elaborate designs and signature bright colours, they bring to the table a range of unique and distinctive products.
Reviewing the 'SLYR Pro Multi-Platform Wired Gaming Headset,' compatible with PC, Playstation, Xbox, Nintendo Switch, and mobile devices, we investigate Skullcandy's transition back into gaming.
Packed neatly inside the packaging is the headset itself, a double-ended AUX cable in pink, a USB-A to USB-C cable in blue, and the boom mic that is AUX input.
Fresh out of the box, the SLYR Pro is bright. Mainly matte black in framing with all the accents in neon pink and blue. The pixelated design on the flexible plastic headband is an interesting and quirky touch. The pink foam padding on the headband wasn't as thick as I would have liked to see, but it was comfortable enough for short gaming sessions, though it's not in it for the long hauls.
The over-the-ear cups are very large, and I loved the fact they enveloped my whole ears with much more comfy memory foam, and they are even conveniently labelled left and right inside. On the left cup, a touch mute button is large and very accessible making for quick movements to cut off the sound of your mic with a red LED indicator. The boom mic is detachable, but I do wish it was slightly more flexible, as it doesn't really bend to where you want it.
The 50mm dynamic drivers deliver some dynamic and impressive sound. Catering to a range of tones, I was surprised at the quality of the low, mid, and bassy tones of sound. Whether it be music, the wizz of bullets passing, or the footsteps of enemies in the multiple rounds of COD: Modern Warfare II I played during this period, I was impressed by the details it managed to pick up for its price range.
In a game the microphone was clear, delivering voices with accuracy. It picked up very little background noise despite not being directly noise-cancelling. This is always a plus when the sound is tidy. I did find, however, in a party chat on Xbox, there would be a slight echo that would come and go, but we soon found out that if the boom was not inserted fully, the onboard mic would take over, which wasn't as clear in quality. Anywhere else, however, I had clear communication levels and volumes without distortion.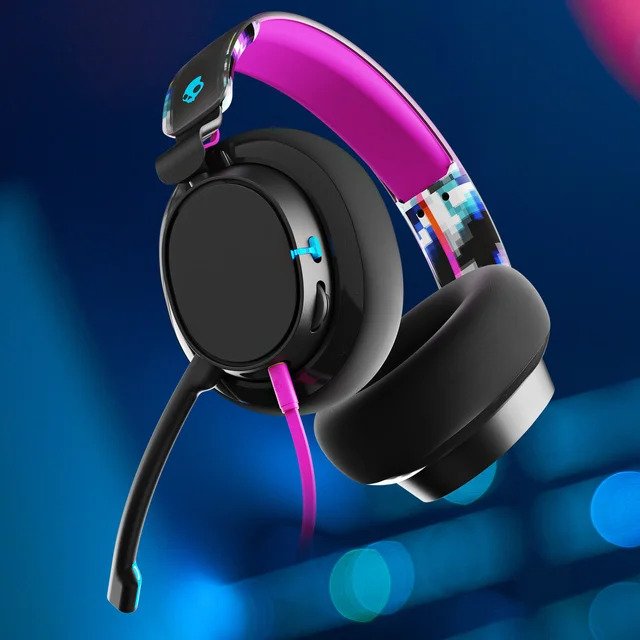 Oddly enough, the Skullcandy SLYR Pro needs charging. I have reviewed a few headsets in my time at MKAU, but having to charge a wired gaming headset was new to me. I mean, I did use it on and off for two weeks before I realised it needed to be charged as it whispered sweet nothings like 'battery low' into my ears, but it came as a bit of a shock. I am assuming it is to power the onboard mic, as most wired headsets are solely plug-and-play. Luckily, it is safe to say if you play normally you can go well over their 20hr promise before needing to plug it in.
In conjunction with the headset, you can use the Skullcandy Gaming Software. This allows you to adjust equalisers such as volume, game/chat levels, and tones. You can also set your audio style; whether it be RPG, FPS music, movies, etc, and you can change the tones basses and mids to suit your mood. The software itself is very easy to use and allows for so much base-level customisation. This is great for beginners in the audio world.
For the price ($199.95 AUD), this is actually a nifty little headset that comes in 3 vibrant colours. After a fortnight of constant usage, I can confidently recommend them to any gamer looking for quality audio in that price range for a plethora of devices.
The Good
Unique and stylish colours
Large comfy ear cups
Large mute button with LED
Detachable boom with clear pick up
On board mic is satisfactory
Dynamic audio from 50mm drivers
Very decent battery life
Skullcandy Software easy to use
The Bad
Padding in the headband not very thick
Boom isn't very flexible
Needs charging