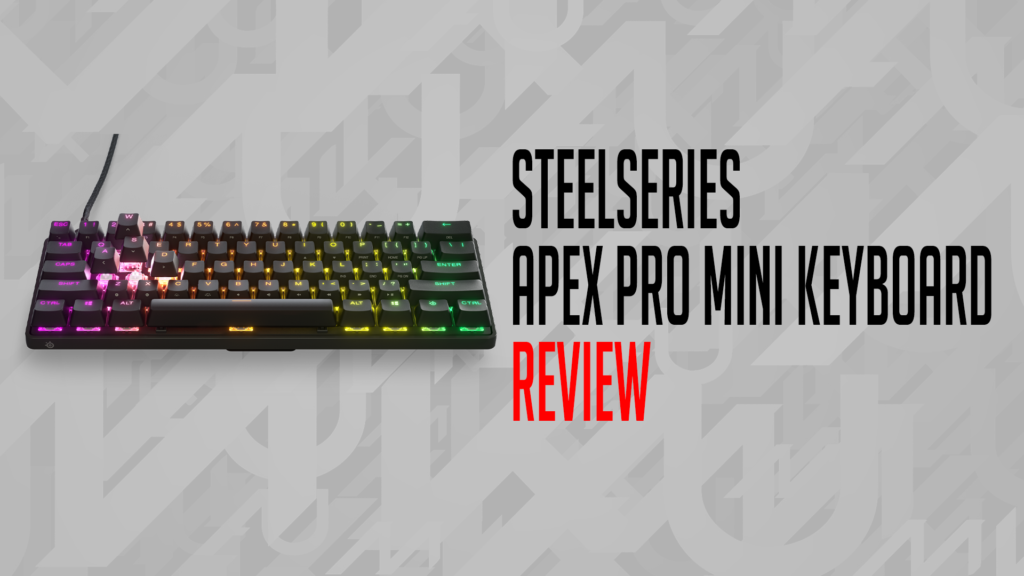 Keyboards are becoming, if not, more popular than the pen, so wouldn't you want the best tools for the trade as we spend more and more time glued to a screen. Just like the pen, keyboards come in a range of types but is mini mightier? MKAU investigated this question as we put the SteelSeries Apex Pro Mini mechanical keyboard to the test.
Coming straight out of the box, this thing is small, I mean, really small. A 60% compact design means it comes in just short of a ruler at 29.3cm in length and about a third that in width at 10.3cm. It is light too, with an aluminum plate shell weighing 610 grams, this small thing can be packed up and pushed to the side with ease. Speaking of sheer convenience due to its small size, I was thoroughly impressed with how much desk space it frees up as it is perfect for a workaholic like myself who has her life spilling over to her desk and needs all the room she can get.
The design is simple, there is no room for bells and whistles with a nifty little key cap remover stored in a SteelSeries branded compartment under the board. Also, on the underside, are 2 tri-level rubber feet so you can have your keyboard angled at an ergonomic height for comfortable typing. All this is powered by a flex braided USB-C cable with plenty of length, for all those placement options.
This keyboard uses Omnipoint Adjustable Mechanical Switches, which means they utilise innovative magnetic sensors for instant keystroke input. They boast an impressive 0.2mm to 3.2mm actuation range and more shockingly, this can be customised using their accompanying software, letting you take control of responsiveness. Not that I really need this, I am no competitive gamer but I was flabbergasted as there was definitely a defining difference when I slammed the actuation control panel down to 0.2mm and could get a response from the lightest of touches.
This definitely brought a smoother and faster ride to most games I used WASD in. The switches are also not a classic clack of a mechanical key but more a quiet click of a more tactical switch. Definitely a lot softer on the ear than I am more than used to now.
The SteelSeries Apex Pro Mini uses Double Shot Keycaps that are both sturdy and capable of 2-in-1 actions. This means they can have dual actions assigned to them depending if you are pushing down lightly or with force. These are perfect for RPGs where you can walk or go sprinting into the action. Each key also has its own individual RGB backlighting and a pleasing textured design that can add flair and style to any setup.
The SteelSeries Key blazend with their logo also acts like a control giving certain keys another function and I found myself using it mostly with Spotify running in the background to control the forwards, backwards, and pausing of my beats.
The SteelSeries GG software is the place to go for all your customization needs. This software is so easy to install and has such a user-friendly interface. Typical to most high-end keyboards this is where you can trick out your deck and make it more innovative and multifunctional. You can change the actuation point, key, dual and meta bindings (also accessed via the SteelSeries Keys), and your RGB lighting. Switching it was easy with the seamless dropdowns and clear instructions. It didn't take long before I was saving profiles for different games making my life easier from an insane shooter like 'Hunt: Showdown' where I needed all my key bindings tight to a more chilled experience such as typing reviews where I experimented with numbers as arrows.
Overall, I am more than impressed with the capabilities of the SteelSeries Apex Pro Mini. It brings a sleek, simple, and small design with fully innovative and imaginative customisation opportunities. For the high-end price of approximately AU$280 (US$219.99), The Apex Mini Pro coupled with the SteelSeries GG engine elevates your gaming and opens home office needs to a range of options for the ultimate comfort experience. In this case, mini is definitely mighty.
The Good
Small and compact
Light
3 level feet
Omnipoint adjustable switches for actuation points
Responsive input
Textured 2 in 1 Double Shot keycaps
Multifunctional
RGB lighting
User friendly software
Programmable bindings, key mapping, profiles and more
The Bad
Possibly, the lack of interchanging switches but you don't really need to as they are customisable