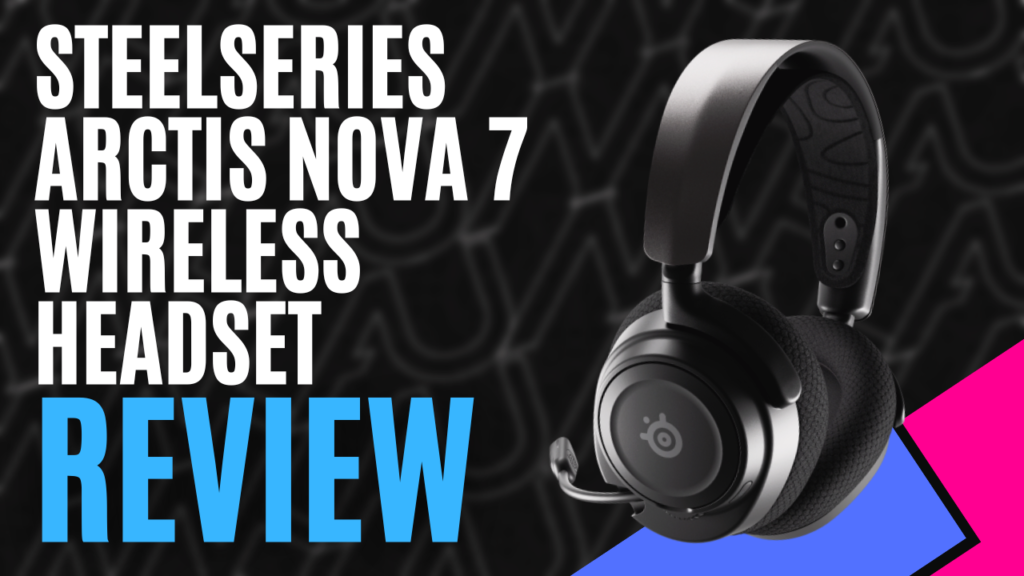 The Arctis Nova 7 is the latest in the SteelSeries line of wireless headsets, improving everything over its predecessors and providing high-quality audio for music, phone calls, and of course, gaming. Thanks to SteelSeries, we had the pleasure of trying out their latest product.
The box it comes packed in already has some accolades displayed on one side, with high praise coming from PC Gamer, Wired, Tom's Guide, and IGN, and this sets expectations high for the latest product from SteelSeries. Opening the box, the headset comes packed nice and snug in a nylon bag that includes a 1.5m USB-C to USB-A charging cable, a 1.5m USB-C to USB-A extension cable, a USB-C multi-platform dongle, an AUX cable, and an instruction booklet explaining everything. Seeing the headset for the first time, it's no doubt one of their best looking yet with its high-quality material and sleek design.
With their ComfortMAX System, wearing it feels incredibly comfortable, with cushions that perfectly cup over the ears and an adjustable elastic strap positioned under the headband that wraps over your head providing excellent support, perfect for those long gaming sessions or even conversations, and the ear cups can also be extended depending on the size and shape of the wearer's head. The retractable microphone can be pulled out and positioned to suit each individual, and just as easily put back in when not in use. The SteelSeries Arctis Nova 7 Wireless Headset has a variety of options just for adjustability alone and you'd be hard-pressed to find someone it won't fit.
Of course, good headsets need good sound quality, and the SteelSeries Arctis Nova 7 Wireless Headset has exactly that. On the box, it states it's compatible with PC, PlayStation, Nintendo Switch, and mobile devices, but doesn't list Xbox at all. I was able to test it on all the devices listed to compare the sound quality of each, and even tested it to see if it'll work on Xbox.
The headset can be connected via Bluetooth, USB-C multi-platform cable, or the AUX cable, but the Bluetooth option is the most convenient by not having wires in the way. The USB-C dongle is a good backup in case Bluetooth isn't available, and the AUX cable is a good backup for both of those options in case they're not a possibility. The Arctis Nova 7's also support "Simultaneous Wireless" allowing you to connect and swap between multiple devices via the different connections mentioned above.
I was able to easily connect the headset using Bluetooth to PC, Switch, phones, and tablets. Oddly enough, I wasn't able to connect it to my PS5, even though the SteelSeries Arctis Nova 7 Wireless Headset shows up in the PS5's Bluetooth menu. When selecting it, a message pops up saying "PlayStation 5 does not support this device". This could change with the next PS5 System Update, but I looked online to see if others had the same problem and it seems it might only be my console that has this issue. Fortunately though, the dongle plugged into the PS5 and AUX cable plugged into the controller worked perfectly and sound fantastic.
Having a few different options for connectivity is great in case one or more of the options don't work, like in my case, or if they're not available. The USB-C to USB-A extension cable allows the dongle to be plugged into a device that doesn't have a USB-C port. SteelSeries really has covered every ground possible to ensure their customers don't miss out on high-quality audio.
The SteelSeries Arctis Nova 7 Wireless Headset seemed to work best on PC, taking full advantage of all its features. The ChatMix program, which requires Windows 10 or 11, can be downloaded from the SteelSeries website and provides users with a wide variety of options to adjust the audio to suit their individual preferences. Playing first-person shooters like Call of Duty or Battlefield sounds absolutely amazing, especially with its 3D surround sound features. The sounds of gunfire, other soldiers running close, a vehicle zooming right past, and loud explosions really give players an almost real-life experience, as if they're actually on the field of battle. Hearing exactly which direction those sounds are coming from will really give players the edge in online matches.
Playing games on PS5, Switch or mobile devices doesn't quite have the same experience as PC, especially not having the ChatMix program, but they still sound excellent when paired with those devices with any connectivity option. Despite not being listed on the box, the headset actually can connect to an Xbox Series X|S, but only with the AUX cable, and it sounds just as good.
Other than playing games, the SteelSeries Arctis Nova 7 Wireless Headset is also great for listening to music at home or on the go, as well as chatting with friends, whether it's a phone call or voice chatting through Discord, Skype, etc. The attached microphone allows others to hear your voice very clearly, so it's perfect for communicating with your teammates to strategise against the enemy in an online match, and the ChatMix program can help adjust it to reduce background noise.
On a full charge, the headset can get up to 38 hours of use, perfect for long gaming sessions. Even charging the headset for just 15 minutes will give up to 6 hours of use. It won't be long before players are back for their next game, and they can count on the SteelSeries Arctis Nova 7 Wireless Headset to be ready for them.
Being priced at $399.00, SteelSeries has once again provided an excellent high-quality wireless budget headset that can really compete with their range of pro headsets. The SteelSeries Arctis Nova 7 Wireless Headset is a fantastic piece of hardware to have for listening to music, chatting with friends, and getting absolutely immersed in the atmosphere of a game.
The Good
Variety of connectivity options
Sounds amazing with any device it connects to
Able to get immersed in a game with its 3D sound features
Lasts up to 38 hours on a full charge
Incredibly comfortable to wear
Adjustability options
Retractable microphone
ChatMix program provides more options to adjust sounds
Excellent product for the price
The Bad
Doesn't connect to Xbox consoles without an AUX cable