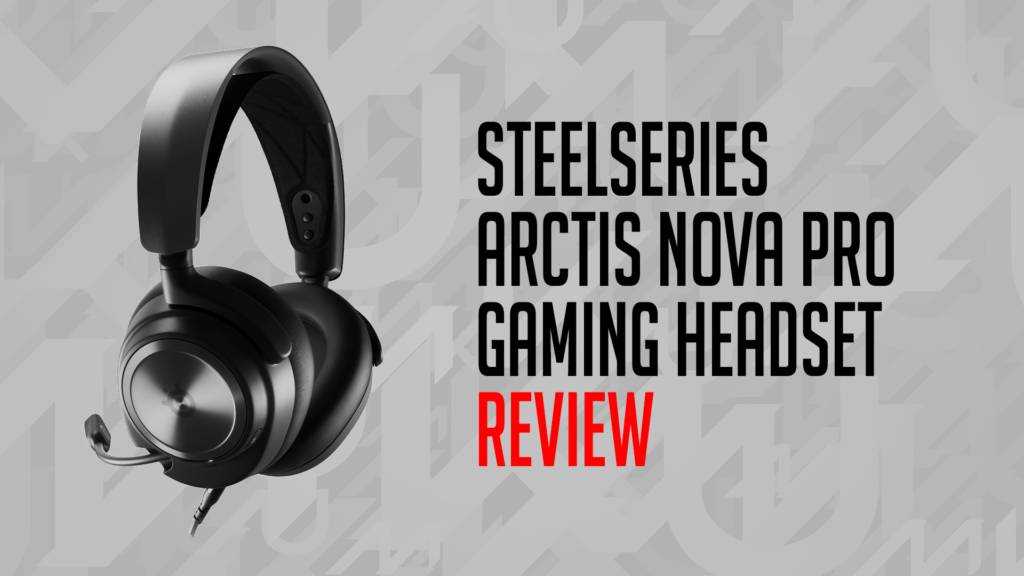 In the past few months, I've reviewed a few different headsets from various companies, and they're all great at what they do, but they generally focused on one system at a time, meaning you had to unplug them to plug them into another device. SteelSeries has come through with the Arctis Nova Pro, a high-fidelity gaming headset complete with multi-system connect, and my god, I'm in love!
While somewhat unassuming in its appearance, the Artics Nova Pro is an incredibly comfortable headset. It's small, it's lightweight, and it effortlessly covers your ears during use. It even comes supplied in a gorgeous little carry pouch for when you're not using it, and the microphone effortlessly tucks away inside the left ear cup to keep it protected, but the main standout feature, in my opinion, is the multi-system connect, or more specifically, the GameDAC.
You can, of course, plug the headset directly into your PC, or in this case, an Xbox controller, but why would you? The GameDAC is a handy little device that allows you to have the headset connected to your Xbox and PC at the same time, effortlessly switching between the two at the touch of a very tactile button. It also features a lovely little monochrome OLED screen that aptly displays your volume levels, which speaker sounds are coming from, and what frequencies you're using, but that's not all it can do.
The GameDAC features an in-built equaliser, allowing players to choose from a variety of different presets, or customise their own. It can also be used to adjust the microphone gain, adjust the sidetone levels, allowing you to monitor your own communications, and when in a party, adjust the chat volume mixers on the fly. It's quite a handy device to have and you won't be fumbling around trying to find which button does what on your headset. In saying that, should you choose not to use the GameDAC, you do have a simple Mute button for your microphone and a rolling volume adjustment on the left-hand side.
Setting it all up is a breeze and it comes with all of the cables you would actually need. Two USB-A to USB-C cables will connect to your Xbox and a secondary system, which is not limited to PC, and a 3.5mm audio connection is used to connect the headset itself. The GameDAC also houses 3.5mm line in and out connections, allowing you to connect your devices via analogue ports should the need arise. The output can also be specifically assigned to "Stream" mode, which will allow users to specifically isolate inputs on their streaming platform, though I personally don't see this as being necessary.
Considering the simple stylings of the SteelSeries Arctis Nova Pro, the sound quality coming out of them is incredible. I've been playing a lot of Star Citizen lately, and I recently found out that I have been missing out on a lot of different sounds, even with some of the higher-quality headsets out there. Using the GameDAC equaliser, I was treated to some strong base notes as I left the atmosphere, my engines roaring under the weight of my cargo.
Fighter ships screamed past with high-pitched wails from their engines, and weapons fire sounded so incredibly brutal that I would fire them off for the sheer thrill of it. Even my fellow citizens were amazed at the clarity of my voice as I barked orders through to the ship's turrets, moving quickly to avoid being thrown out of the closest airlock.
This is all made possible thanks to 32ohm impedance, a frequency range of 10 – 40,000 MHz, and less than 1% harmonic distortion on the speakers themselves, giving off the crispest sounds I've heard in a gaming headset. The retractable microphone is equally as sensitive, featuring a bidirectional noise-canceling microphone with a response range of 100 – 10,000 Hz and a sensitivity of -38 dBV/Pa. All of this is then combined with the GameDAC, with an ESS Sabre 9218PQ40, max audio format of 96KHz, 24 bit, a response of 5 – 40,000Hz, and an SNR of 111 dB.
If none of those numbers made any sense to you, all you really need to know is that this is an amazing headset, and it's no wonder that IGN and PC Gamer have rated this the best high-end headset. The SteelSeries Arctis Nova Pro is absolutely incredible, regardless of the system you're using it with. I love the fact that it's so easy to connect to and switch between multiple gaming systems, and the GameDac is one of the simplest mixers I've had a chance to use. It's a perfect score in my books.
The Good
Extremely comfortable
Supports multiple gaming systems at a single time
GameDAC effortlessly switches between and clearly displays settings
Very clean design