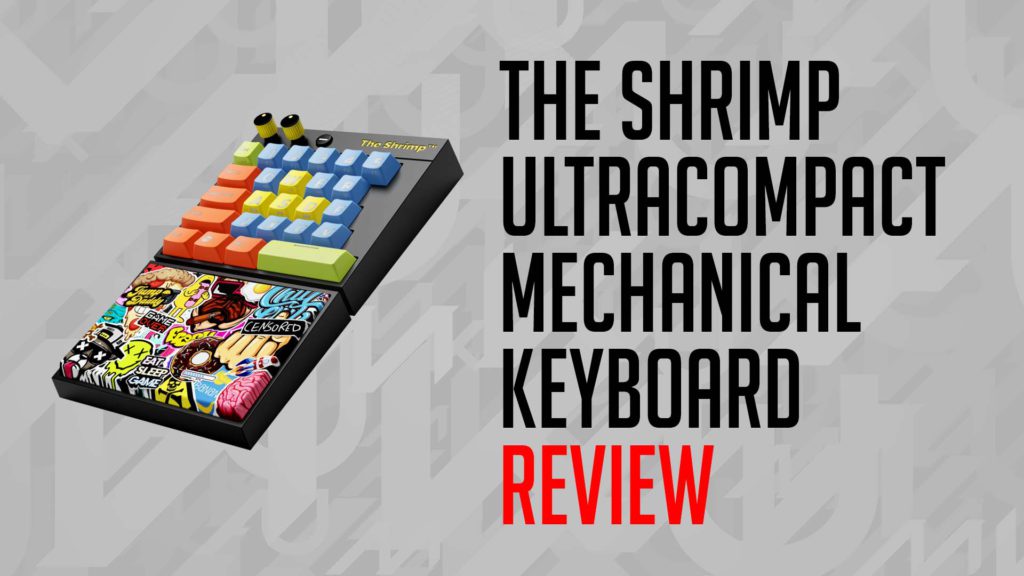 'The Shrimp' by Nordic Game Supply is an enigma. I have not seen it anywhere before, but God, it is an interesting little device. Ultra-compact, the hype around just how cool this mini keyboard is should be greater, so in saying that, MKAU introduces you to the pint-sized monster, 'The Shrimp'.
The first thing you will notice is just how cool The Shrimp is. Coming in the style 'Bomber', not released yet, the 25 mechanical keys are individually backlit with RGB illuminations and come in keycaps colours of neon yellow, orange, and blue, in a matte black plastic frame. Not only do the colours make this mini board pop, but the RGBs get to shine with oversized lettering.
The oversized font is actually oddly satisfying and so different to what I am used to on a regular keyboard with being able to see where your hands are with greater effectiveness. Not that I would want to change the style, but the keycaps are in a Cherry profile meaning they can be interchanged.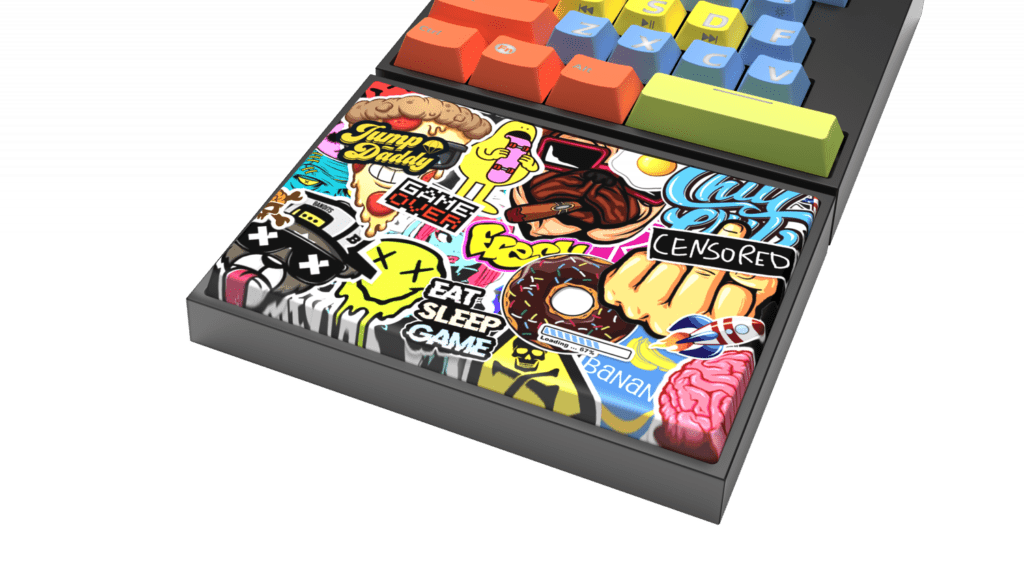 It also comes accompanied by a USB-C to USB power cable for that plug-and-play goodness we all seek and a magnetic wrist rest. The style of the rest in the 'Bomber' is a graffiti art style of neon and bold colours and lines and is actually decently padded and comfortable. Despite its loud appearance, the square design makes it very clean on the desktop and satisfying to look at.
If this is a bit too in your face for your own style, The Shrimp luckily comes in a clean white with deep blue WASD keys, a monochromatic black with white WASD keys, and my favourite, a cute pastel pink with orange WASD keys. There are options for everyone's taste; we love a good range of colours.
On the board, you will also find 2 controller wheels and a button. The first wheel controls the brightness of the RGB lighting and pressing this wheel will cycle 17 custom lighting displays. A customisation I did not expect but was wildly impressed by. The second wheel controls the audio to your PC and pressing the wheel will open the default media player. The final lined button will mute all audio output. Perfect for when interruptions come knocking at your door.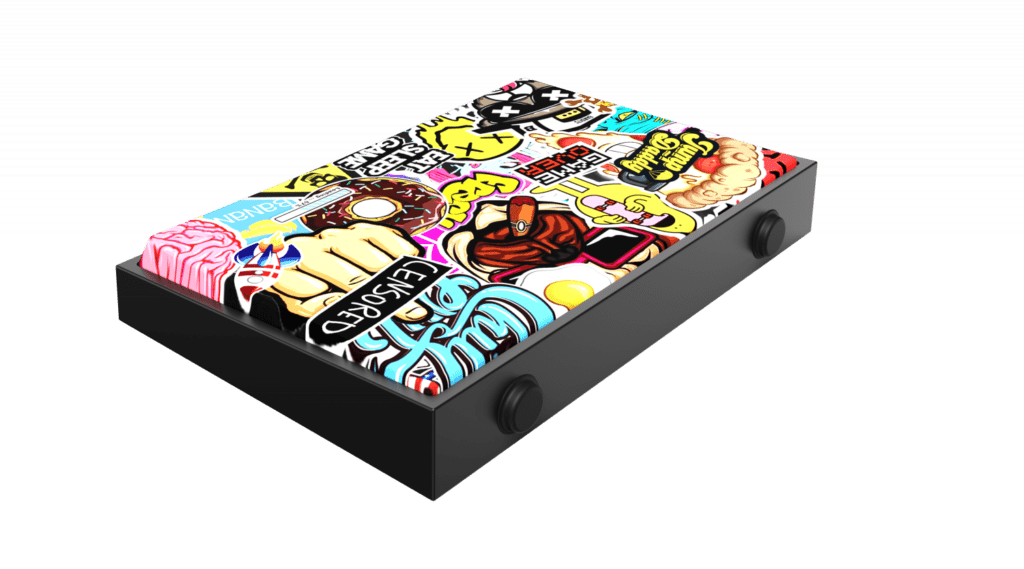 The Shrimp, aptly named, is tiny. Coming in at 20% in size it has the dimensions of roughly 135mm long and 125mm wide. The most obvious benefit to this is space. This thing frees up so much space for a conventional PC gamer, its true purpose. I say that as if you are someone like me who needs a full keyboard for reviewing, it lacks the functions to do so but it fits nicely alongside and in conjunction with another keyboard and is great for strictly gaming.
Speaking of working in conjunction, The Shrimp functions with another keyboard activated perfectly. I could perfectly type this review with one full-sized keyboard while playing 'Cult Of The Lamb' on another monitor with The Shrimp. At the end of my work, I could push my keyboard to the side and move The Shrimp to the middle of my setup and angle it for a more comfortable and spacious gaming session.
Some of the keys also have a second function layer. To access them is as simple as holding the 'Fn' button and pressing another key with the extra function labelled on it.
These include the F buttons 1 to 5, enter and media keys, etc. One button I was sad to see missing was a backspace.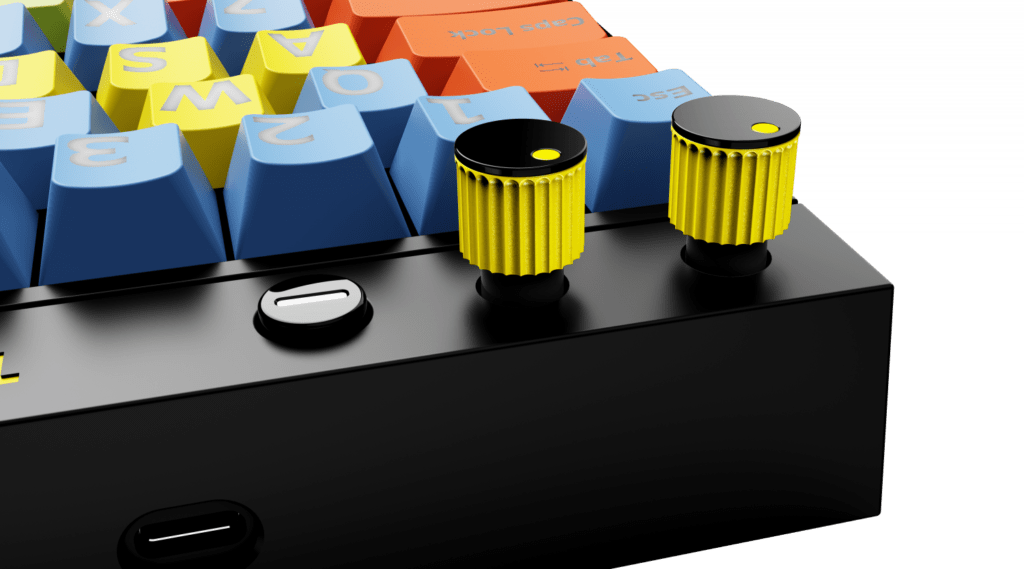 Contrary to its name, The Shrimp, packs a hell of a punch for such a small device. These keys use a standard layout so gamers do not need to adjust their playstyle. The switches themselves are trademarked Gateron G Pros in yellow meaning they are linear and quiet. While not my 'go-to' type, they do have a pre-travel distance of between 2.0mm and 0.6mm to a full 4.0mm at max travel distance. Realistically, I found that the actuation was pretty smooth even though the operating force seemed to be higher than my typing regular keyboard. In the types of games I play, response times aren't necessary, but this could be an issue for competitive play when insane responsiveness is needed.
The only thing I feel this product is missing to truly elevate it is a small accompanying software to save perhaps 2 or 3 onboard profiles. While I play mostly PC games with minimal controls, I found Hunt: Showdown with about 40 different inputs would definitely be a struggle to swap to as I'd have to reconfigure every button.
The Shrimp by Nordic Game Supply is one of the coolest devices I have reviewed in 2022. Circling back around, being the enigma it is, the pricing and availability are still a mystery, but this comfy miniature is perfect for those nights when you just want to relax and game away, with not another on-screen window open in sight. This is one product I highly recommend that is due to its unique and unabashed style, liberating functionality, and compactness.
The Good
Stylish - 4 colour combinations
Oversized lettering
Individual RGB backlighting
Custom lighting patterns
Interchangeable Cherry keycaps
On-board controls
Plug and play
Comfy wrist pad
Tiny at 20%
Perfect gaming tool
Function buttons
Mechanical, linear and quiet keys
The Bad
Lacks ability to profile button layouts